Trending and Latest Kurti Sleeve Designs 2019 to Rock Everyday with Style!
What better way than Kurtis to style your casual wear wardrobe? Kurtis are all time favorite that bring epitome of comfort and style all together. Indeed, there is a lot of scope of styling this casual comfort wear as per the venue and occasion. From unique neckline to different stitching styles, there is lot to experiment to make Kurtis an attention grabbing designer piece. Presently, we have seen various fashionable sleeve patterns that have power to add oomph factor to your complete Kurti styling. In this read, we are giving you glimpses of latest Kurti sleeve designs 2019. Explore and experiment with these new sleeve patterns to round off your up to date charming look.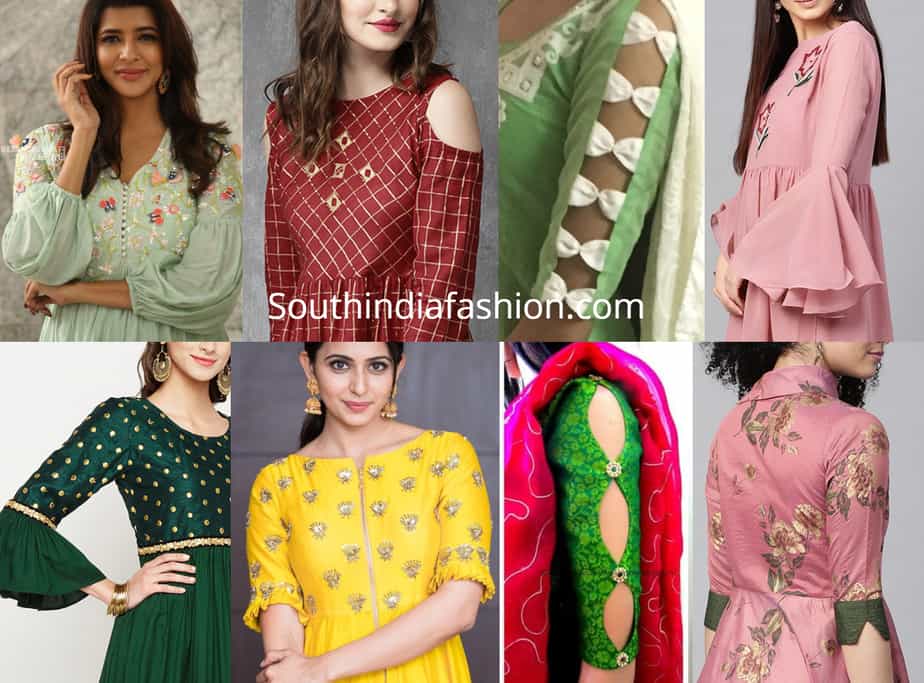 Latest Kurti Sleeve Designs to add Oomph to Comfort Casual Wear
Kurtis are great choice for every occasion from office to parties, family functions to outings with friends. And, not only is this piece of clothing suitable for every occasion but for every body type. Furthermore, it is easy to charm overall look effortlessly with a touch of styling on sleeves of Kurtis. With a basic neckline you can easily accessories your ethnic look with Kurti while you have great scope to mark your styling sense by experimenting with latest sleeve designs. For a glam traditional look or a decent formal appearance, there is a lot you can do by trying sleeve variations. Also, these inspiring patterns of sleeves can charm your saree blouse designs as well.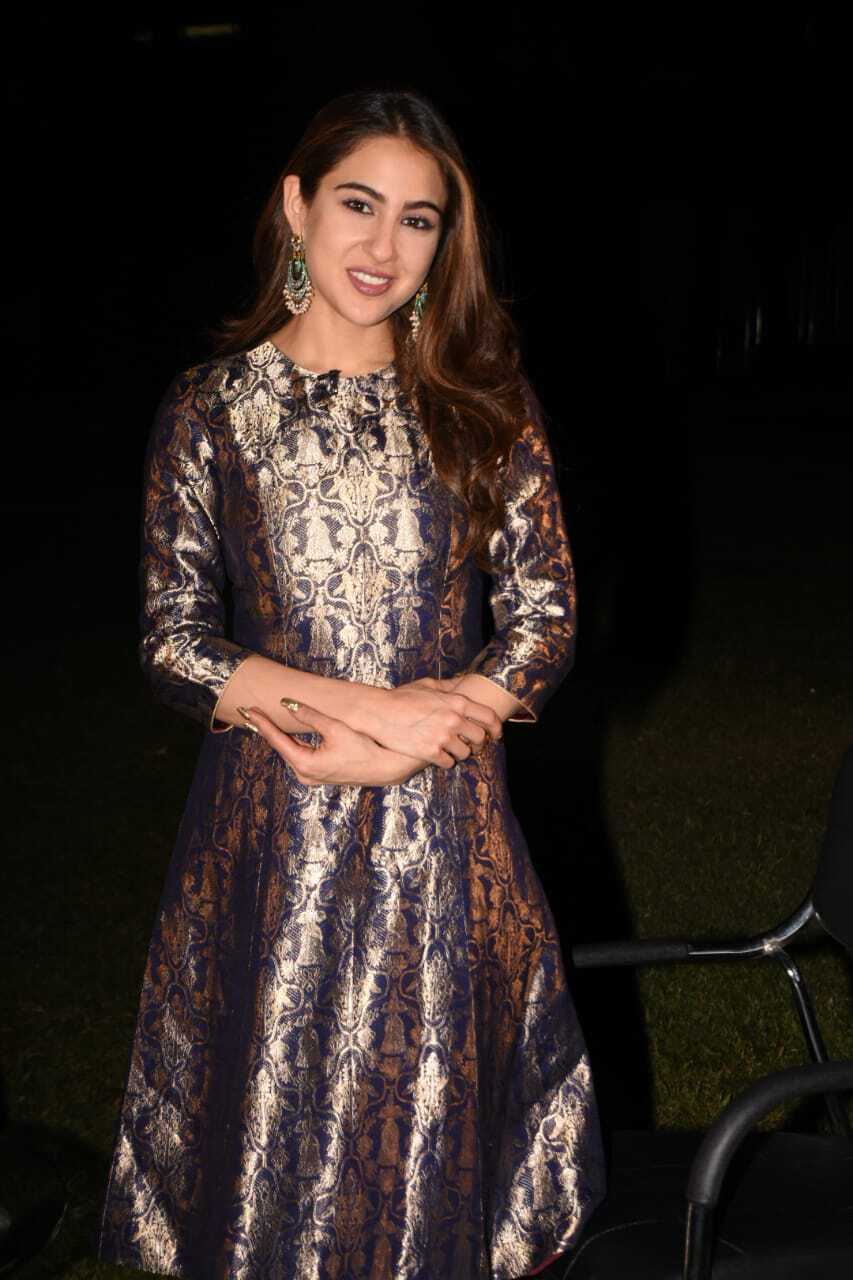 1. Three quarter bell sleeves design for Kurti
Bell sleeves have a vintage quotient of style to add to your Kurti styling. This idea of sleeves designs for Kurti has come back with a huge bang this season. Moreover, this type of styling is suitable for semi formal wears, party wears and complete ethnic looks. However, for office wear Kurti sleeves designs this type of sleeves designs may seems a bit extravagant styling.
Scope to add creative touch to bell sleeves designs of Kurti
You can add layers of bell style frills to give alluring touch to your festive Kurtis with this sleeves design. Further, adding lace to the end and embellishing it with pearls can transform the visual appearance of the whole outfit.
Just keep in mind that flares are manageable when you are trying these Kurti sleeve designs with everyday Kurtis.
2.  Frill Sleeves Kurti Design
Are you bored with plain sleeve designs? But you are not comfortable to experiment much with Kurti sleeves designs then frill sleeves Kurti designs are best for you. I suggest, try these frills designs with your ethnic and formal Kurtis. These simple yet elegant frills can charm your Kurti style decently.
Scope for styling frill sleeves kurti designs
Try embroidered detailing at sleeve, add tassel details to sleeve hem and keyhole pattern at sleeve for a chic vibe.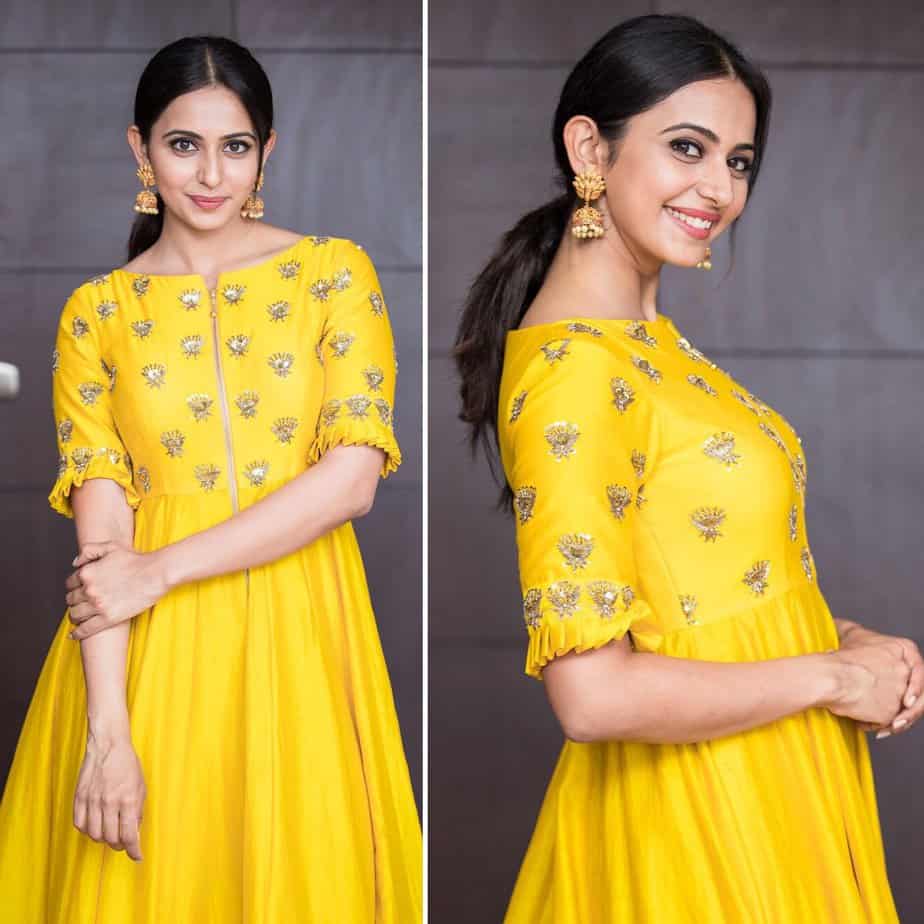 For everyday wear Kurtis then go for frill details in relatively less flare, for added impact you can get the frill in contrasting color to stand out.
3. Cold Shoulder Kurti Design
Actually cold shoulder sleeves design is not a new trend but, it has that extra edge of styling to offer that excite us to adore it again and again. If you are already having cold shoulder sleeves Kurtis in your wardrobe, you can give them a refreshing touch by adding frills on the cut out.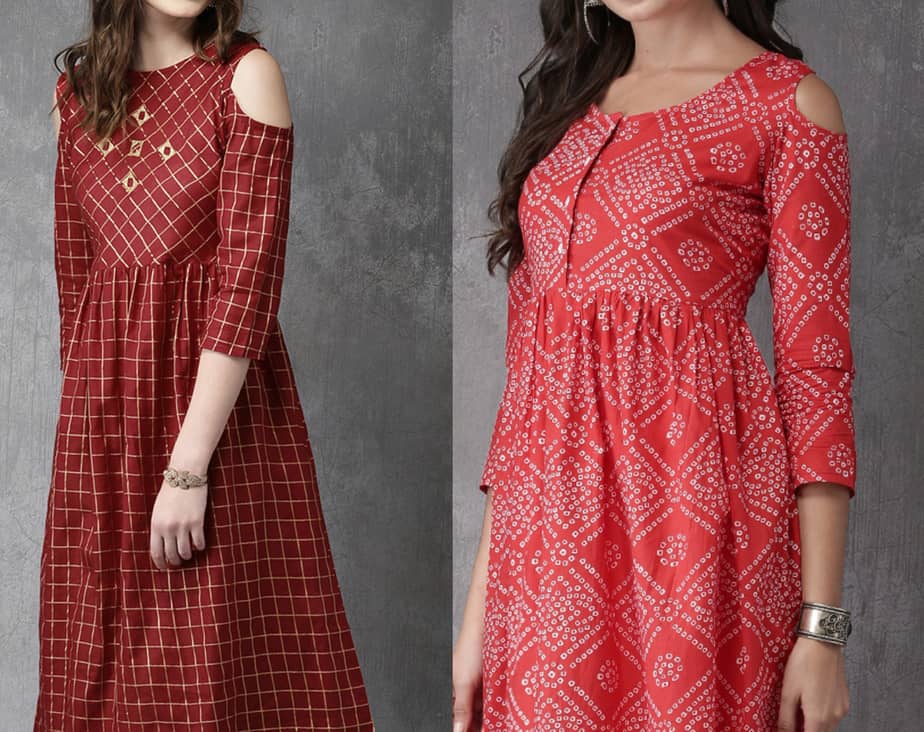 This trend of Kurti sleeve design is not going to fade away anytime soon with much scope of adding extra creative touch. On the other hand, this is one of the best ways to style if you want to add some drama and hotness to your everyday Kurtis.
Simple yet elegant cold shoulder sleeve designs are suitable for printed cotton Kurtis as well as brocade Kurtis.
4. Elbow length gathered sleeves with tie-up detail
Tie up detailing is something that goes with both formal and ethnic Kurtis sleeve designs. Of course this isn't a new trend either but, presently it is getting much popularity. And, this couple of season's old trend has glam quotient to serve your styling purpose when you want to style sleeve designs of Kurtis used every day.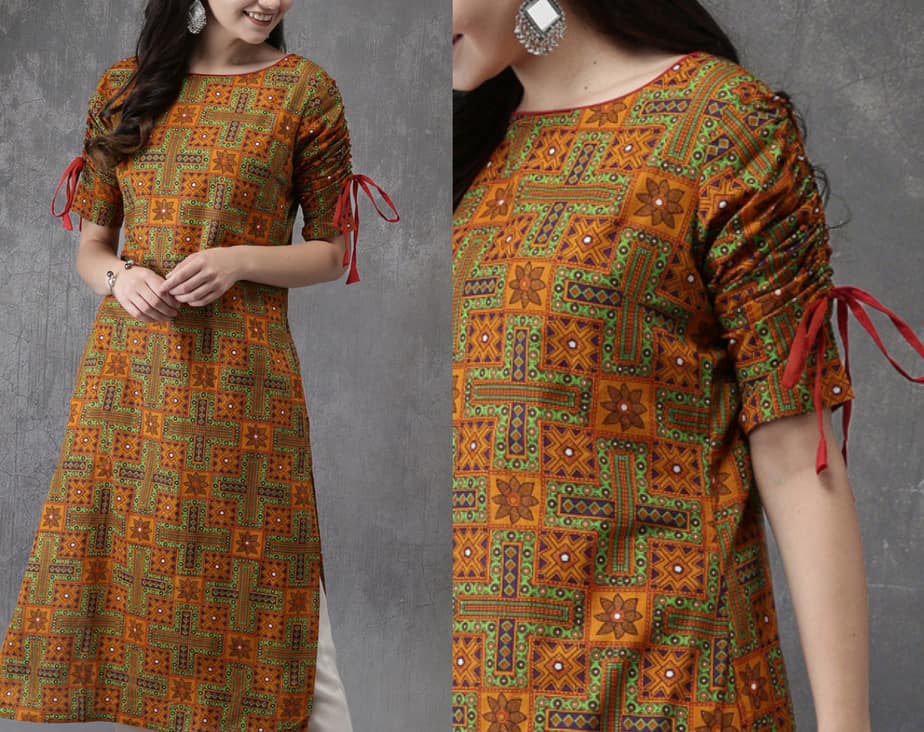 Again you can add creativity by adding tassels at the end of tie-up or can also use satin lace as dori. It will be the best choice if you want to style your printed cotton Kurtis.
This styling may not suit to every fabric and with embellished or embroidered Kurtis.
5. Three quarter bell sleeve with tie-up detailing
Bell sleeves are season's favorite and with this kind of tie-up detailing on sleeves you can mark your style. Indeed, this one is a great choice to give your office wears Kurtis an edge of styling!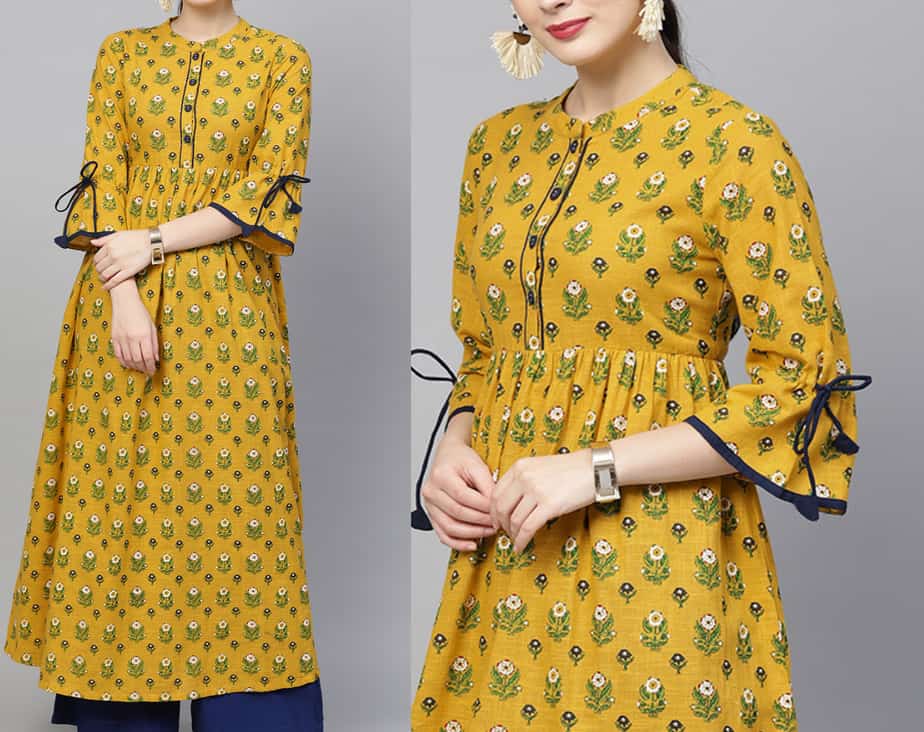 6. Long slit sleeves kurti design
If you want to add fun to your contemporary Kurtis, these latest long slit sleeves design are for you. More upon styling, this latest trend of slit sleeves designs is chic and suitable for those who are looking for uber class stand out pattern.
Slit sleeve patterns are already trending but, this kind of long slit details are new trend setters. From runway fashion to Bollywood, this new sleeves design is making a remarkable presence. Hence, it is a must to try if you want to stand out with your uber class fashion sense.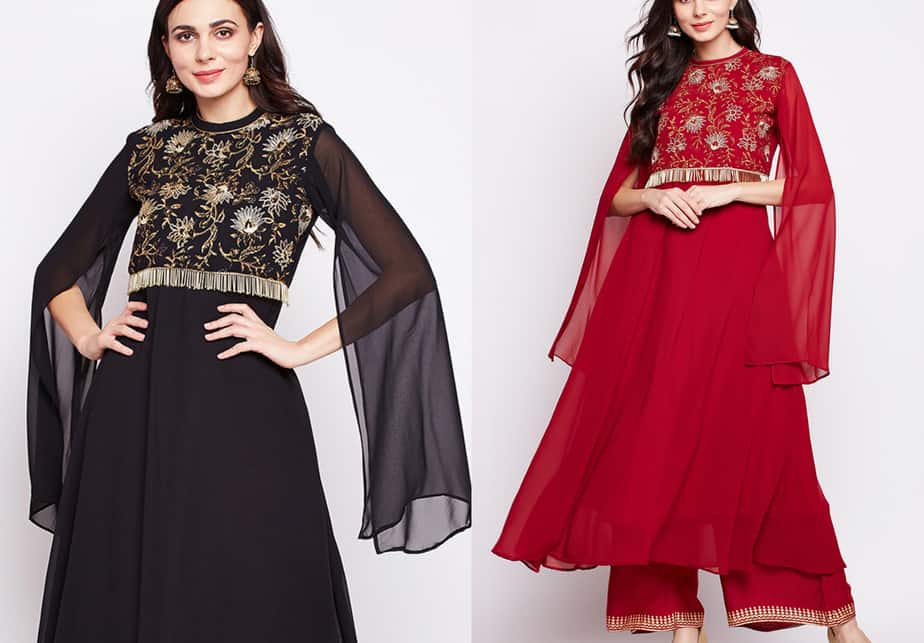 7. Churidar Sleeves Design for Kameez
Churidar sleeves designs for kameez is coming back to main stream again. Using sheer or net churidar sleeves can go well with Kurtis. For more glam appeal you can go for layer of lace spiral over the churidar sleeve pattern. You can try designer churidar full arm sleeve patterns with lace or satin panel detailing.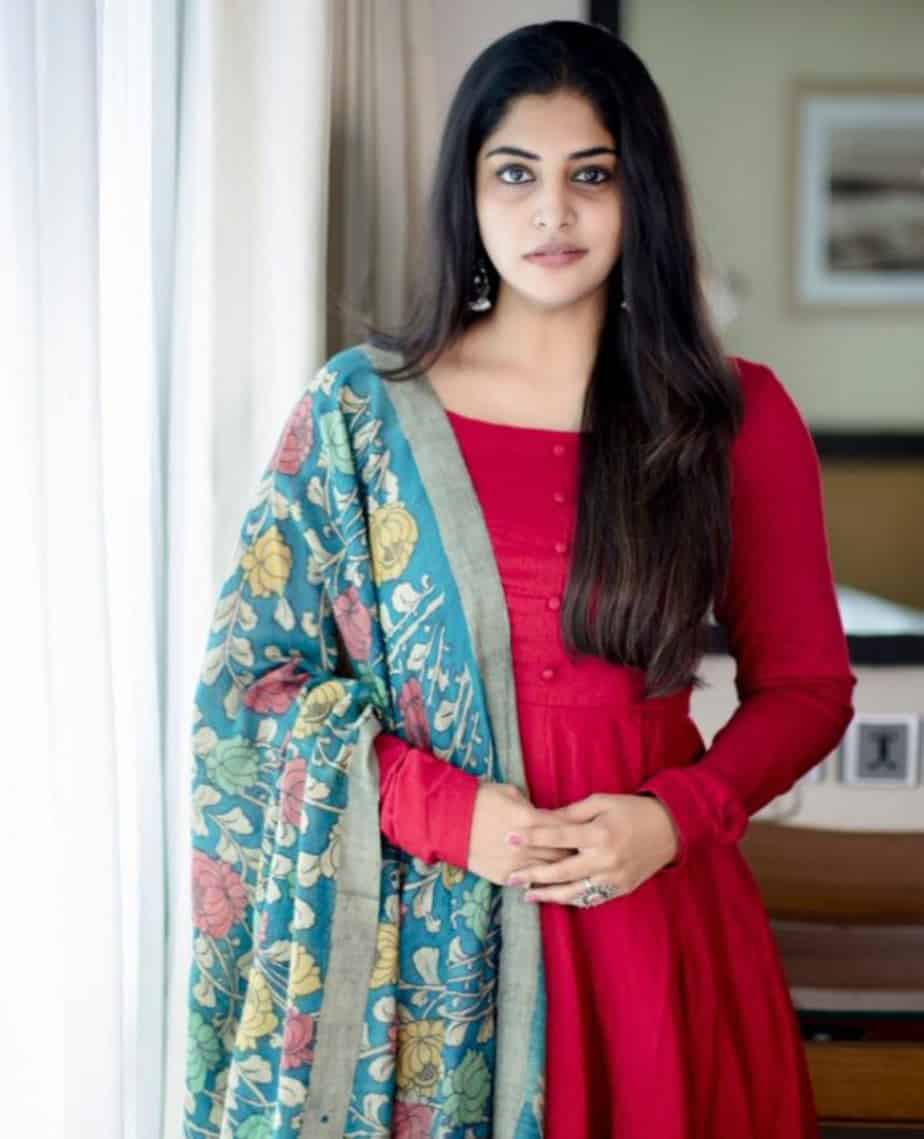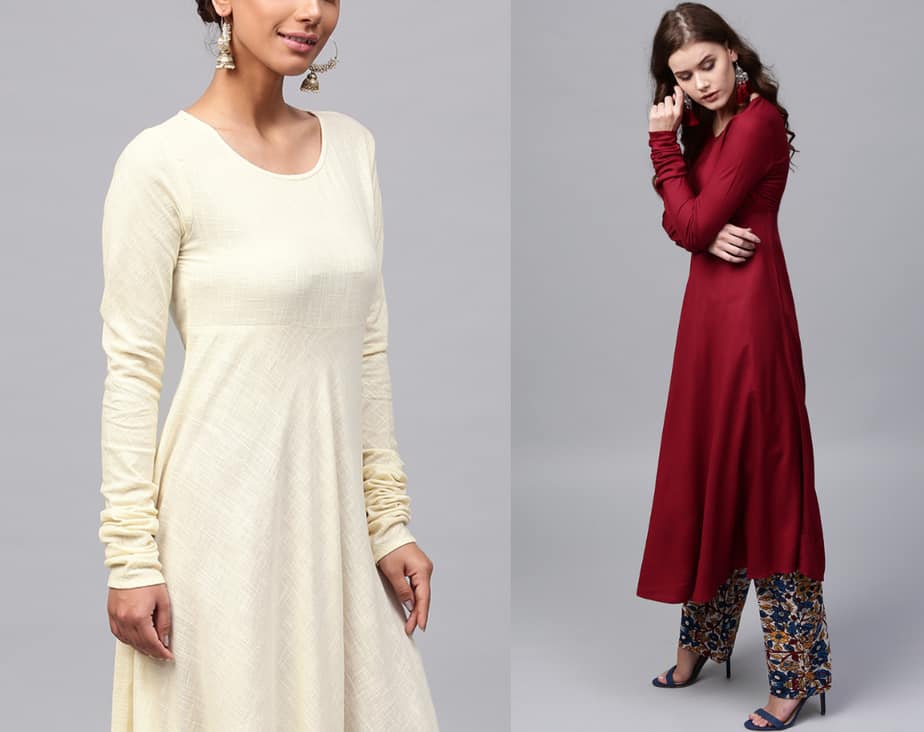 8. Short Ruffle Sleeves Kurti Design
Ruffles are great to give your sleeveless Kurti design a catchy edge. These short ruffle sleeves Kurti design are great choice to keep you ahead of ethnic wear trend game. On the top of all, it's a simple style that can design your everyday Kurti in stunner style in spring and summer season.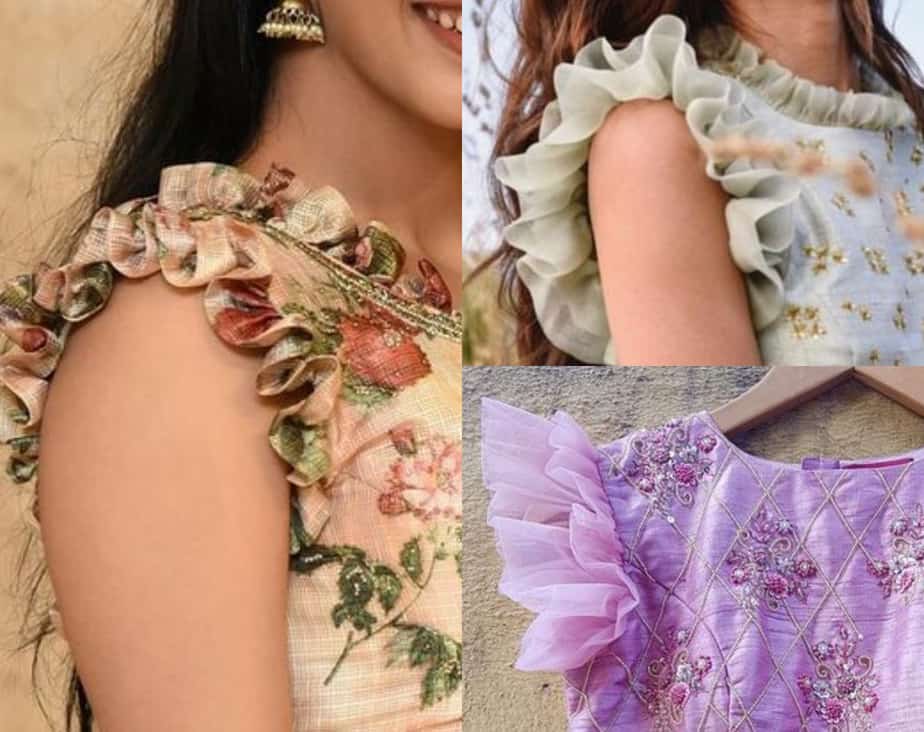 9. Puff sleeves kurti design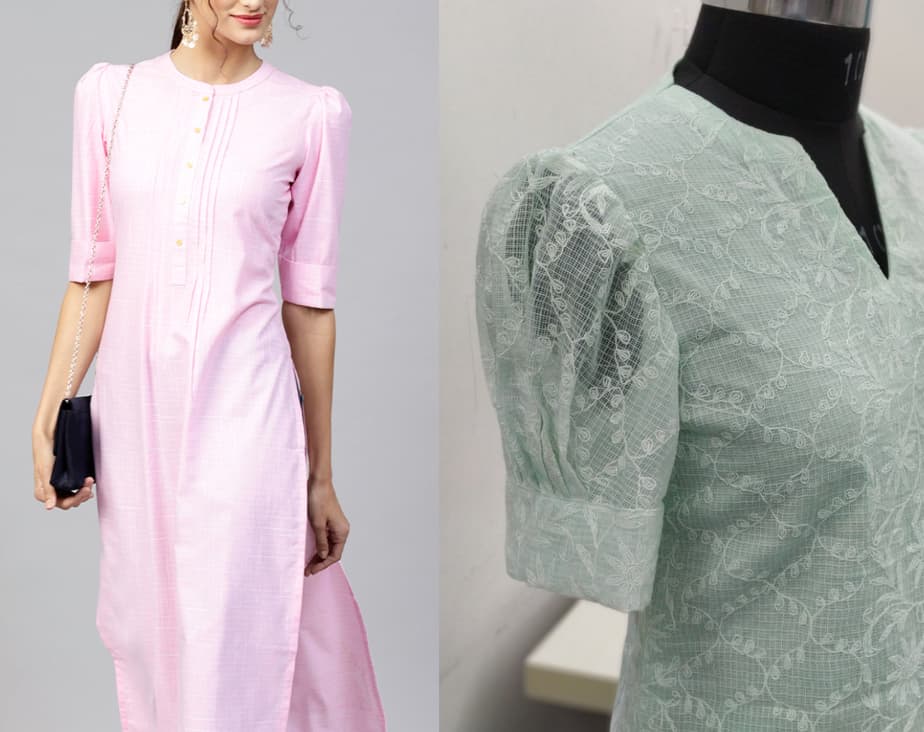 Elbow length sleeves are no longer outdated. From celebs to everyday woman, everyone has been showing great response to this trend. To give elbow length sleeves design a touch of vintage vibe puff sleeves Kurti design are great choice.
10. Butterfly sleeve kurti design
Butterfly sleeves Kurti design looks chic no matter what length the sleeves are. However, half sleeves or three quarter sleeves seems more manageable than the full length butterfly sleeves.
11.  Latest bow tie sleeve designs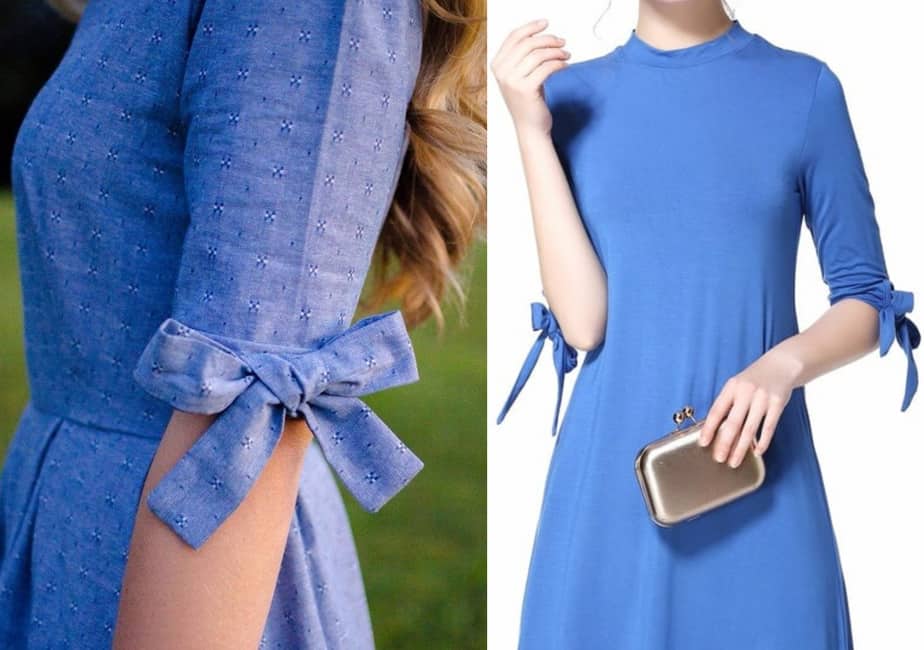 Elbow length sleeves or half sleeves are perfect for all seasons and you can the style essence by simply adding tie-up detailing. These bow tie sleeves designs are good match for formal office wear Kurtis.
12.  Cuff style rolled-up sleeve design
13. Three quarter sleeves with end slit and buttons
Simple yet stylish if this is what you are looking for these three quarter sleeves with end slits are hand-picked choices for you. Moreover, this style of end slit sleeves with buttons can go well with both ethnic and formal Kurti sleeves designs.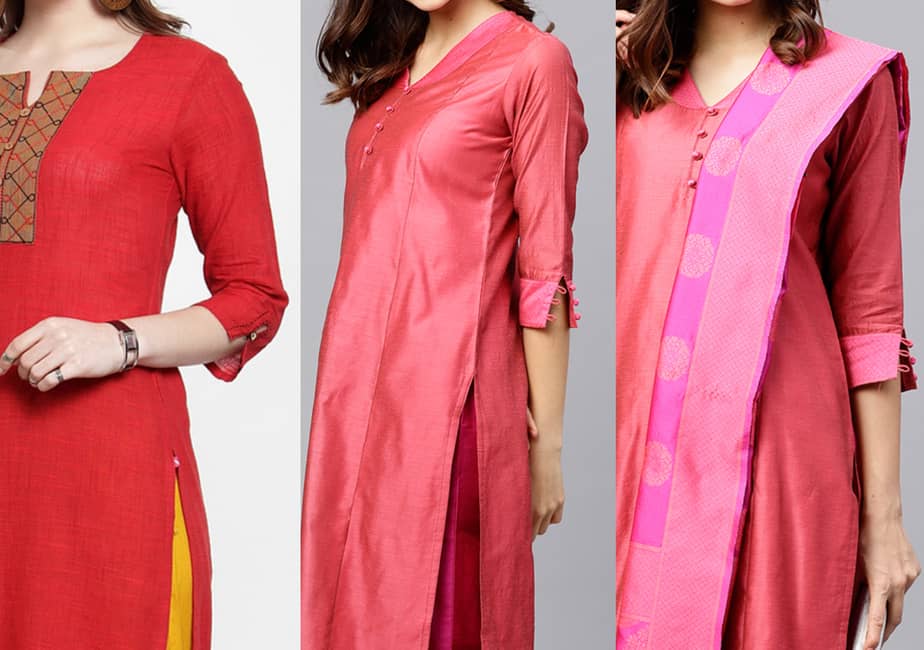 14. Long Bell Sleeves Kurti Design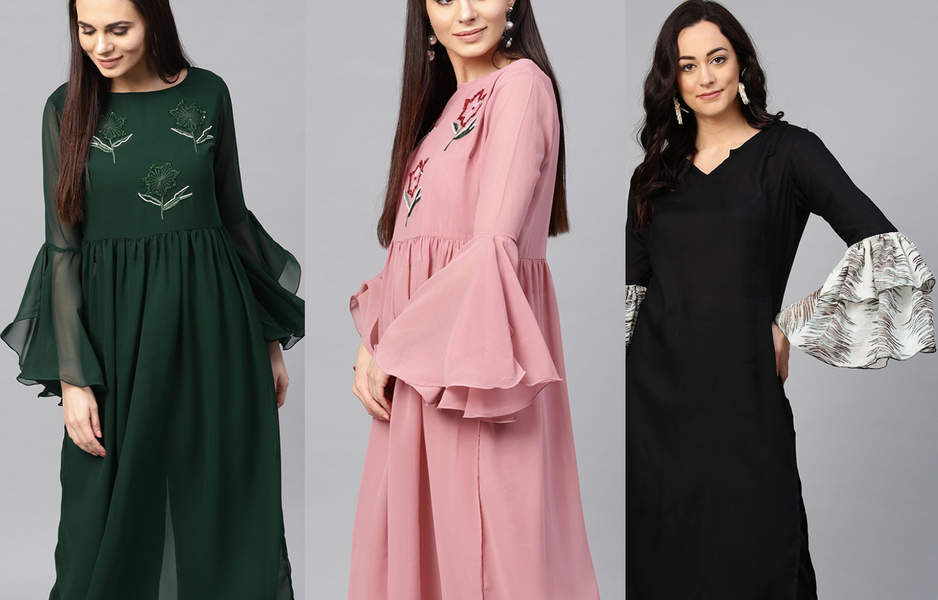 Minimalism is the trending fashion statement. And, these long bell sleeves Kurtis can easily add a classy touch to simple and plain Kurtis without a doubt.
15. Multiple cut out sleeves design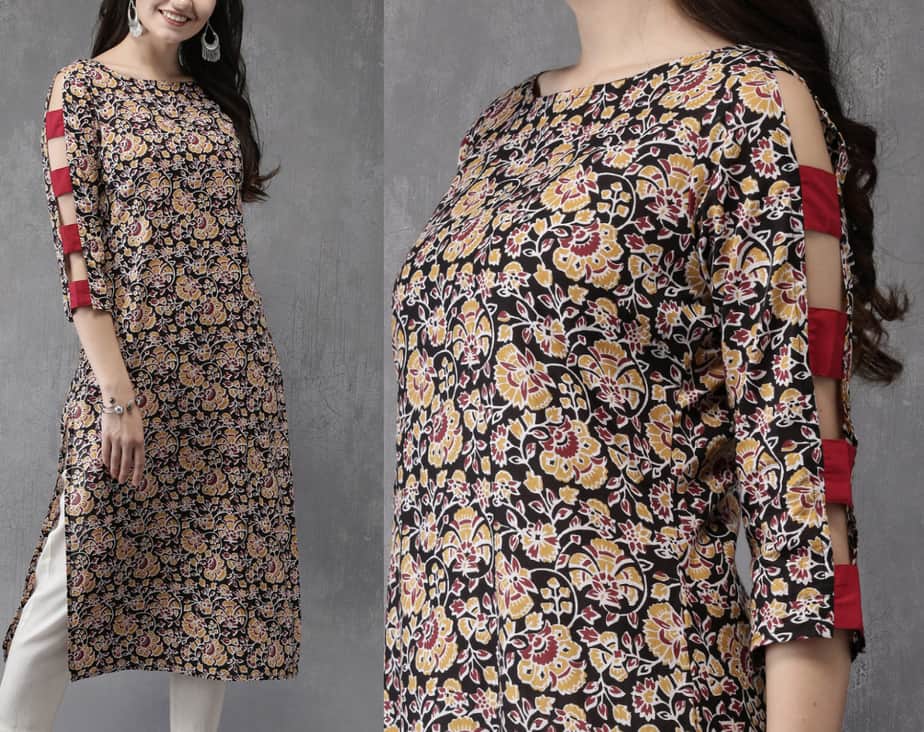 Cut out patterns are all time favorites and are one of preferred choice when it comes to style cotton Kurti sleeves. With a simple neckline, these multiple cut out sleeve designs can add uniqueness to your attire.
16. Cut out sleeves with pom pom detailing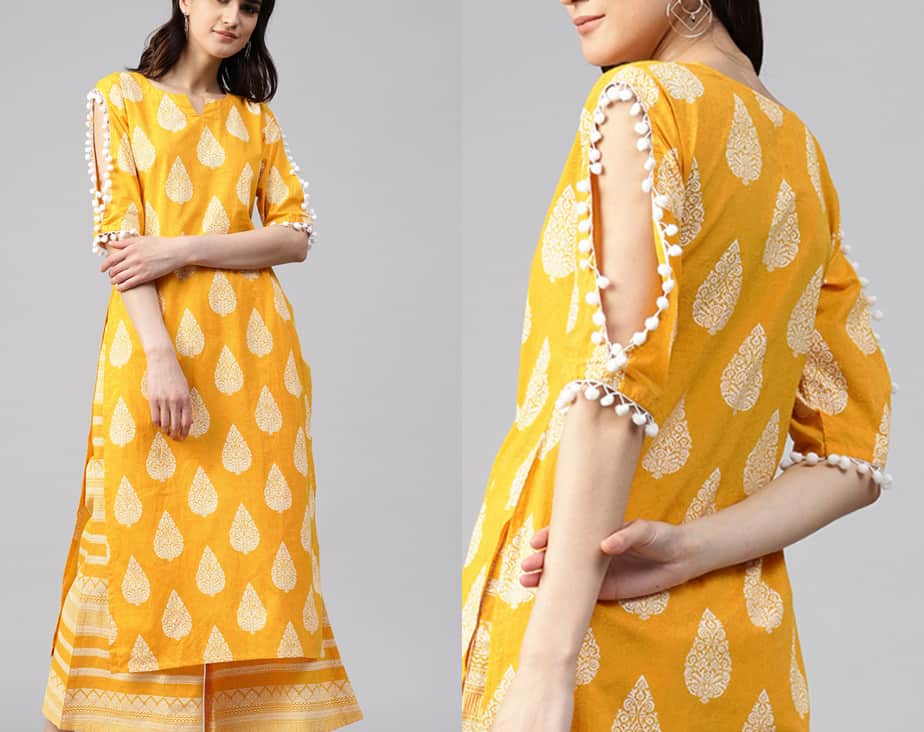 17. Bishop sleeves or elbow puff sleeve design
The vintage vide of Bishop Sleeves is making everyone fall in love. With the simplest embellishments, these elbow puff sleeve designs or Bishop Sleeves can add glam quotient to your casual and ethnic Kurtis.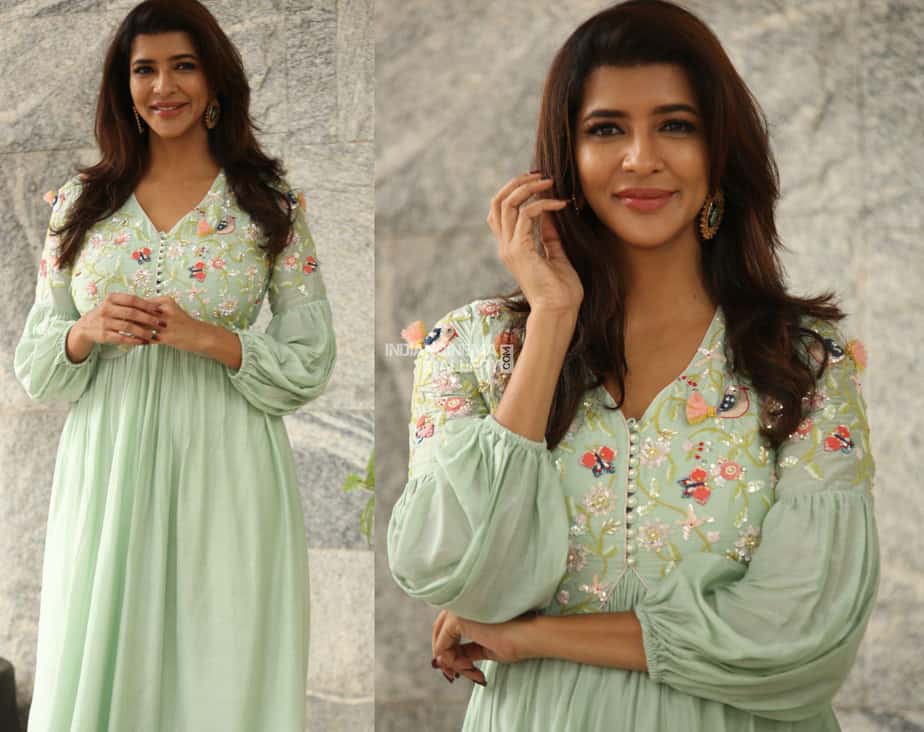 18. Elbow length sleeves with V-shaped slit at the ends
Elbow length sleeves with v-shaped slit at the ends look good with formal as well as casual kurtis.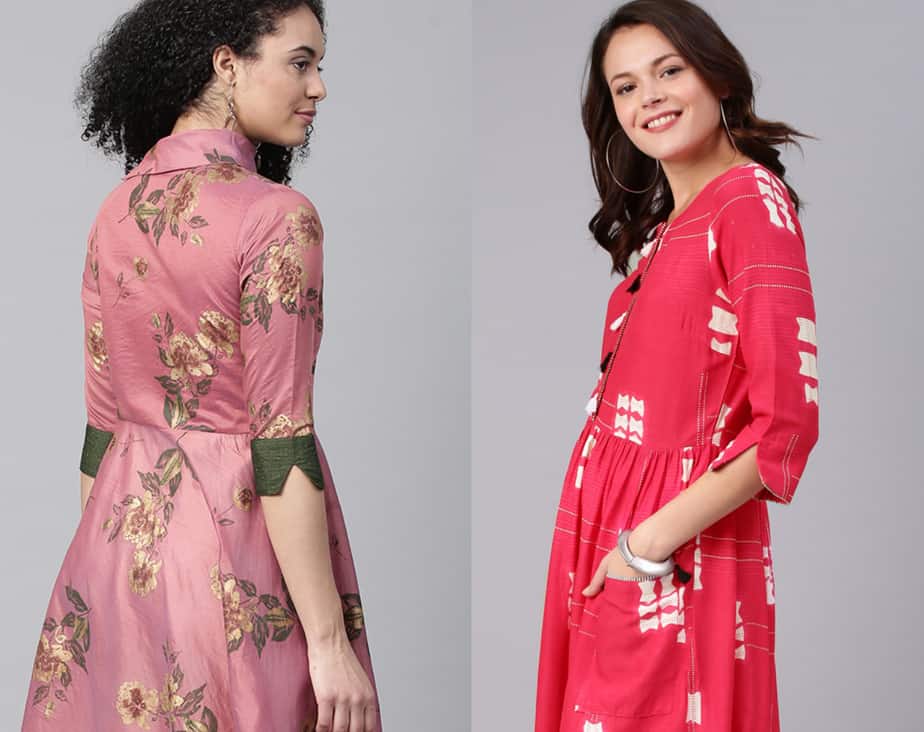 19. Elbow length sleeves with tie-up detailing
Tie- up detailing has come back with a bang this season. These half sleeves with tie-up detailing are alluring sleeves designs for formal Kurtis. Further, you can also try these tie-up details with tassels at the end for a chic vibe.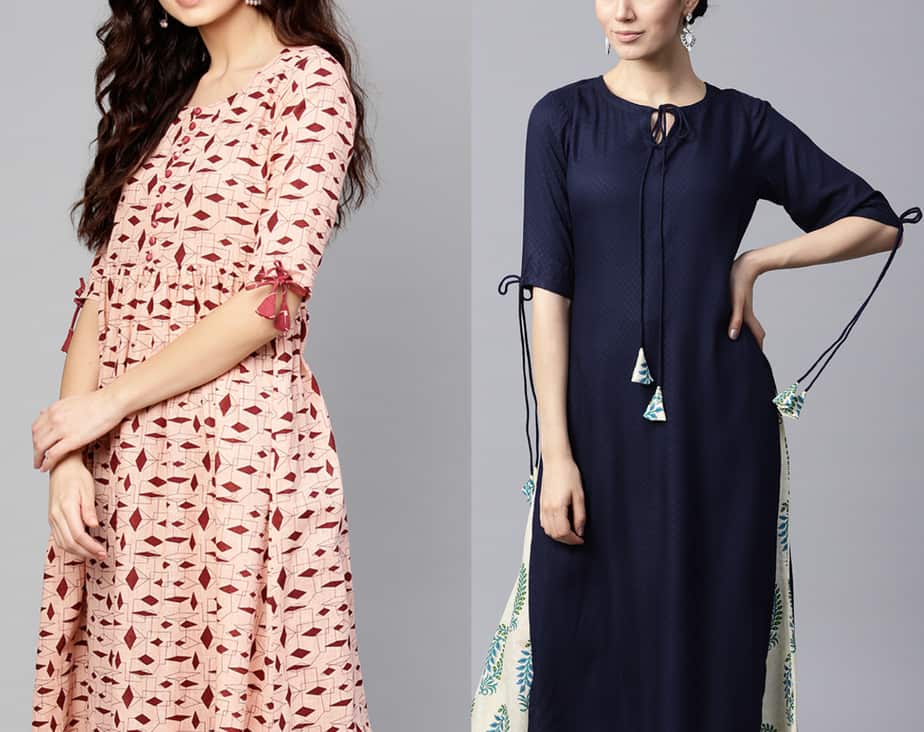 20. Transparent Sleeves Kurti design
I totally love the idea of Kurtis with transparent sleeves. These are one of the suitable choices for everyday Kurtis sleeves designs. Again, there is a lot of room for creativity and you can make your Kurti a designer piece by getting these sleeves embellished or embroidered.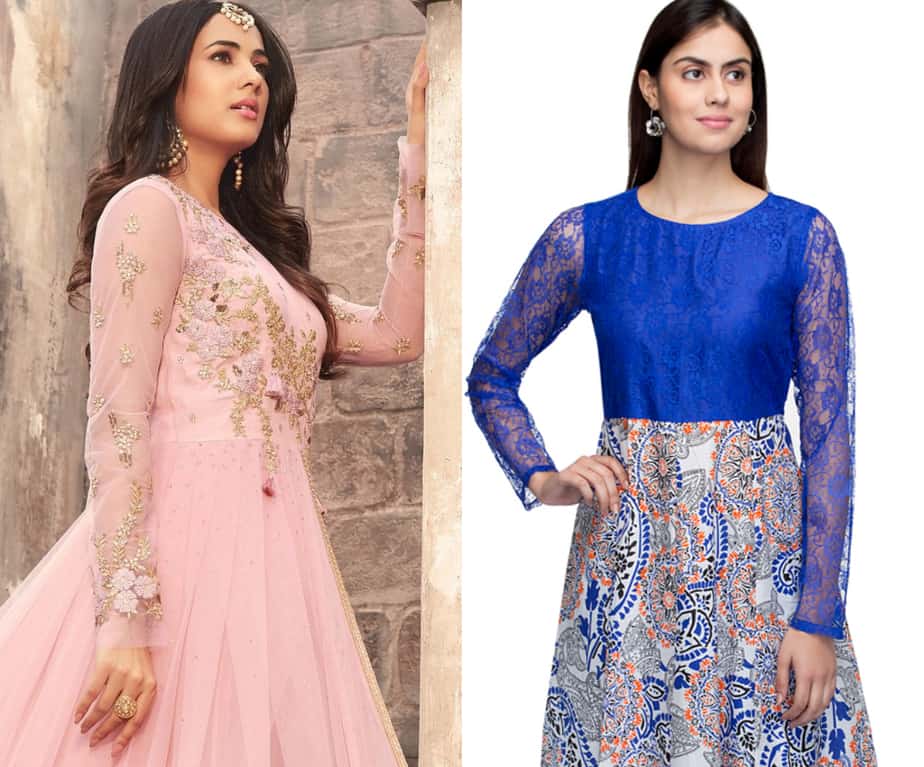 21. Sleeves With Loop Hole Buttons
This is another intricate sleeve design that you can try with your party wear kurtis. The design features slit on the sleeves with multiple loop holes and buttons in contrast color.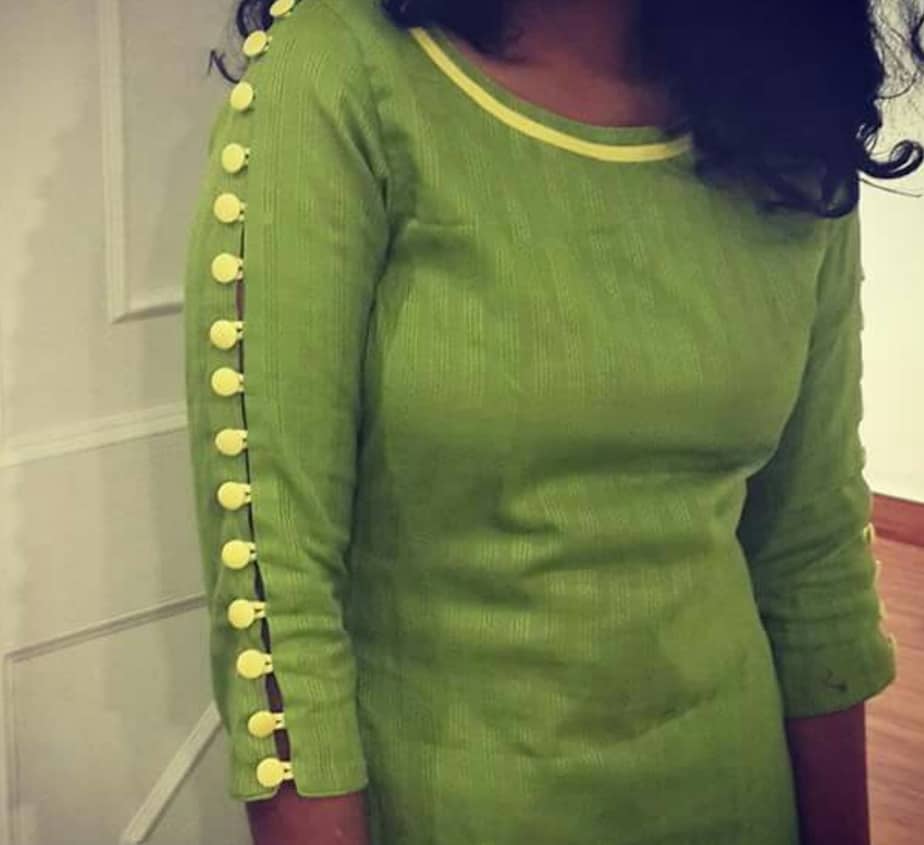 22. Cut out sleeves with multiple bows
These cut out Kurti sleeves designs looks quite visually appealing with contrasting color bows.
23. Cuffed full sleeves
This cuffed full sleeves design complements your formal kurtis.
24. Kurti sleeves design with multiple keyholes and buttons
Glam up your party wear kurtis with this sleeve design featuring multiple keyhole cutouts embellished with buttons.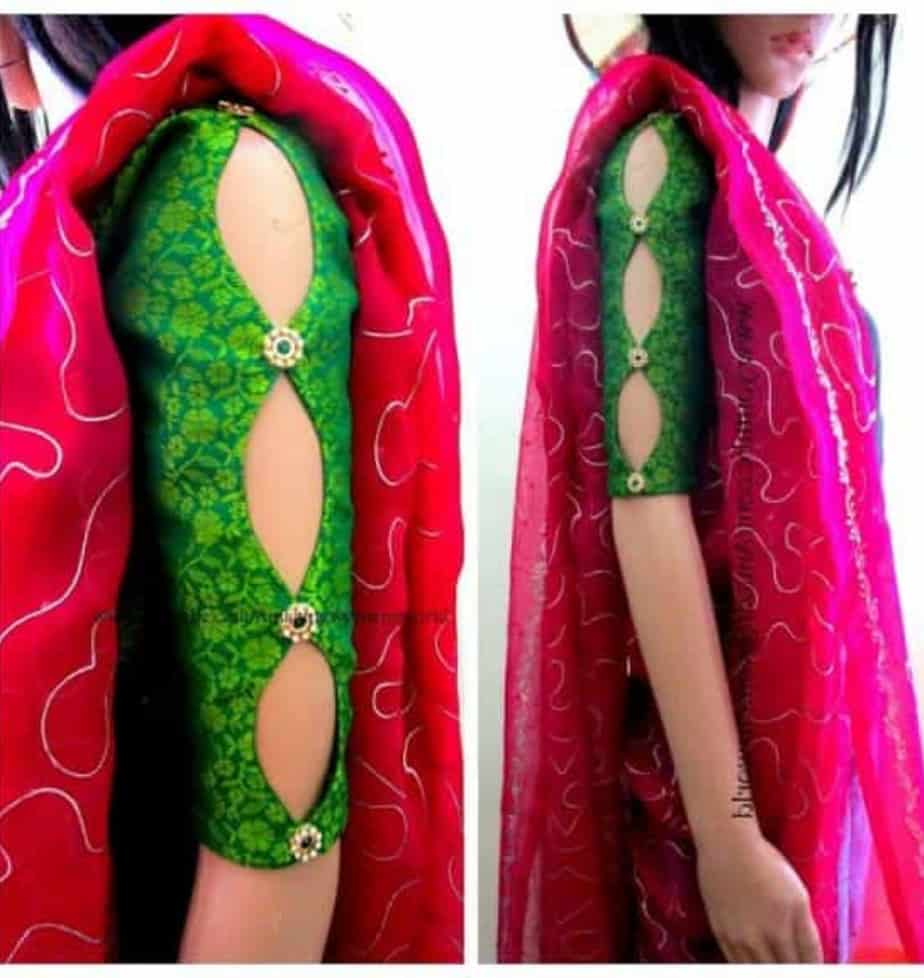 25.  Cape Style Sleeve designs
Adding cape to your kurtis will give them new designer look. Team up your plain sleeveless kurtis with printed or embroidered capes.