With the changing era and changing lifestyles, the mindset of people is also changing abruptly. In the modern times, fashion is not just limited to the women squad. Even the men world is also not leaving any stone unturned in exploring new heights of latest fashion. With the wedding season around, we present a showcase of latest Indian groom outfit ideas for Engagement and Reception: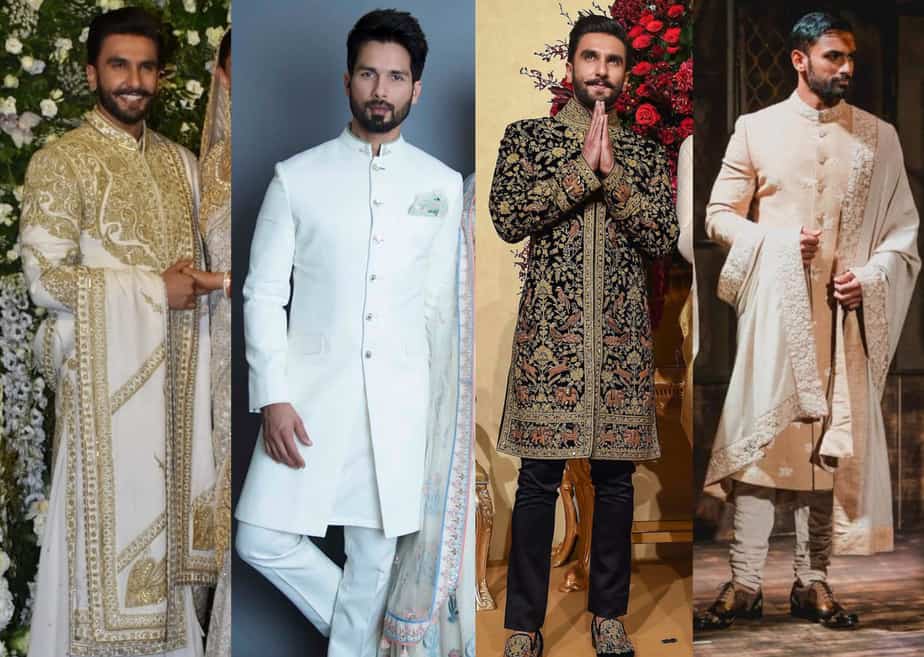 1. BLACK is the colour of the season for Indian Groom
Gone are those days when an Indian groom outfit couldn't be black for the wedding rituals. In the new era, black makes the statement Indian groom look for the big day. In the latest encounter, we witnessed Akash Ambani in a black sherwani at his wedding reception.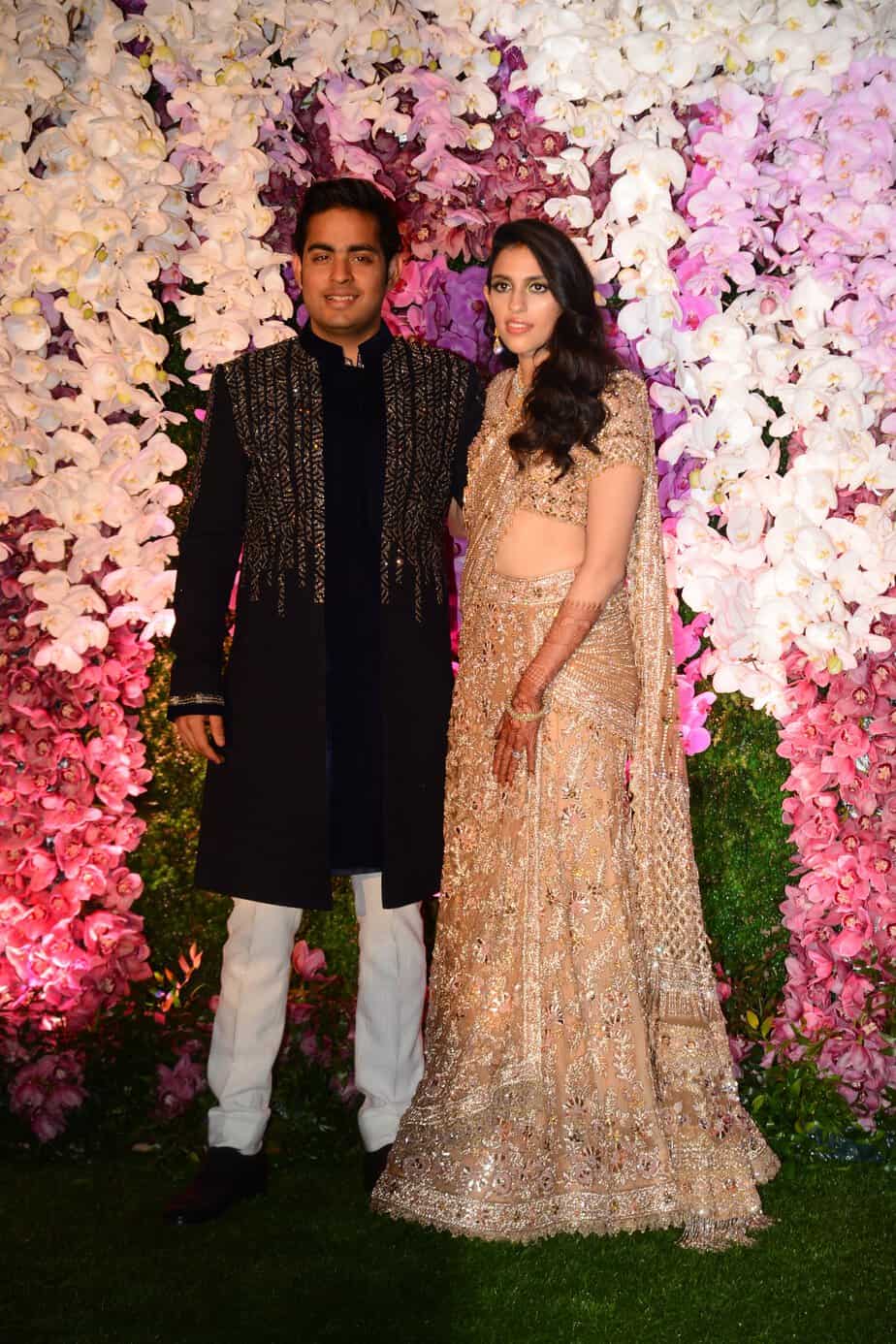 We even witnessed the heartthrob Ranveer Singh in black Sabyasachi bandhgala at his Wedding Reception. Think over again for your look to leave a spark with black.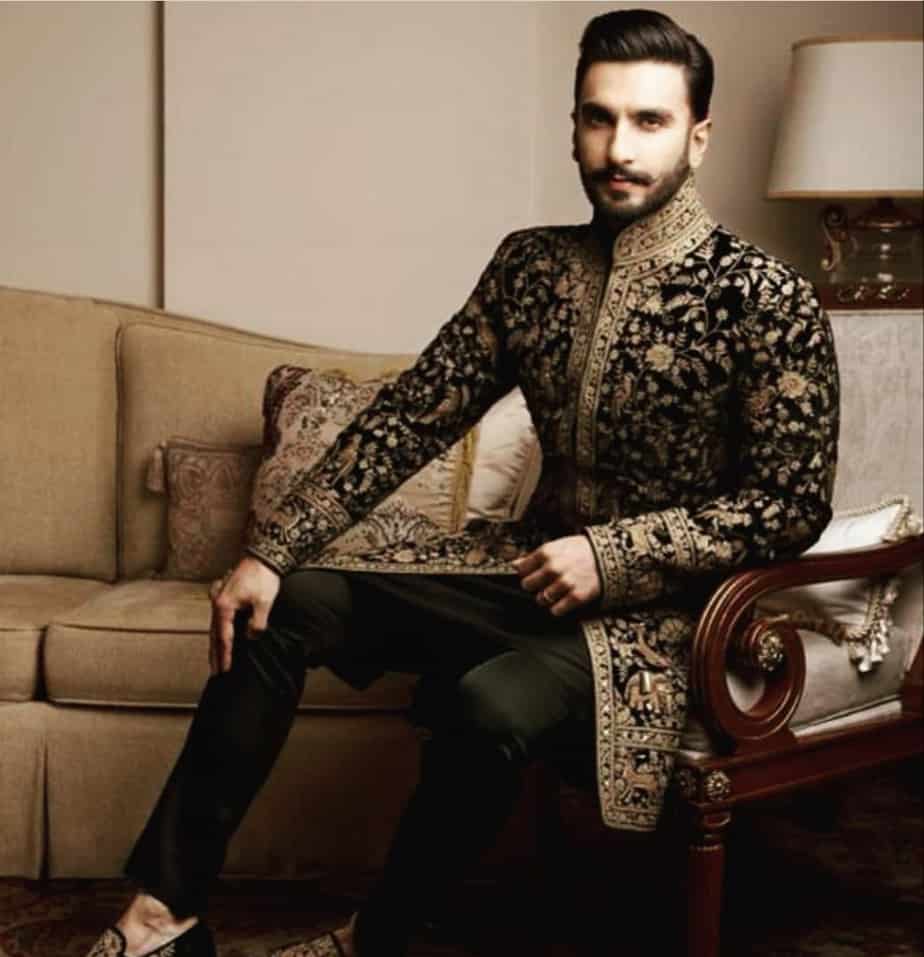 2. The royal essence comes with a SHAWL or a STOLE
No Indian groom outfit is complete without a stole. Keeping up with the latest trends, the Engagement and Reception looks are also given a classy touch with a Stole or a Shawl. You can opt for a pashmina stole or for the royal kashmiri embroidered shawl for a statement look. Velvet stoles are also evergreen and stylish.
3. Look subtle in WHITES
Looking forward for a summer wedding! Opt for subtle shades of white. White looks simple yet modish for a day wedding.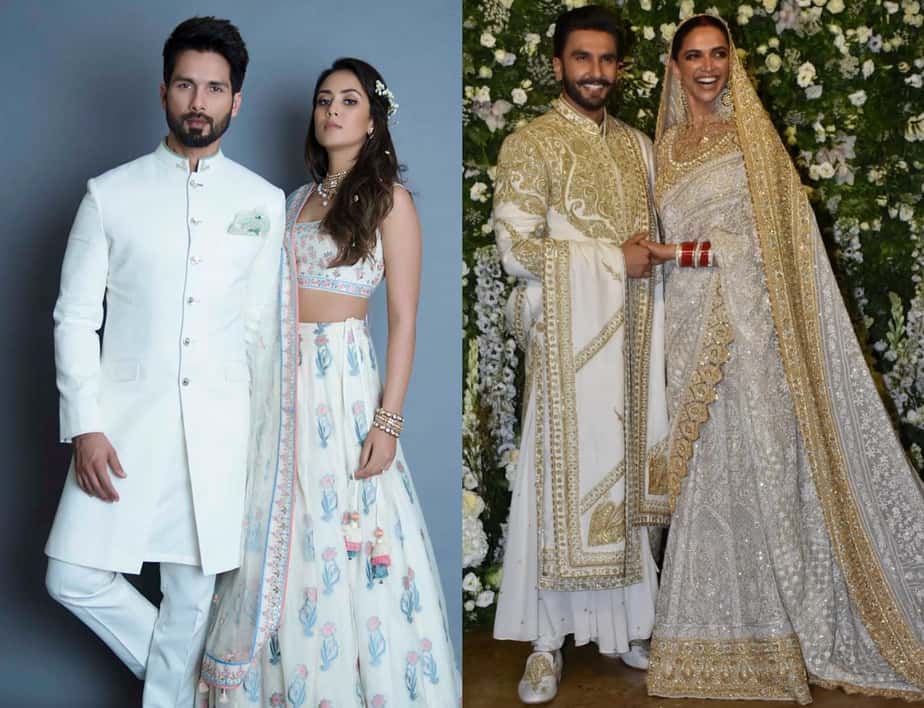 4. The TURBAN should rise high
The royal pagdi (turban) symbolizes a traditional Indian wedding men. The turbans can be either printed coordinated with a plain outfit or a plain turban coordinated with a printed outfit. Turban with a kalgi and feather signifies the Indian Groom outfit of all times.
5. The Mughal touch to the Indian Groom  FLARED outfit

Wearing an offbeat outfit is the signature style of our very own Ranveer Singh. The credit of bringing flared outfits trend for men mainly goes to Ranveer Singh. He slayed in a flared kalidar kurta by Sabyasachi at his mehendi function.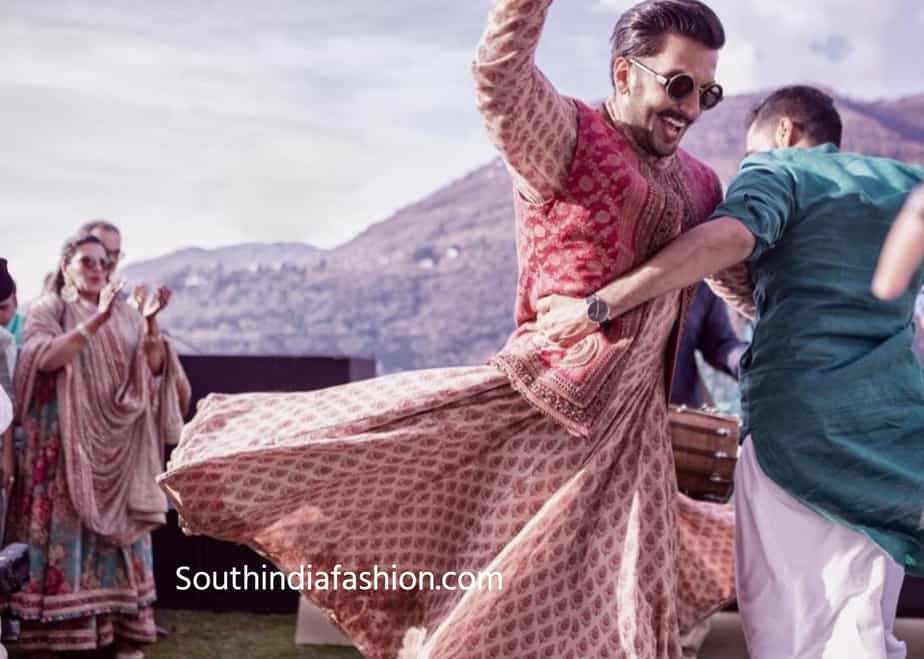 The flared look brings a royal Mughal touch to the Indian groom outfit and is also quite unique trend to make heads turn.
6. Slay with a SALWAR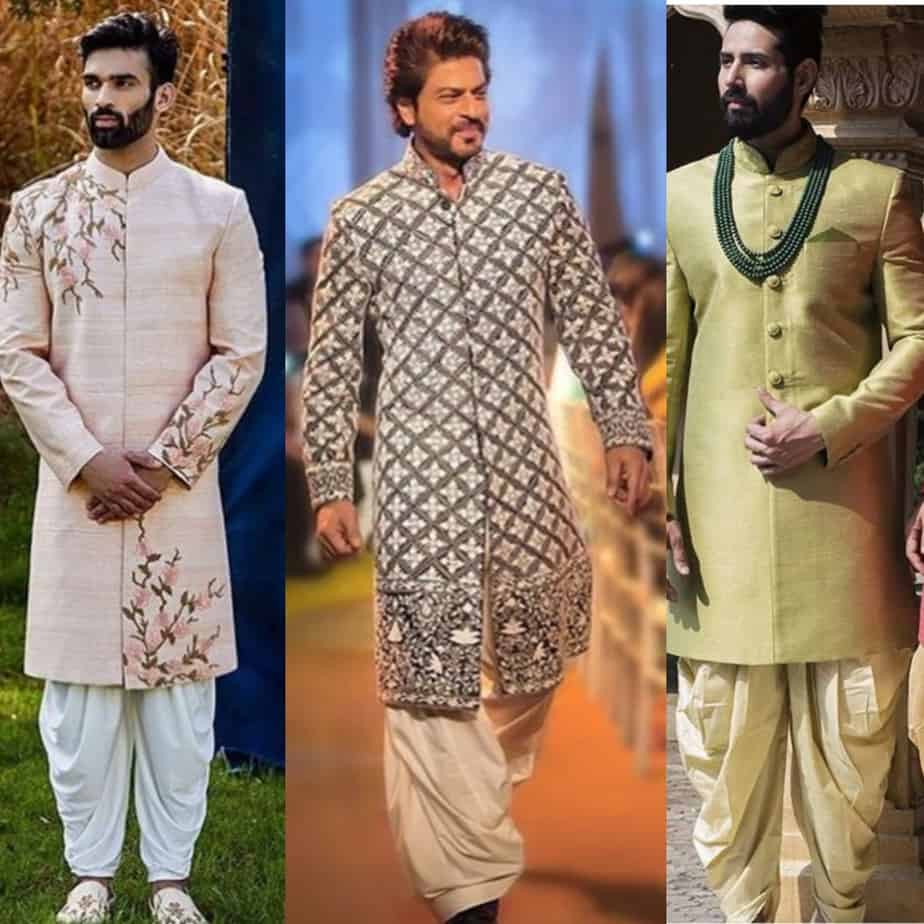 Combine a splendid long achkan with a pathani salwar or a patiala salwar for an illustrious Indian groom outfit. An embellished achkan with a golden salwar is an all time favourite for a traditional engagement look.
A printed one or an achkan with a motif with a white salwar will make a flawless combination. A pair of matching mojaris will round up your look.
7. DRAPES are trending for Indian Grooms
Cowl drapings in kurtas is a completely unique and eye catching trend for all the new Indian grooms to look completely mesmerizing on their big day. Explore vibrant colors and combos to stand exclusive from the crowd.
8. Playing with the PRINTS
Summers calls for pastel shades and light floral prints. The latest sabyasachi trend gave us an inspiration to experiment with prints on men. Find your kind of colour and print to rock your engagement or reception party.
9. Leave a mark with ASYMMETRICAL HEMS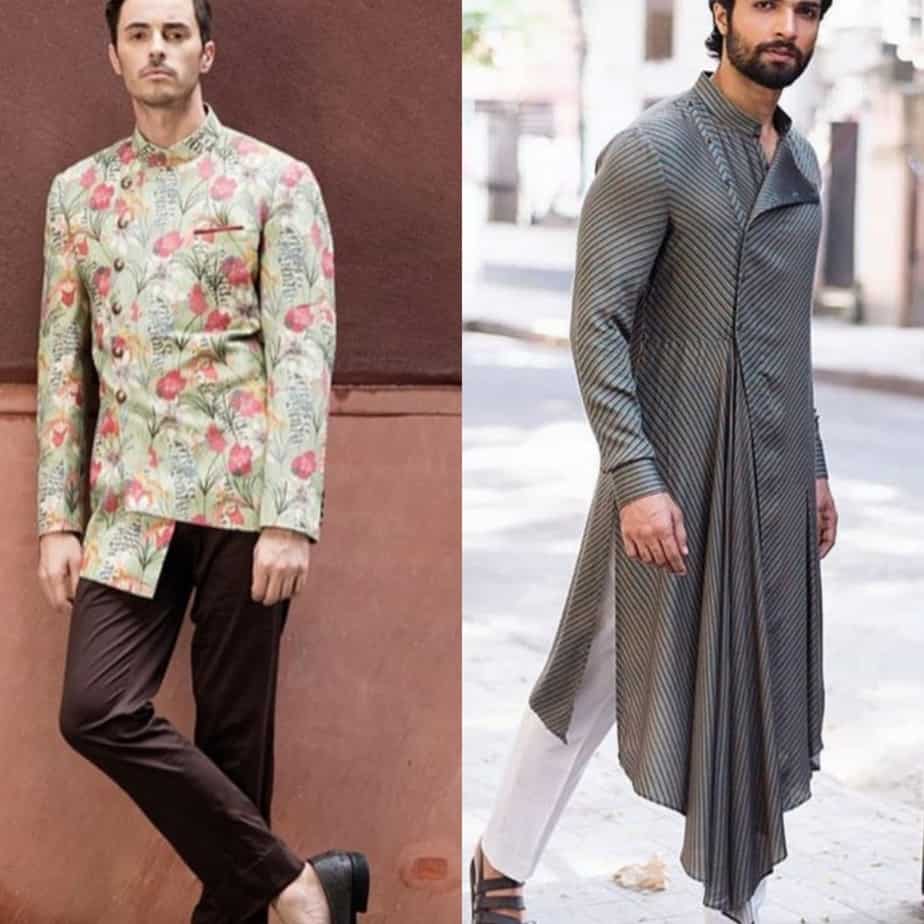 The up and down, straight and diagonal cuts bring an edgy swag to your Indian groom outfit when all the eyes of the party are on you. If you haven't tried yet, go for one quickly to explore a new you.
10. A Classy Indian  Groom in a DHOTI
If you are in a mood of leaving a mark with your traditional outfit so that everyone remembers you even after many years of your wedding- go for dhoti! Stand out from the crowd because rarely anybody might wear a dhoti kurta in your wedding function other than you. 
11. The Traditional ANGARAKHA style dress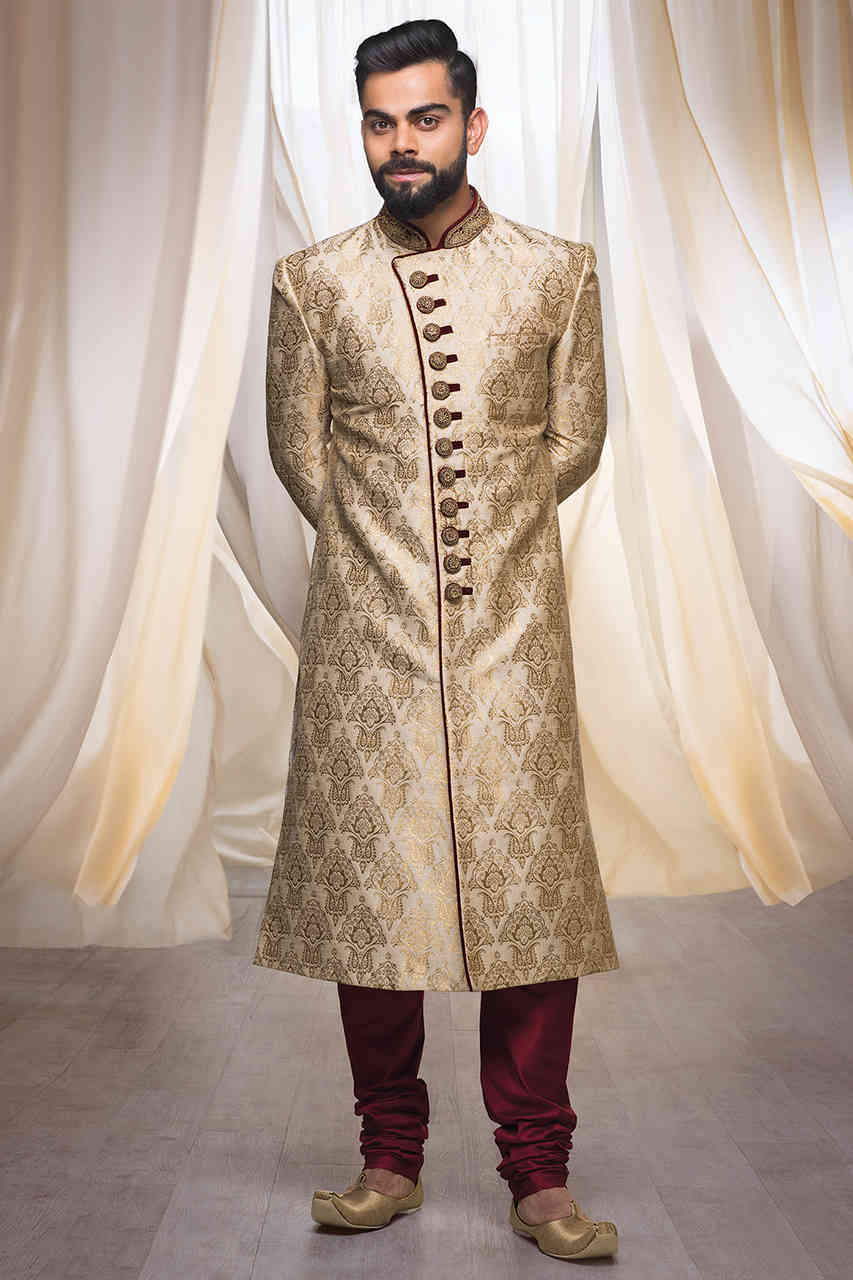 The traditional down to earth grooms need this style. Not too much of glam game or a royal affair. Just a simple angrakha kurta with a churidar and matching mojaris will do wonders.
Hereby, we reach the end of our latest Indian groom outfit ideas list. But there is never an end to fashion. A big shout-out to all the Indian grooms out there. It's your big day so style like one.
'WHY SHOULD GIRLS HAVE ALL THE FUN!'