Who doesn't love Indian weddings? The fun, chatter, food, dresses, glitter and colour are out of this world. Weddings are essentially fun-filled and spread cheer. The families take utmost care to see that nothing goes wrong. For the bride especially, she has to be an angel and be her happiest on the D-Day. From makeup to costume and hair, it should be well synchronized and designed. One vital aspect of this process is hair styling. The bridal look has to be curated with the utmost attention to hair styling. Times have changed and trendy bridal hairstyles that accentuate and add definition to the look. Though buns and braids still rule the roost, the styles have changed.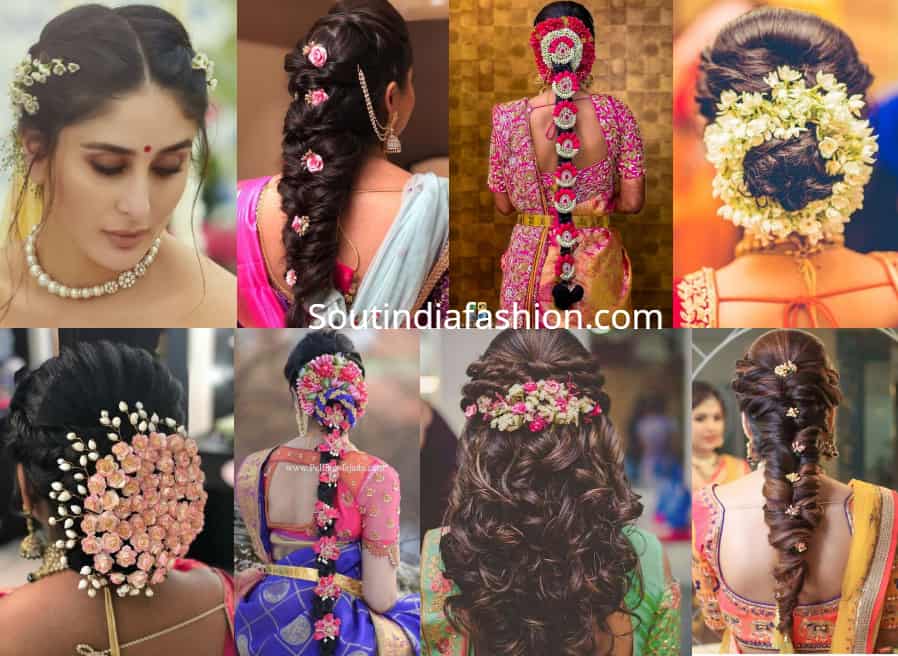 We know there are many bridal hairstyles to choose from, we have handpicked the best ones that suit all face shapes and hair lengths effectively making you look no less than a dream.
Top 10 South Indian Bridal Hairstyles:
1. Traditional Poola Jada
When it comes to looking like a regal, traditional bride, the long braid with flowers is the best match. We have seen many ways in which this age-old hairstyle is being experimented with. Brides can choose the pattern of flowers and motifs as per style.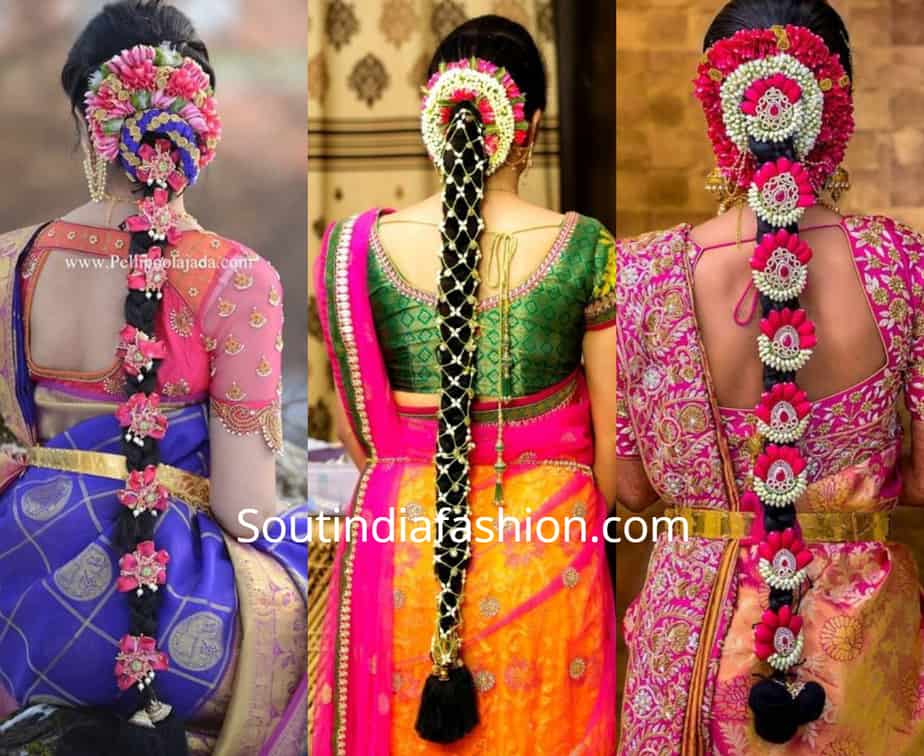 2. Layered Bun Style
This is an extremely elegant hairstyle which gives a waterfall effect. You can experiment it with a low bun or a side bun. It goes extremely well for medium length hair as you get the right bun size.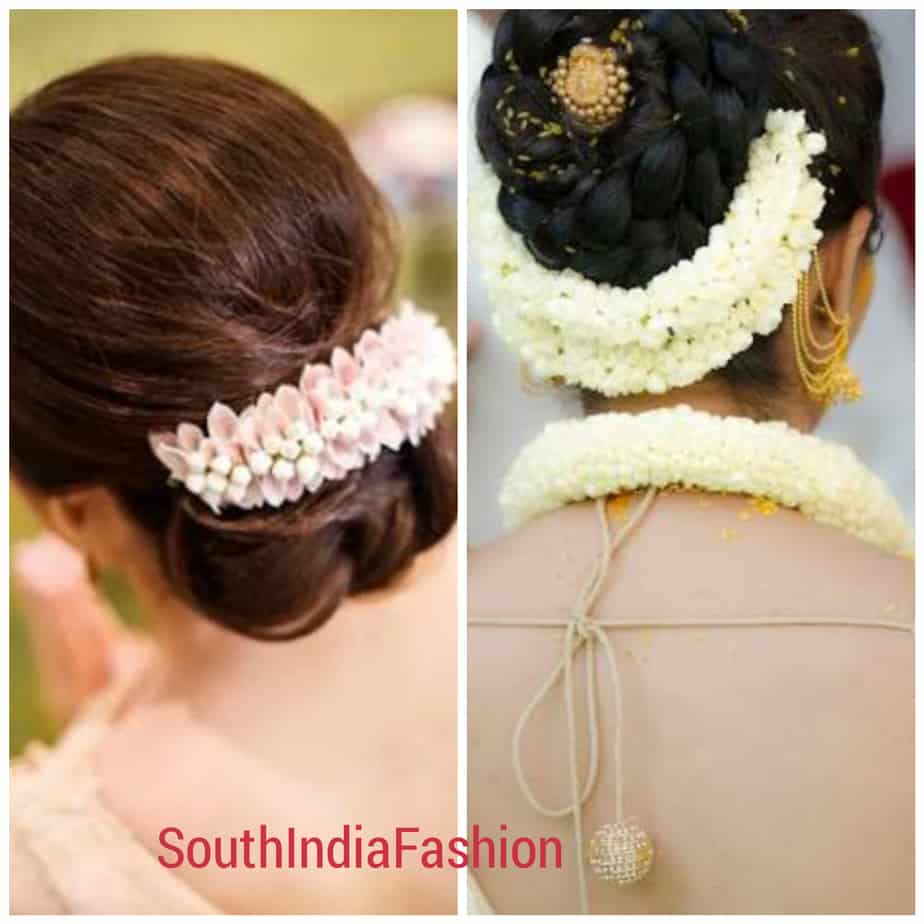 3. Fishtail Braid with a twist
A simple way to style yourself would be a fishtail braid. They are easy to manage and add a lot of volume to hair. You can add tiny studs, flowers or jewels to make it look more stylish. It gives a great boho vibe and adds charm.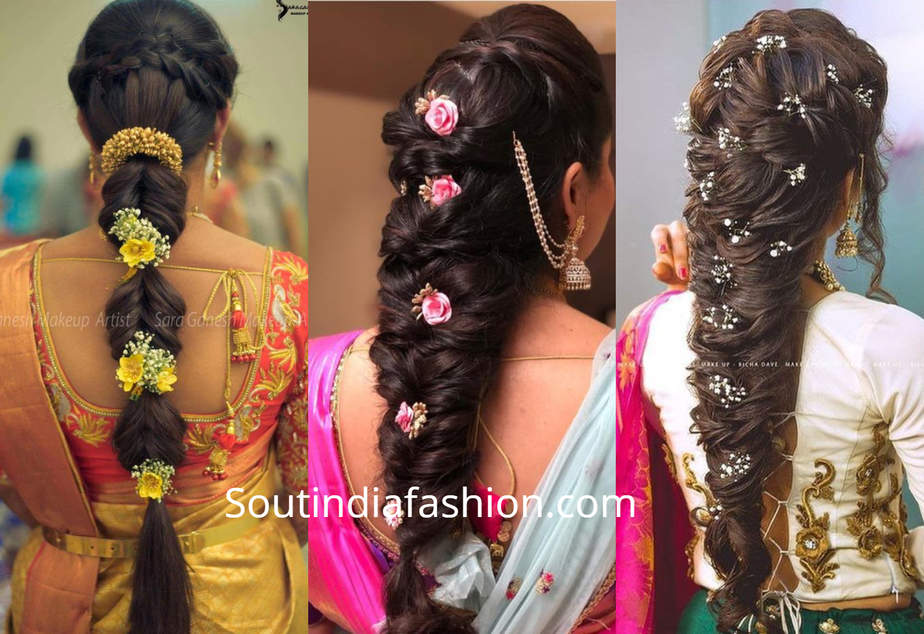 4. Loose curls tied with embellishments
This hairstyle makes your hair look like a cascading waterfall. It is loosely curled and this adds volume if you have thin hair. You can add hair accessories or embellishments coordinated with the wedding attire to make heads turn.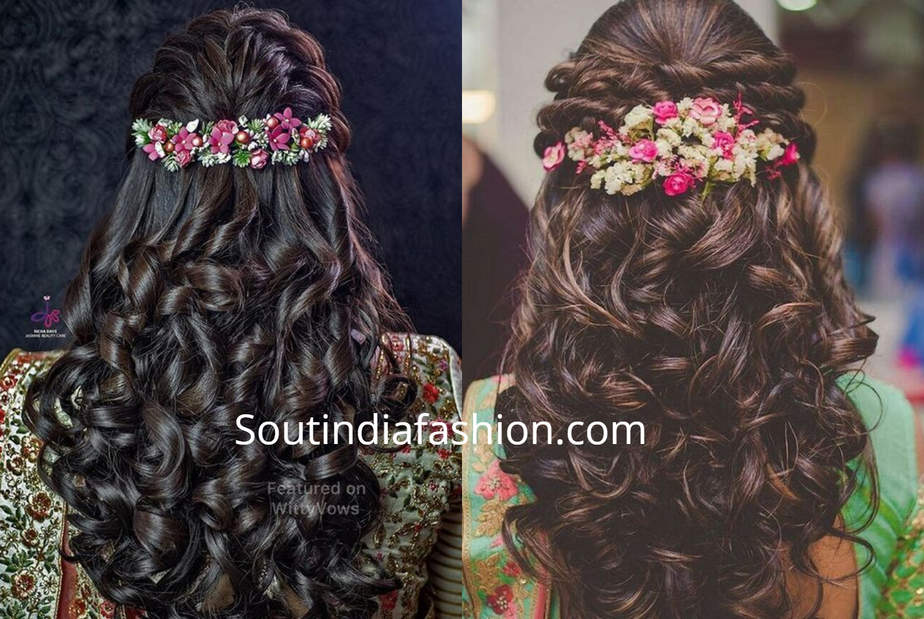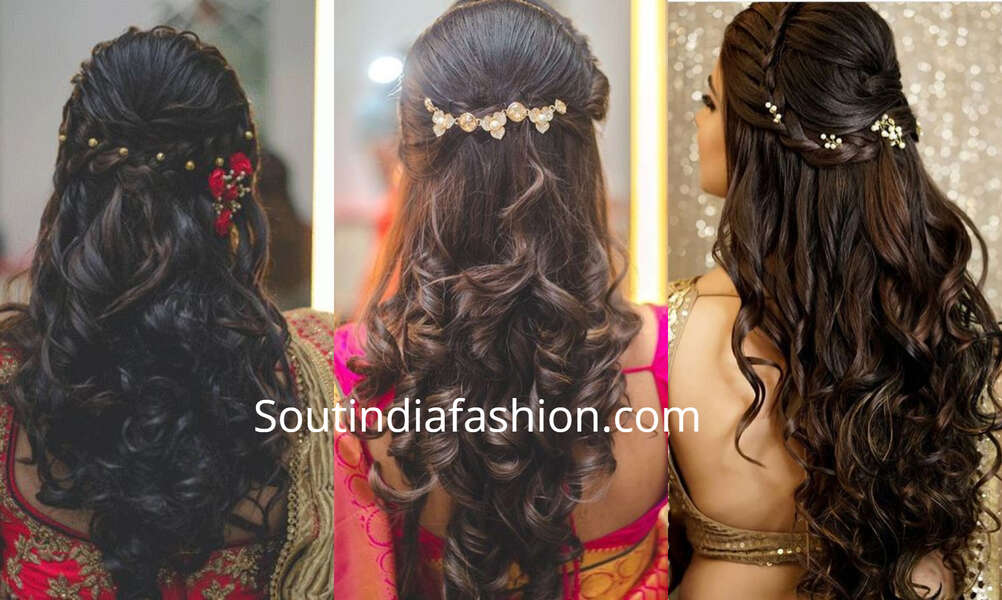 5. Spiral bun with flowers
A spiral bun adds ethnic and traditional vibe to your outfit. you can try it with middle or side parting while keeping a low bun at the center. You can add your favorite accessories or flowers to personalize it.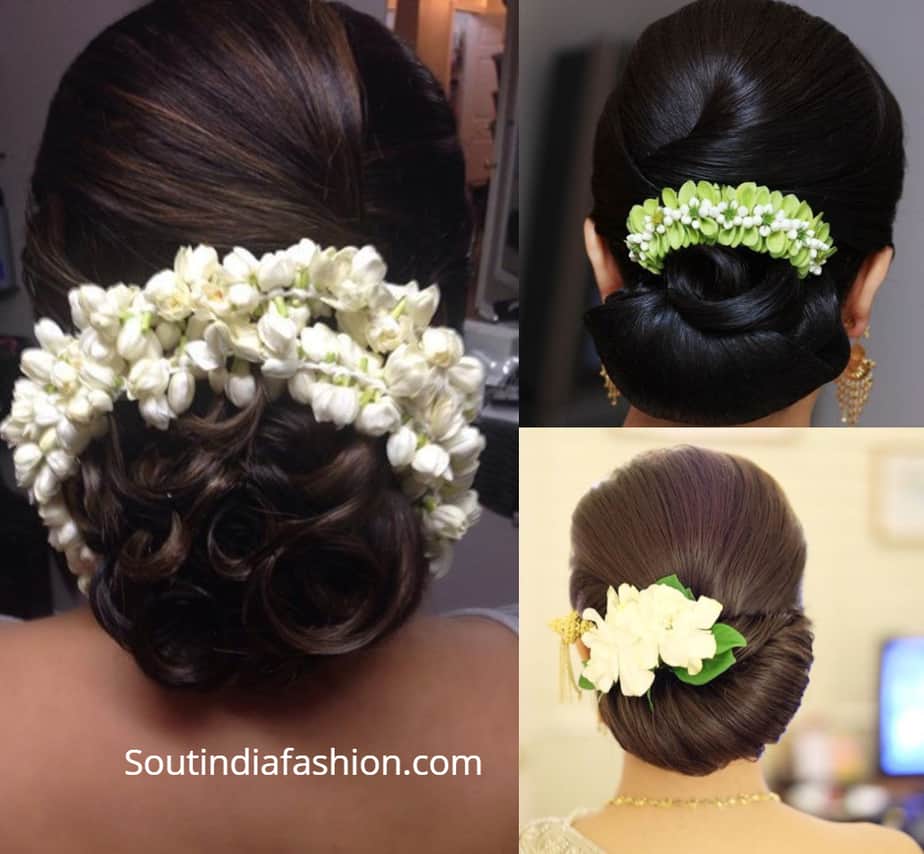 6. Concentric bun with flowers/jewels
This is another traditional hairstyle that has seen advancements over time. Make a bun as you wish- low or high. Pick some flowers you love and wound it around the bun. You can also stick some flowers or embellished pins in the bun for a refined look.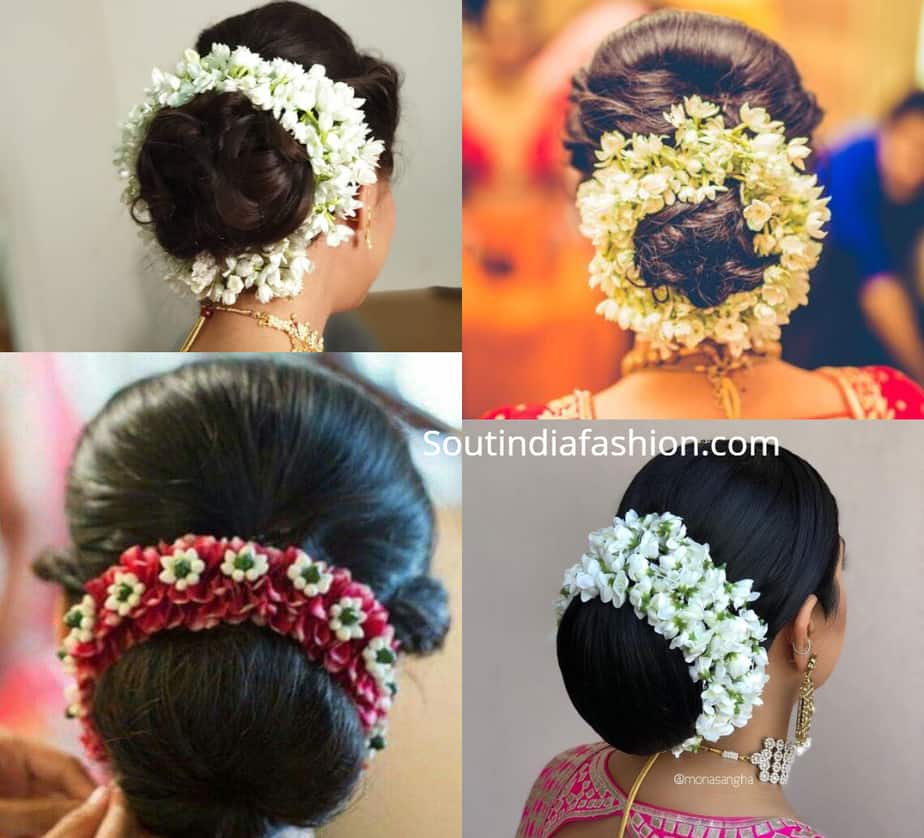 7. Retro Twist High Bun
Brides these days choose to go retro. A high bun with a side parting and flowers makes for a perfect bridal hairstyle. You can go with a couple of roses or any flowers. This keeps the traditional nuances intact in a trendy way.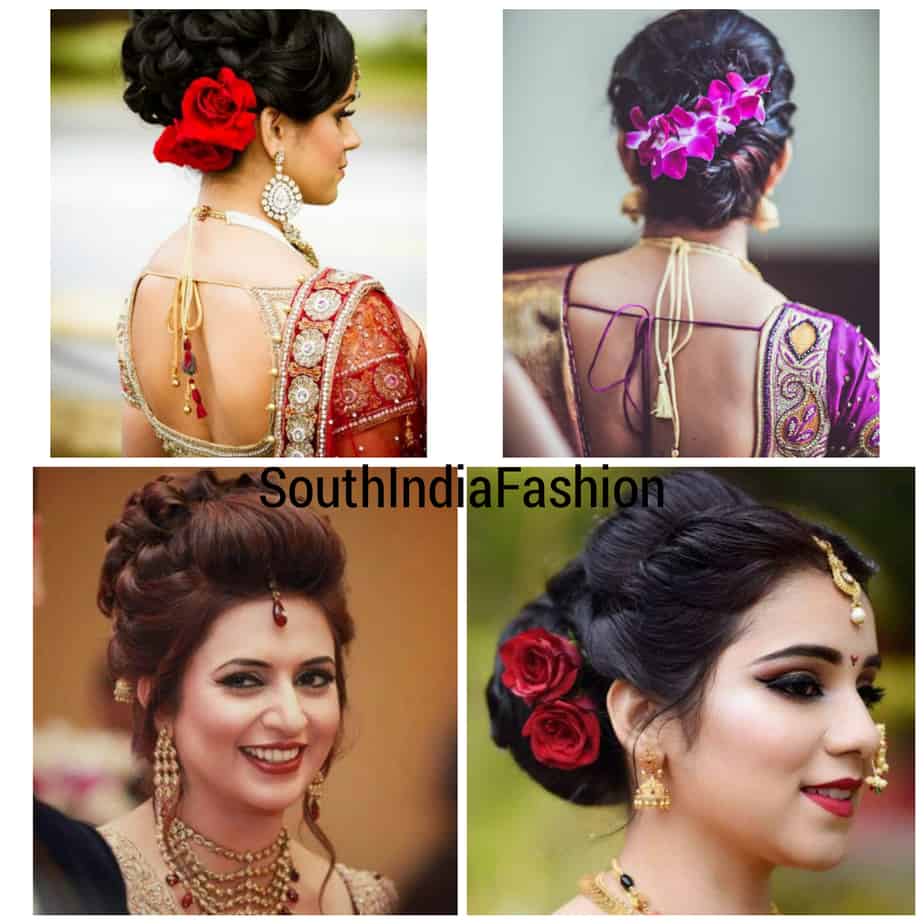 8. Hair Bun Covered With Flowers
Flower power all the way with a simple bun covered with flowers. This makes for a great south Indian bridal hairstyle and looks elegant and dignified.
9. High Puff With Bun Hairstyle
This is one easy to decode style. You should use a bouffant that adds volume and couple it with a low or high bun. You can even add flowers or hair accessories or use your jewellery to create a simple yet alluring look.
10. Center Parted Twisted or Braided Bun
Choose this super cool bun as it gives off feminine vibes and looks very adorable. Also, it is extremely easy to carry and looks good with flowers too. All you have to do is part your hair, twist or braid as per choice and make a bun.
Indian bridal looks are incomplete without the perfect hairstyle. Do let us know what is your favorite bridal hairstyle in the comments.