Your hairstyle can make or break your look. Most often you are dressed impeccably from head to toe, but if your hairstyle is not right, the entire look will be a turn down. Hence, your hairstyle plays an important role in making your look successful. Especially when you are dressed in a traditional attire, you will need to have a traditional hairstyle that goes well with your outfit. When you are wearing a half saree, you must choose traditional and semi-traditional hairstyles.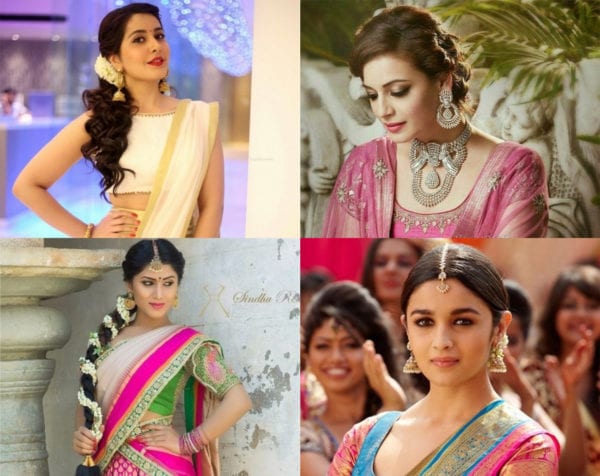 Here are some traditional hairstyles that are a hit combo with the half sarees –
1. Loose Bun 
A loose bun is the easiest and the most comfortable hairstyle that you can wear. These days, it is also considered modern and perfect for half saree looks. A loose bun can be done in a jiffy and will also look chic. Add a maang tika at the center of the hair and you will have the most beautiful traditional hairstyle. This hairstyle is suitable for an evening reception.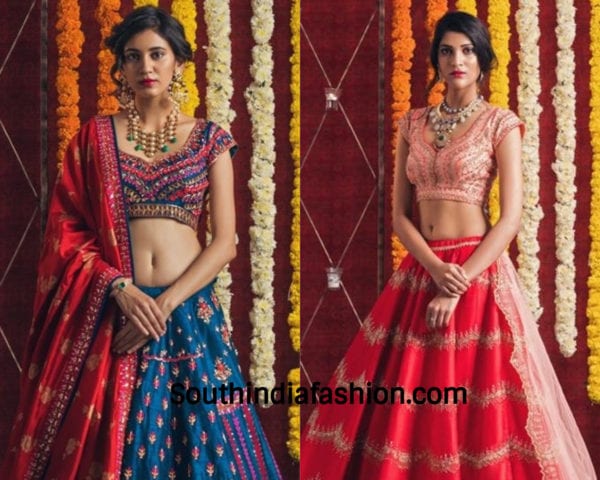 2. Tight Bun 
Unlike the loose bun, a tight hair bun will look formal and perfectly ethnic. It is the most convenient hairstyle for a half saree look. You can have a center parting of your hair which can be left open or cover it with a maang tika. This look is perfect for a wedding or a puja.
3. Twisted Bun 
Part your hair at the center, or a side to make small twisted braids on both the sides. Join these braids to roll up into a bun. This bun has more finesse than the plain hair bun. This bun is good to go for a wedding or a party when you are wearing a half saree. You can use fresh flowers to adorn your hair when you have this hairstyle.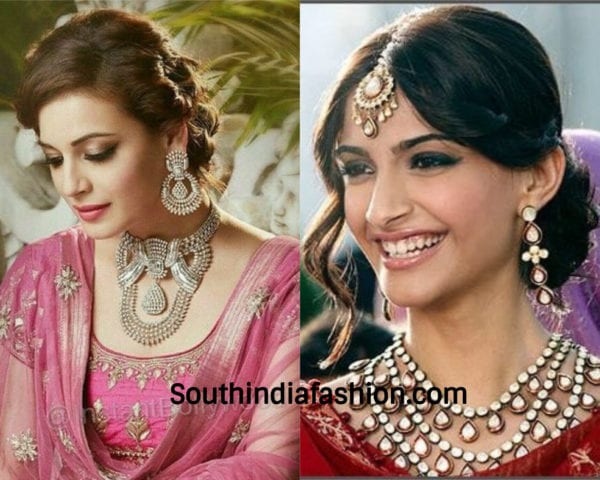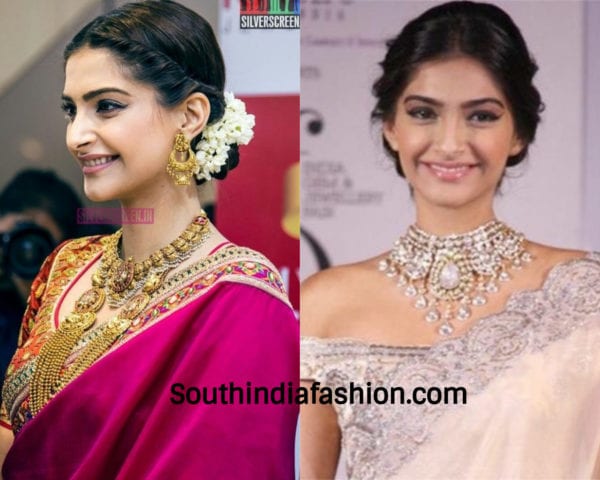 4. Side Braid 
If you want a semi-traditional look, you can go for the side braid. It is fancy, yet ethnic. It gels well with a half saree look. The side braid doesn't really need any accessorizing. You just have to put it in front of your shoulder and your look is complete.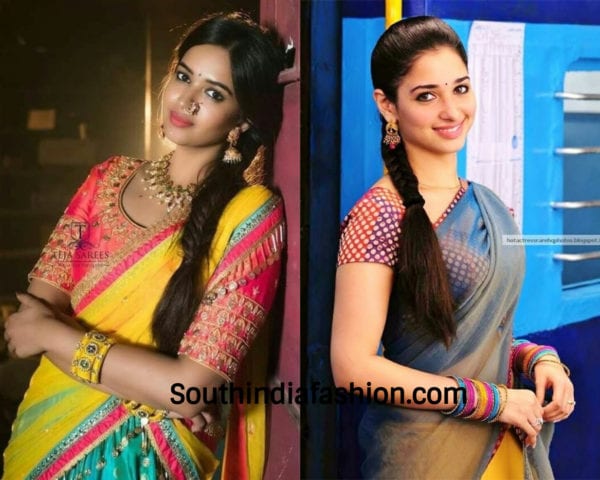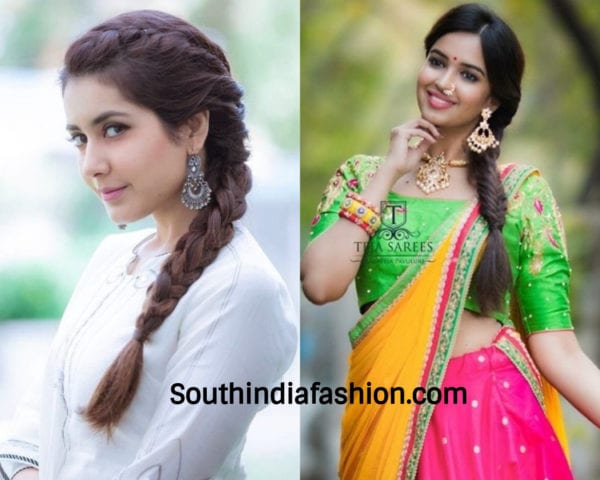 5. Long Braid 
A long, traditional braid is the go-to hairstyle when you are wearing a traditional half saree. It makes you look every bit of a south Indian girl. A long braid can be accessorized with flowers that are twirled along the braid. Or you can keep it simple with just a bunch of them at the beginning of the braid.
6. Curls 
Curls are the ultimate hairstyle when you want to look feminine and beautiful. If you have natural curly hairs then fine. If not, then you can certainly get some curls at the stylist to complete your half saree look. Curls must be left free and that's it.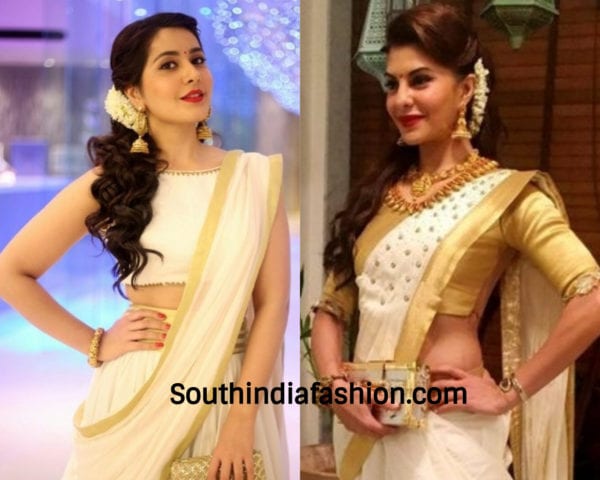 7. Fishtail Braid 
A fishtail braid is the new hairstyle that is quite popular with the half saree. If looks cool and at the same time tradtional. This hairstyle is simple to braid and also doesn't need any fancy accessories.
8. Puff 
With a braid or curls, poker straight hair or a bun, a puff is something you must try if you want to look regal and elegant. A puff can be small one if your forehead is large or a large one if you have a small head. The puff can be improved using a maang tika at the center.
9. Free Hair 
This may not be a very traditional hairstyle, but it has been paired with the half saree from many years and hence is almost considered ancient. The straight hair is less messy and complicated. It is simple and sophisticated. You do not need much time to style this kind of hair. Just do the parting that suits your face and you are ready to rock the look.
10. Low Pony 
On a bad hair day, if no hairstyle is going well with your half saree look, you can just pull all your hair together and make a simple low pony. It takes you ten seconds to complete this hairstyle, but it will certainly look good with a half saree. Use flowers or hair accessories to seal the look.
These are some traditional hairstyles for your half saree look.