Saree is one interesting outfit. Not just because it makes you look sensuous and elegant but also because of its diversity. A single saree can be worn in ten different ways. You can wear a saree according to your height, body shape and comfort. There is no other outfit in the world that is so flexible and handy. So, here are some interesting saree draping styles for parties.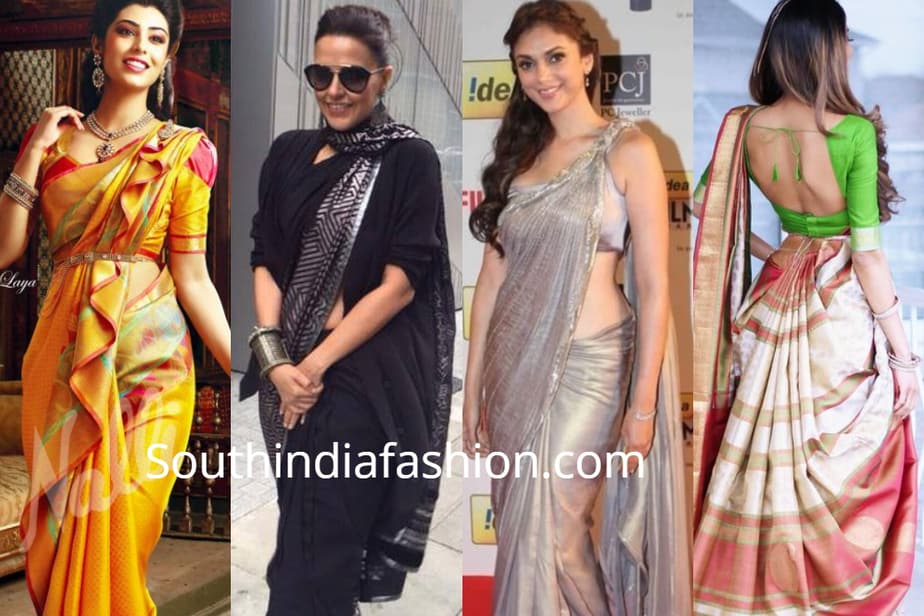 These are the nine different saree draping styles for parties:
1. Left Side Pallu
This is the most basic way to wear your saree. You should pleat the saree around the waist and then bring the pallu to the left shoulder. Now here you can either pin it in single layer or you can pleat the pallu and get a neater look. This depends on the type of saree you are wearing and your comfort levels. While single layer is preferred for casual events when you wear your chiffon, satin and net sarees, the pleated pallu is for formal events and kanchi pattu sarees.

2. Right Side Pleated Pallu
If you are bored of the left side pallu, you can change just the direction you wear your pallu. Instead of the left, you can drape it on your right shoulder. It doesn't seem to make much difference in words, but when you actually wear it, it gives a completely new look.
3. Back To Front Pallu
This is the Gujarati style of draping your saree. Here instead of wearing the pallu from the front to back, you bring it from the back side to the front on your right shoulder. This is a very ethnic way to wear your saree. You can wear your saree in this style at traditional events.
4. Pleats on the back
This is rather a different way of draping your saree. Usually you pleat your saree at the waist in the front, but in this method you pleat it at the back. It creates a sort of interesting pattern in the back and is certainly a fun way to try wearing your saree.
5. Half Side Saree Drape
Before you pleat the saree and tucking it in, you take your saree one round around your waist. But in this method, you must not do it. Just start pleating and tucking your saree in the front so half side is covered with saree while the other half is just your skirt. Just make sure that you wear a nice skirt along with your saree.
6. Pallu Wrapped Around the Neck
A hip way to wear your saree is to wrap your pallu around the neck after you have worn it. This method is suitable for cotton sarees and modern blouses. It is a fun and carefree way to wear your saree. This look is suitable for young girls who want to make a statement with their saree look.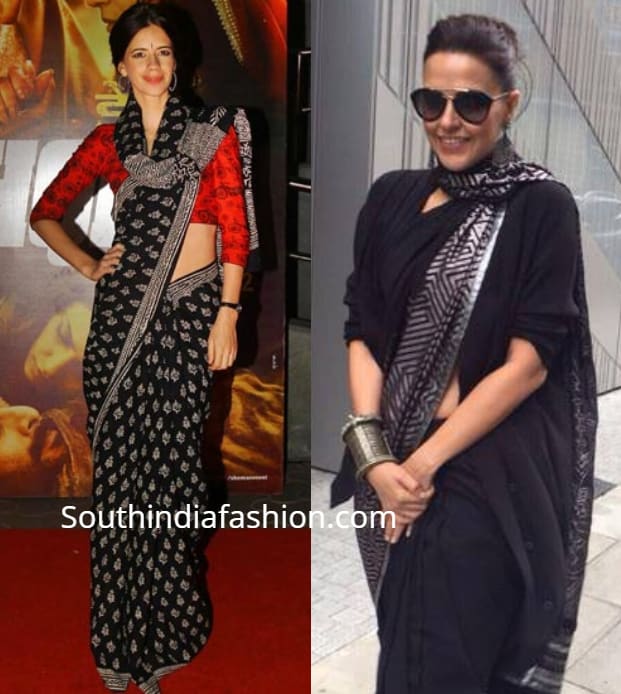 7. Right Side Pleats and Extreme Left Pallu
Usually the pleats are made and tucked at the center of the waist. But in this case, you will have to tuck it on the extreme right side of your waist so it's visible easily. And then you take the pallu to the extreme left of the shoulder and then pin it. This way of draping is you are wearing a blouse with front design and want to show it off.
8. Twisted Pallu
Add some twist to your desi saree by twisting the pallu and draping it on one side of your shoulder. This is a hip way to look cool even when you are wearing a saree. Use this trick on chiffon, georgette or satin sarees as they are easier to twist than heavy ones.
9. Zigzag Folded Pallu
If you want to try out something out of the box, this one is for you. Make a zigzag pattern folding at the edge of the pallu. Pin it like you do normally and this will be an entirely new look. You can create this look with kanchi sarees that have large borders.
These are some ways in which you can wear your sarees.