What's the first that comes to your mind when someone says 'traditional attire'? Well, for most of us, it's the timeless and evergreen Saree. With wedding season finally hovering above us and festivals filling our yearly calendar, scouring for ethnic outfits is the only things on everyone's mind. While anarkalis and salwar suits are always an option, nothing can beat donning a classic Saree. With Saree fever hitting B-town and celebs donning them at every nook and corner, in tons of different ways, it was only a matter of time we stepped out in one. So today we are featuring a few modern saree draping styles by Dolly Jain.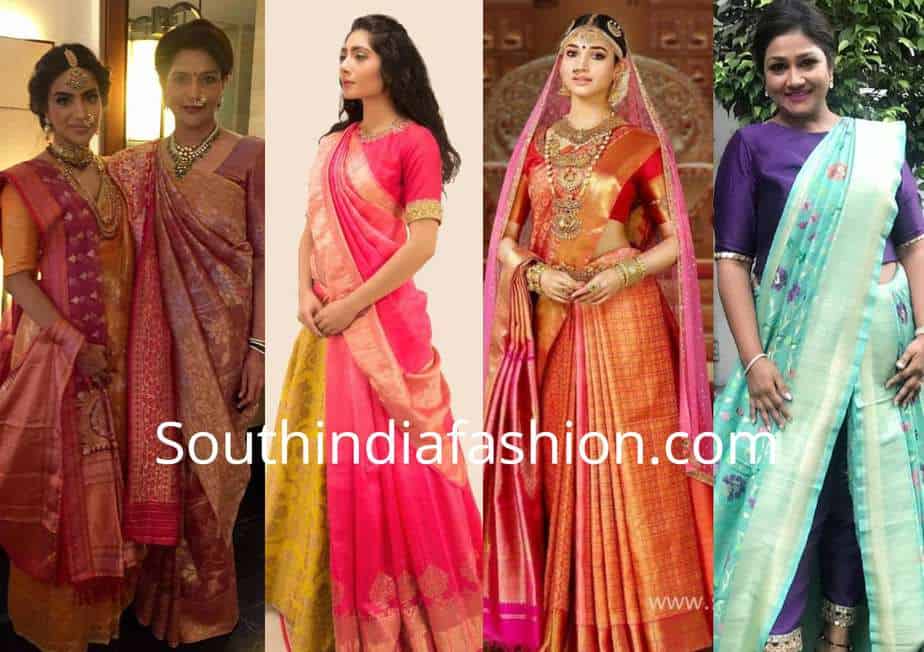 Celebrity Stylist Dolly Jain 
Spotting our celebs don a Saree is not an unusual sight, but seeing them drape these Sarees in the most unconventional ways possible, make us want to know their secret, as well. If you, like us, have been wondering how to style your Saree in tons of unique ways for parties, it's about time you meet Dolly Jain; The celebrity Saree draper and Limca Book of World Record Holder, who's known for draping a Saree in 325 styles, is here to put your draping woes to rest.  Be it draping it over your favorite lehenga or styling with cigarette pants, Dolly Jain has the answer and the secret to just about everything.
Ladies, take notes!
1. Saree draped over a lehenga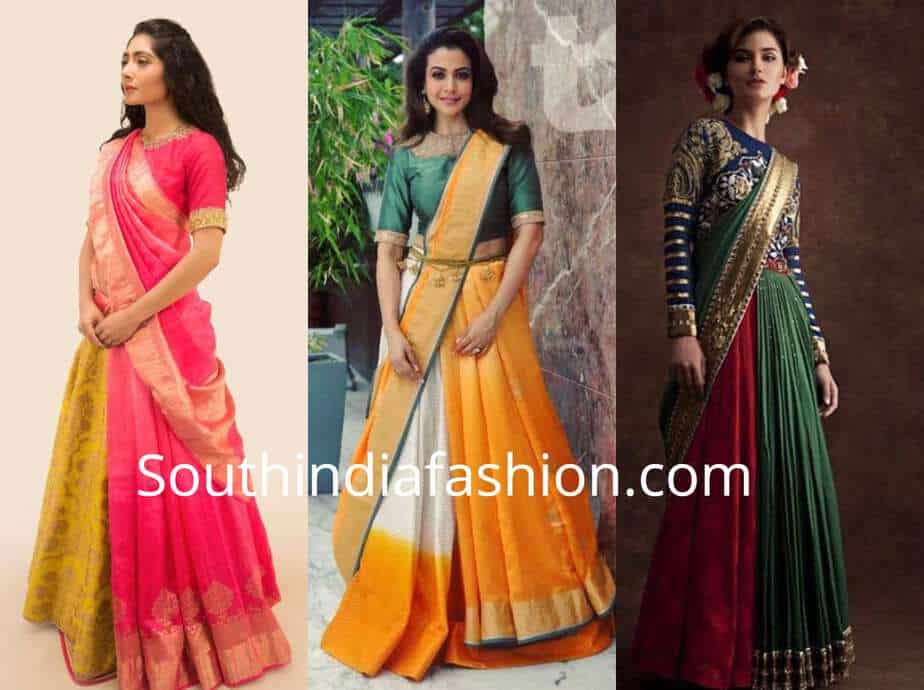 Stuck between your love for Saree and love for lehengas? Time to enjoy best of both the worlds by draping your favorite Saree over your most coveted lehenga. While the market is filled with pre-stitched lehenga Saree's, there's no better satisfaction quite like doing it yourself. Especially, when the trick to achieving this look is beyond easy. All you need to do is pleat the pallu quite a number of times, tuck it around the waist of the lehenga and bring the remaining pallu over the shoulder and pin it. Besides being the head-turner at the event, you'll also be surrounded by friends and family, wanting a beginners guide on doing what you just did!
2. Saree With Dupatta

After all, it's all about unleashing your inner creativity. This saree draping style created by Dolly Jain gives elegant and royal look. While a lehenga Saree spruces up your entire look, a dupatta drape adds some much-needed royal drama. The most timeless and elegant draping in the book, this style of draping lends panache and elegance to your entire look. All you have to do is drape your saree normally and tuck one end of the dupatta on the right side of your waist, then go ahead and drape it from under your left arm and throw it over your right shoulder like a saree pallu. The perfect style for all every close-knit family wedding function. Plus, it's also a celebrity favorite.
3. Traditional drape with two sarees and one dupatta
If draping your Saree with one dupatta was not quite as dramatic, say hello to draping your life away with not just one but two Sarees and a dupatta! While this is the most unique draping style created by Dolly Jain, it can get really tricky. Choose two sarees before proceeding with this kind of styling. Drape the first Saree the regular way, but make sure the pallu is left in the front on the left side. Next up, pleat and drape the other side from the back on the right side. While one saree is pleated on the right and draped in a conventional way over the left shoulder,  the other is pleated on the left side and draped over the right shoulder, thus giving the attire a super voluminous effect. Perfect for everyone who wishes to do things Zara Hatke!
4. Saree draped over kurta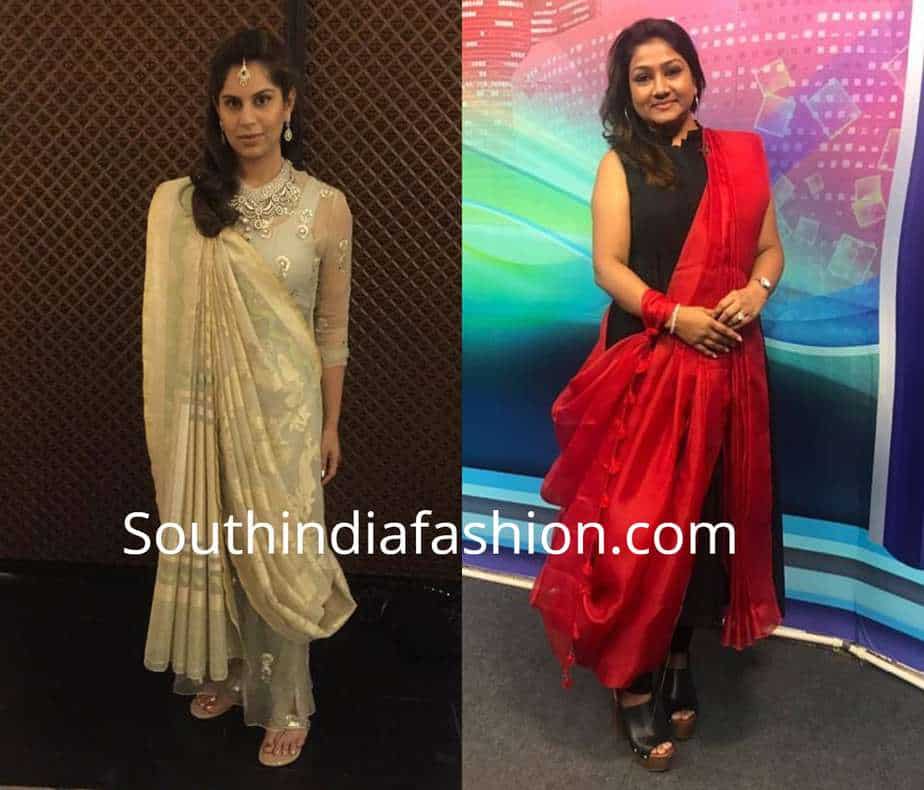 This draping style created by Dolly Jain is for all our Gen Z's and millennials. Either opt for matching hued kurta and Saree or simply bring together two contrasting colors, and watch the outfit magically set in place. Perfect to make a power-packed statement at all your office parties.  It's all about the art of mix and match!
5. Saree with jeans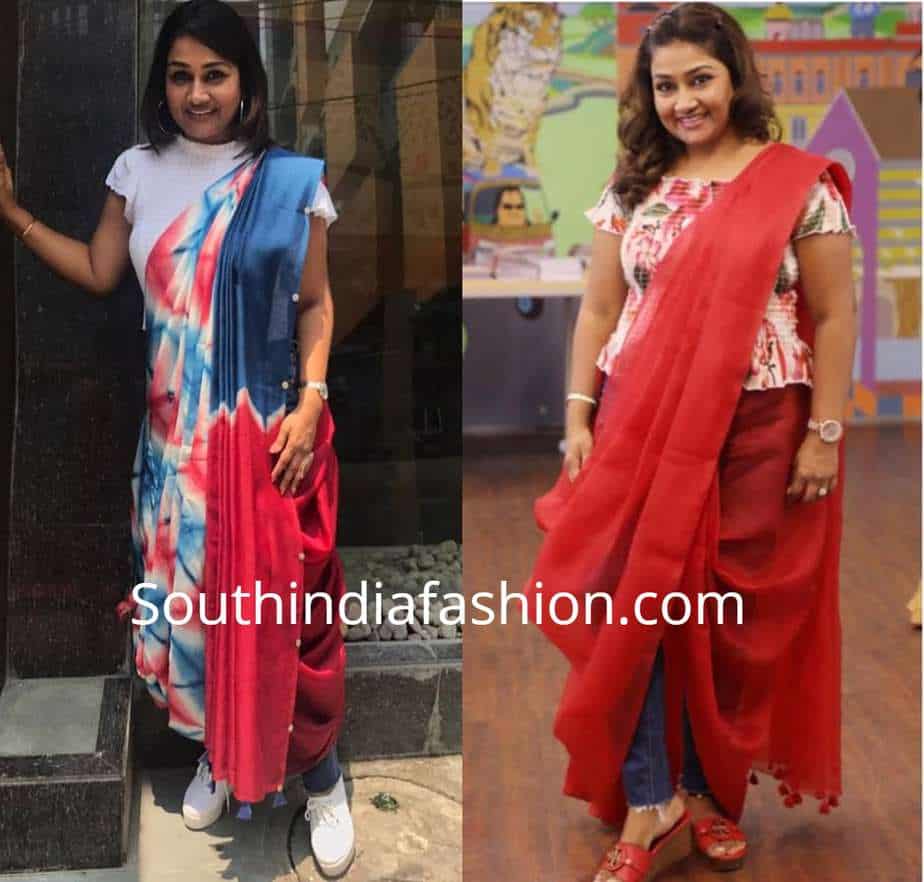 This blogger favorite style is seen all over our social media feed. From Shilpa Shetty Kundra to every A-list Blogger, this is one trend that pretty much has everyone's approval. Also, it's super easy to recreate. This indo-western draping style, seen all over the runway requires you to give your boring ol' jeans-top outfit some much-needed upgrade. All you need to do is take the pallu and throw them over your shoulder, the regular way. Then, bring the other side of the Saree around you and tug at the waist. Lastly, pleat the leftover Saree in the middle and tuck them inside your jeans. Voila, you're good to go!
6. Saree with culottes or palazzos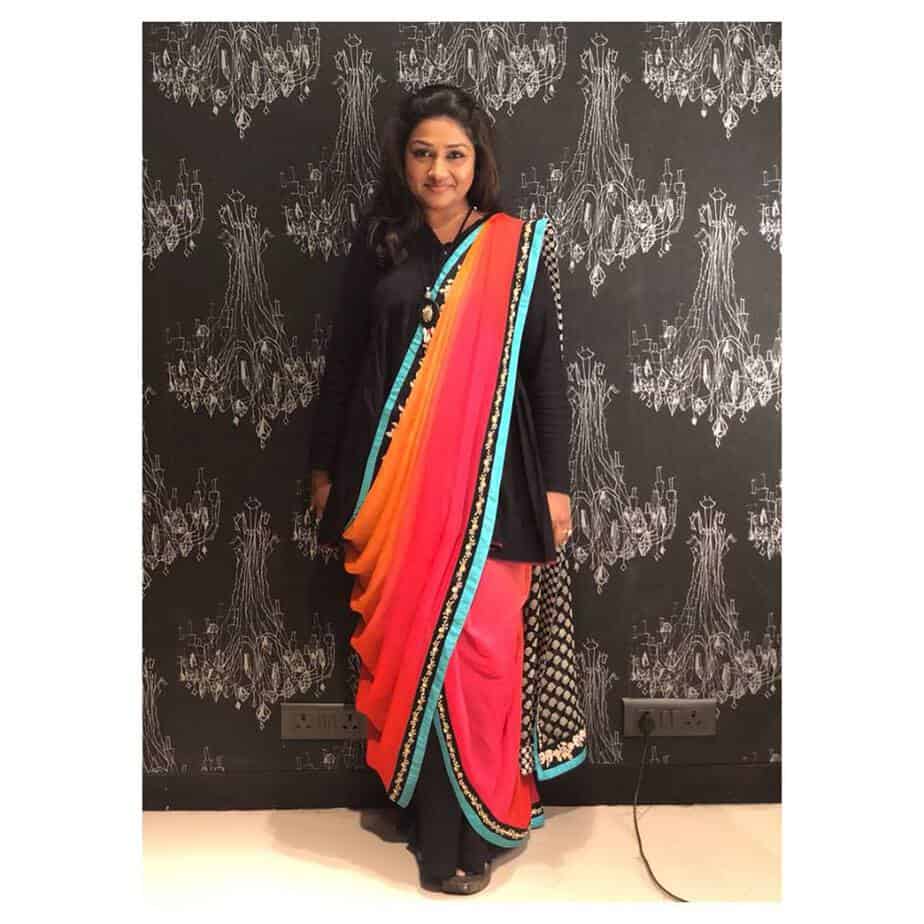 Never been a fan of the good ol' jeans? Die-hard lover of the culotte and palazzo trend? Then, all you need to do is switch your jeans for your favorite pair of palazzos and drape it the exact same way. Works brilliantly at all your family Puja ceremonies.
7. Saree draped over a gown or floor length anarkali
Good news for all you ladies who love stepping out in a Saree, hassle free! Bid goodbye to draping your Saree in a traditional way, and welcome on board the indo-western gown-glamazon option created by Dolly Jain. While these gowns are available in the market in a plethora of colors and style, this style is super easy to recreate at home as well. All you need is a Saree that will compliment your gown beautifully. Two gorgeous pieces make for one jaw-dropping, one-of-a-kind ensemble. Don't you agree?
8. Saree with pants or leggings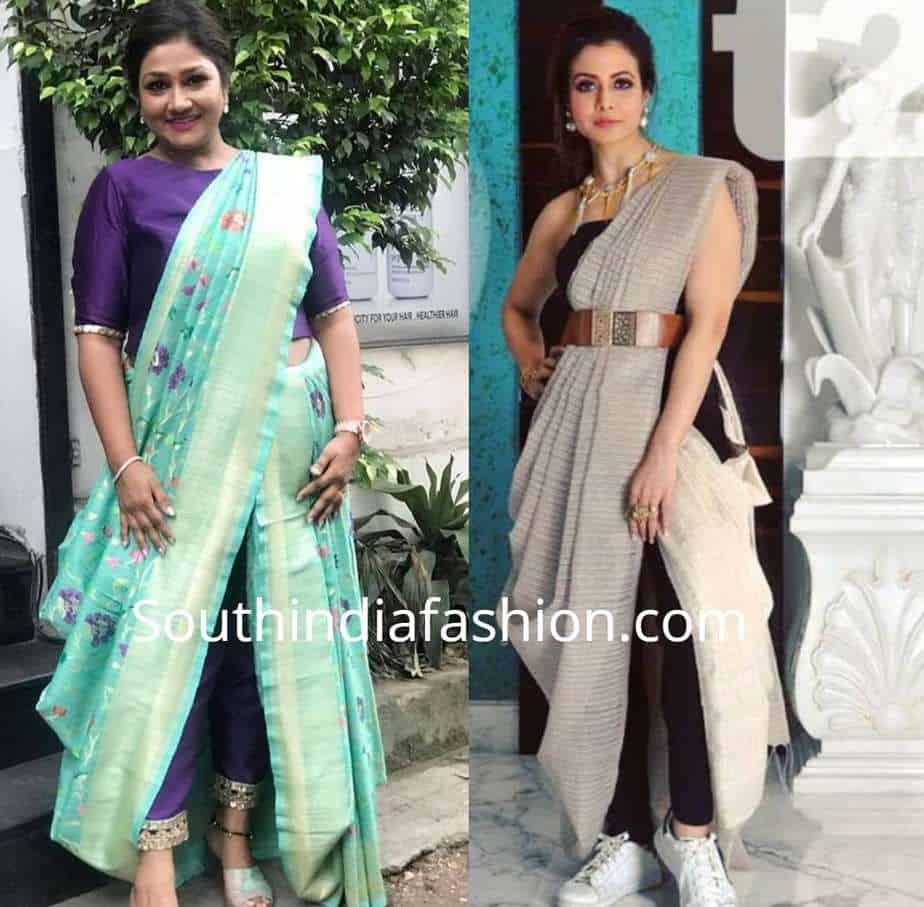 With leggings being the biggest trend since forever (Thank you, Zara), jeans seem to be pretty much passé. If leggings can be considered the love of your life and the only lowers one can find in your wardrobe, then this style is God-sent. Glam up your basic leggings with some Tadekedaar Saree twist. Traditional day at work/college or just in the mood to have some fun, this funky style is the way to go.
9. Double Cowl Saree Drape
The best way to add a little Va-va-voom and glam quotient to your Saree is to give it the cowl drape. Start by tucking your Saree at four points (front, back and on both sides) while you wrap it around in an anti-clock direction. Pleat it as you would normally do, but the difference is instead of throwing the pallu over your left shoulder, draw it over your right shoulder, that too from behind. Finally, take the left tip of the pallu and secure it to your blouse with safety pins. Might sound a tad bit complicated, but practice can make just about anyone perfect. Works like magic for any outdoor or dreamy destination weddings.
10. Dhoti Style Saree Drape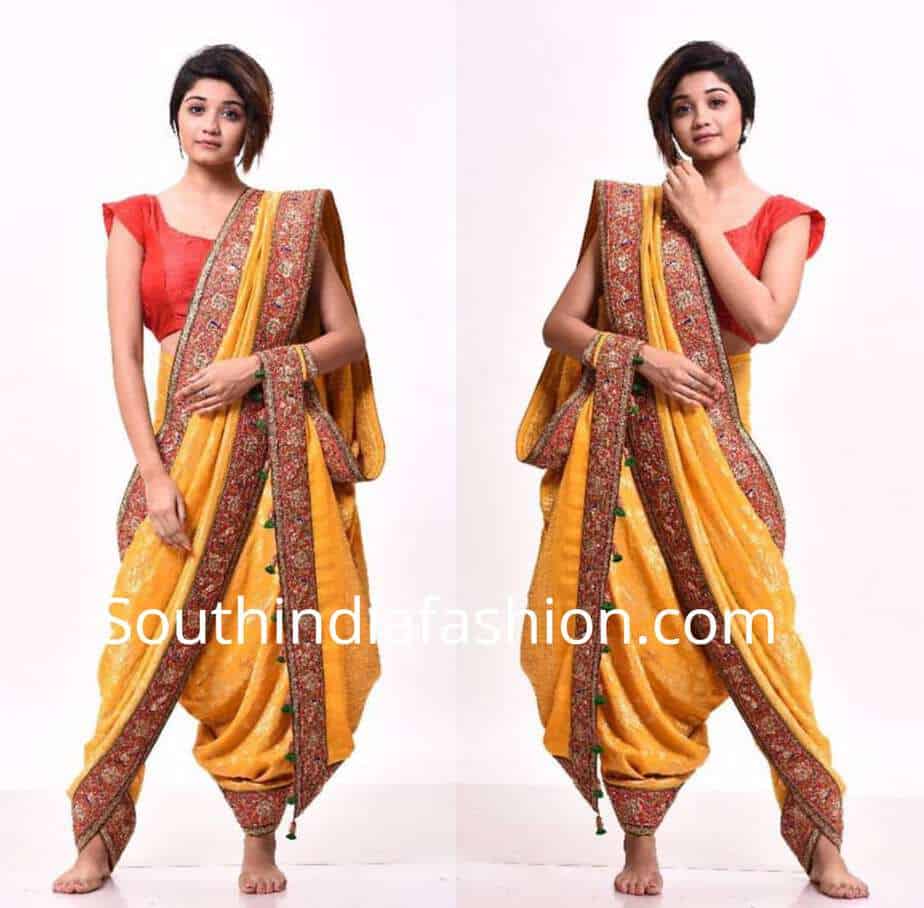 Let's hear it for dhoti style Sarees which are taking the runway by storm. From Sonam Kapoor to Kangana Ranaut, we have these B-town style icons, step out in this quirky style. While you may need some professional help or a Saree expert to drape this one for you, eventually, it will all be worth it. Trust us!
Pro Tip: Stay clear from printed Sarees as they tend to blur the vision of dhoti like drape.
11. Gown style saree draping
"I hate wearing a gown", said no woman ever! Now, what's better than donning a gown that you just burnt a huge hole in your pocket for? A Saree gown! Go ahead, sneak into your mom's wardrobe and drape like a gown, for no additional cost!
12. Mermaid Style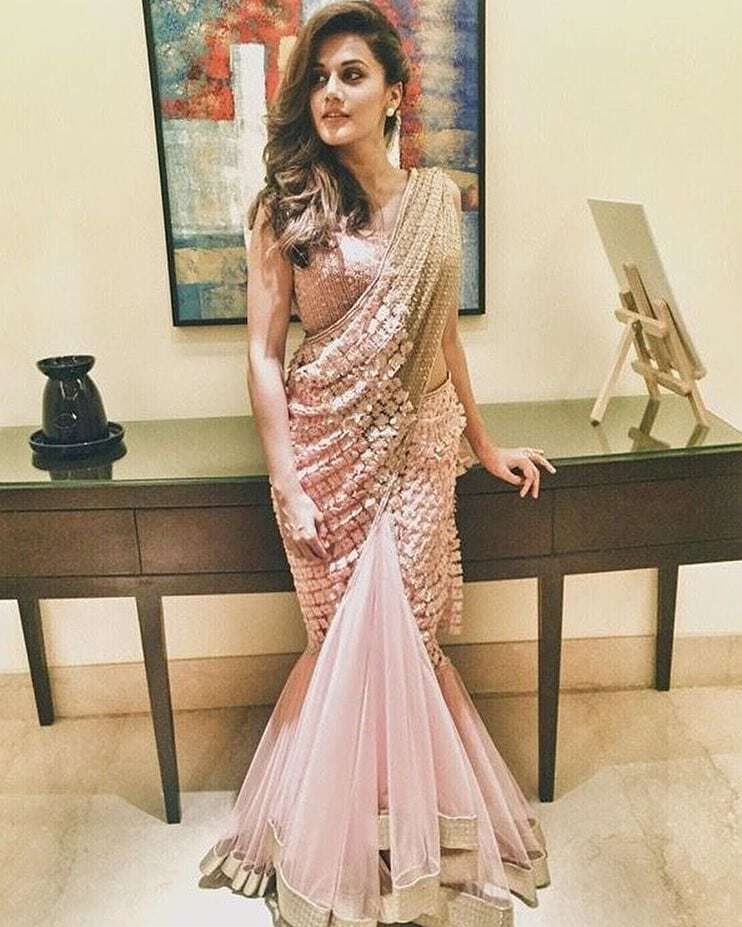 While this one is our personal favourite, you might need a little help or supervision while draping this one. Mermaid style, as the name suggests, will create the final look identical to a mermaid taking help of the saree pleats. This draping style is perfect for every woman who wants to look lean and thin as it gives you a slimmer and taller look. A beautiful and elegant look for every to-be bride, especially for her big-fat-Indian-reception. From making you the party head-turner to being hailed as the official Saree veteran, this is one style you just cannot skip.
13. Belted Saree Style
Welcome home the Saree 2.0. Seen on celebs from Shilpa Shetty to Tammannah Bhatia, this minute little tweak can perk up your Saree in a matter of seconds. All you need is a statement belt to clinch that waist. The perfect make-do when you want a little change in your hush-hush moments. One of the most comfortable and dressy styles of draping a Saree.
Follow Dolly Jain on Facebook here for more innovative saree draping styles.