Handloom sarees are one of their kind. They are expensive and look regal when worn. They are also not very easy to maintain. Most of the handloom sarees are so precious that they are passed on as a family treasure from one generation to another. They are a huge investment, both monetarily and emotionally. Hence, they must be maintained well and with great care. As handloom sarees are made from natural elements, they are easily prone to weathering. Staining and tear are other most common reasons for the damage of handloom sarees.
Here are some tips on how to maintain your handloom sarees –
1. How To Wash Handloom Sarees
Do not wash your handloom sarees at home. Always give to a professional and trustworthy dry cleaner you know. They will dry wash the saree very carefully and give it back to you. If you wash it at home, you will be using harsh water, chemical soaps and detergents and other harmful substances that may damage the saree.
But, if you still wish to wash it at home, make sure you soak it in salt water for a few minutes before you begin the washing. Wash the sarees by hand and not by machine. Rinse with cold water and wash with a good detergent which is mild. Do not use bleach or dyes to wash your handlooms. Never use hot water to wash your handlooms. Do not squeeze the saree after wash. The water must dry naturally. Do not dry them under direct sunlight. Let them dry in shade on a clean surface.
2. Stain Removal from Handloom Sarees
Stains are common when you wear sarees. When you stain your handloom, you must act immediately to clean it off. Food and oil stains can be removed by sprinkling talcum powder on the region. The talcum will absorb all the oil and you can rub it off once done.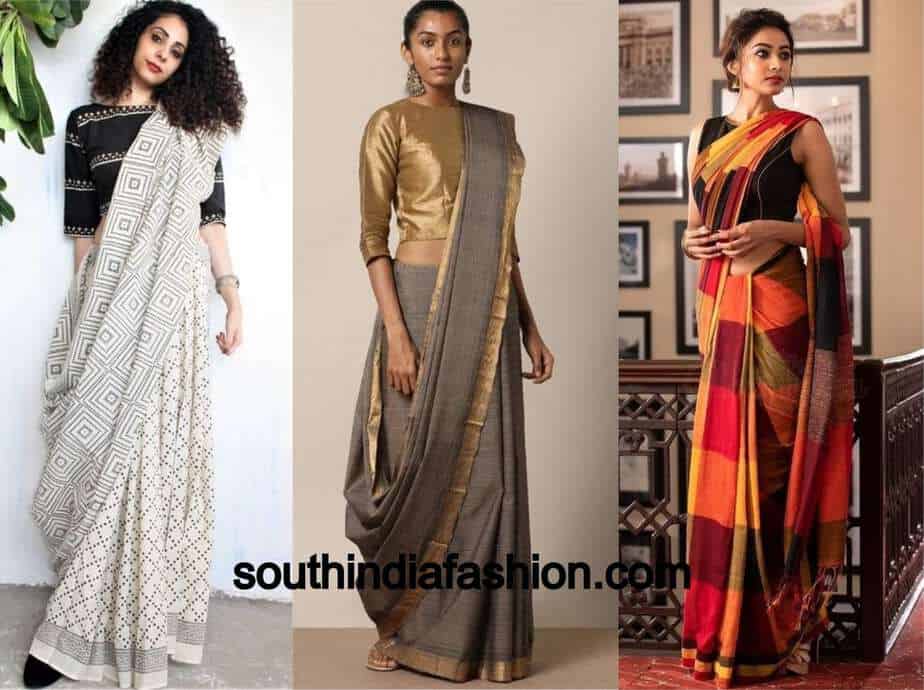 If the stain is from beverages, use a cotton ball dipped in pure petrol to wipe the region. For tougher stains you just have to send the saree to a good dry cleaner.
3. Pressing
To iron your handloom sarees, you must use the medium or low heat mode on the iron box. Do not spray water on the saree as you iron it. It is good to use a clean cotton garment on the handloom when you iron it. This will avoid direct damage of the saree.
4. Storage
Storing the handloom sarees is a challenge in itself. You must keep them in a dry closet. Use silica gel sachets to avoid moisture. You can also wrap the saree in a Muslin cloth. If you are hanging your sarees, avoid using metal hangers as they can leave stains. Do not apply perfume directly on your handloom sarees. Any other flaws and tears can be fixed professionally.
These are easy and inexpensive ways to maintain your handloom sarees as though they are brand new.