Redesign old sarees – how to make something new and better
Have you been thinking to get rid of old saree collection? Are you bored wearing same sarees again and again and nothing but, buying new collection seems a feasible choice? Even if you are, what you are going to do with your lovely old sarees? More upon it, getting a complete fresh collection can cost you high too. So, why don't you try to experiment these fantastic ideas to redesign old sarees? What if the creative touch can solve your problem of not repeating the old look of saree without costing much? Seems interesting, isn't it?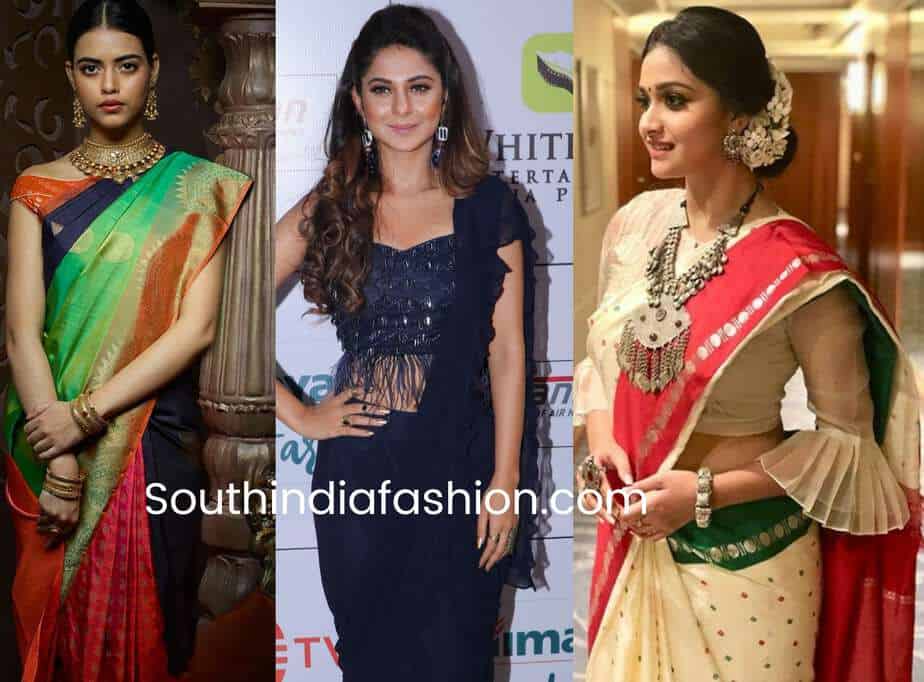 Well, we think in the same way as there are better ways than spending chunks of money on refreshing complete closet! You don't need to break your heart by throwing out your favorite sarees with these workable ideas for giving an old saree new makeover. In this article, we have come up with DIY tips to make best use of your old sarees. And, as you sum up reading this, there will be more creative exposures in your mind than what you're right now.
1. Recycle Old Sarees To Half and Half Sarees
We love our sarees and there is no way we want to waste the premium elegance by repeating same traditional sarees. So, wouldn't it be great to mix and match two of your favorites and create a ravishing new designer saree? Yes, designer saree with old saree? You can take light toned one and match it with dark shade to create a stunning style of your own.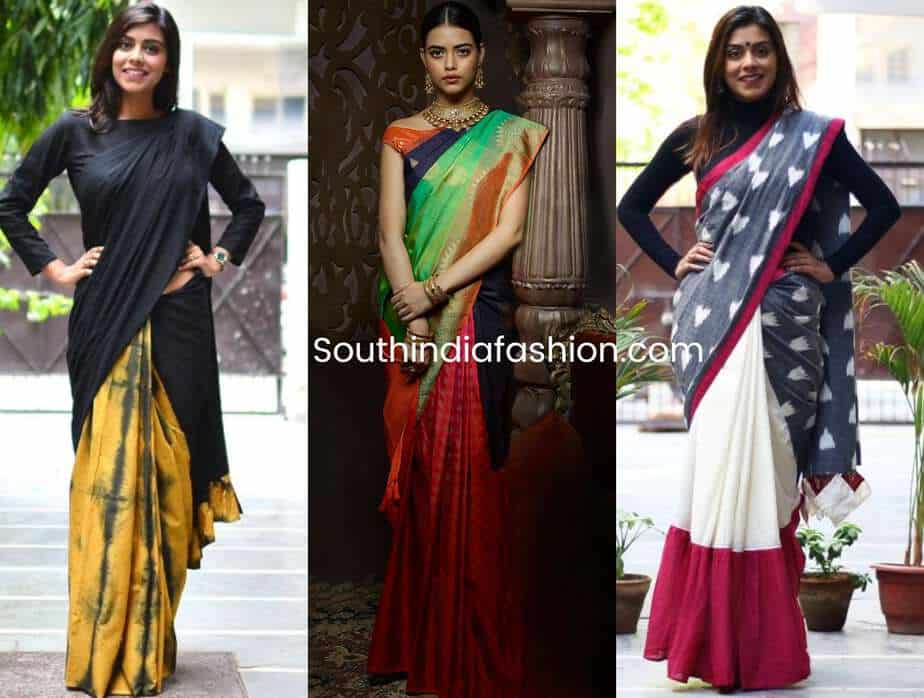 2. Old Saree Makeover –  Try Fusion Saree Looks
Regular way of draping sareess seems boring and time taking? Don't you think experimenting with new styles of saree draping is amazing? Consult your nearby boutique to transform your old saree into pre stitched saree or dhoti saree. You can also give your old saree a makeover by wearing it with pants.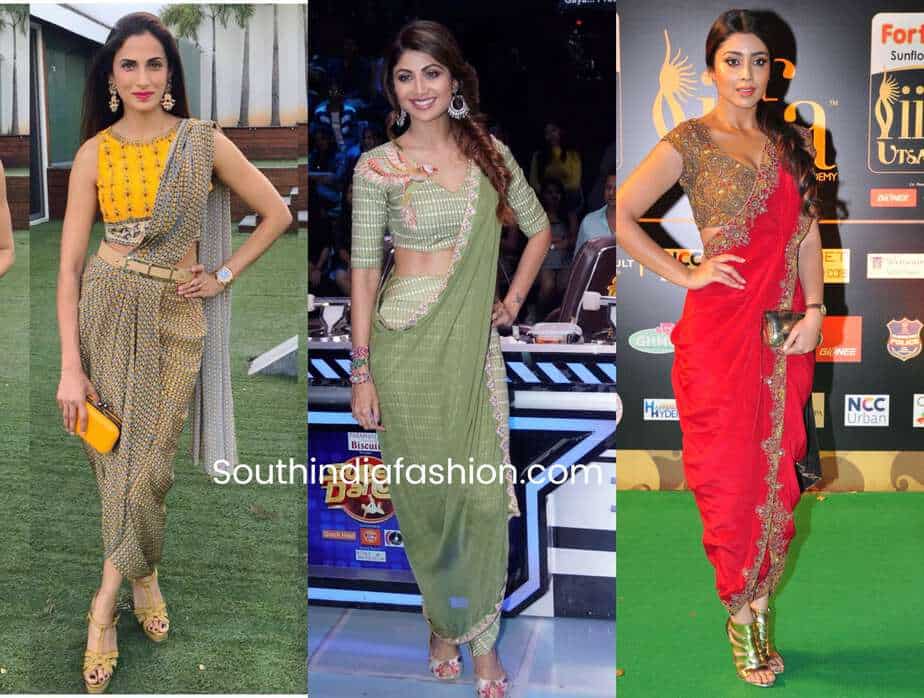 3. Add New Border To Old Sarees
Wouldn't it be great to have the latest kalamari and boho prints in your wardrobe collection? Surely, you can enjoy the sophistication of these artistic designs by old saree makeover. Simply, you have to buy an appropriate border and get it stitched on your favourite old saree to instantly make an appealing one again. Also, don't hesitate to dare employing contrasting heavy boarders of brocade laces. As you already know, brocade posses a richness and easy going fabric properties. Indeed, it's not a new styling tool but, contrasting colors of brocade boarders can help to redesign old saree.
You can also give new and trendy look to your old sarees by adding tassels or ruffles along the borders.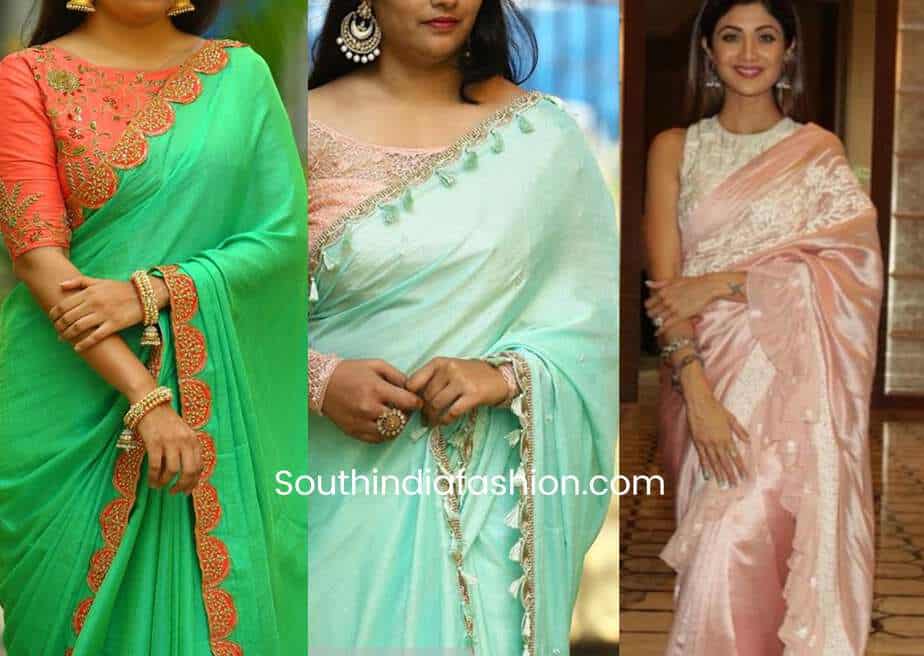 4. Redesign Old Saree – Latest Blouse Designs
Indian ethnic fashion is leaving the experimental age and trending blouse designs have a key role to play in this journey! Because of the bold and beautiful choices of this new edge of fashion, no hesitations are left to hold experimentation to daily use to occasional blouse designs. The classic appeal of old saree can be spiced up by pairing them with latest stylish blouse designs.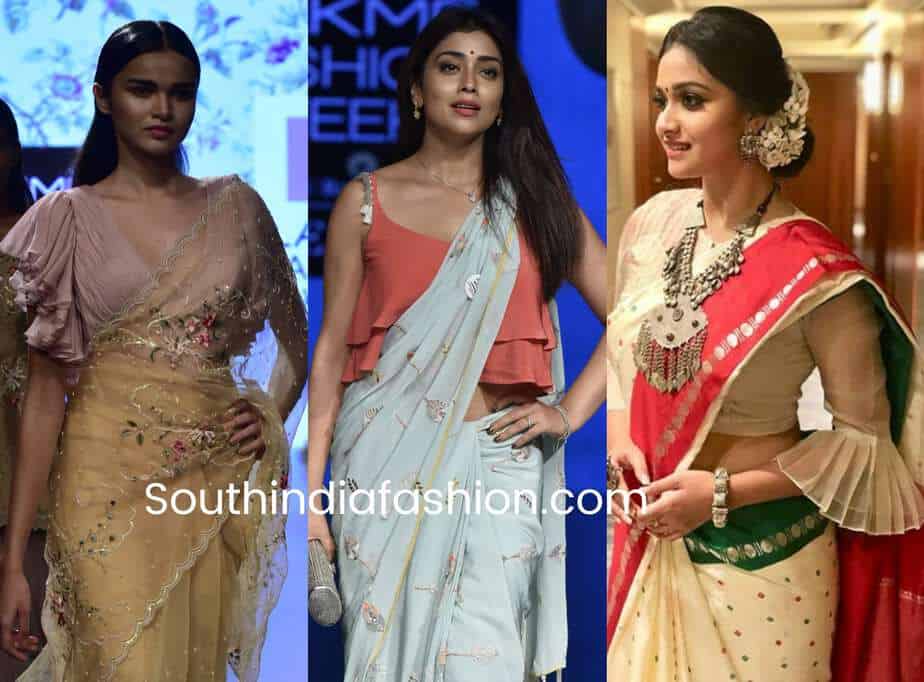 We are part of an experimental fashion era. Redesign old sarees and make it a sizzling one once again! And, don't forget to post your creative insights in the comment section.