Gorgeous readers! Are you ready to shine out bright in this coming festive season? Our country is full of traditions – from celebrating festivals to clothing designs. The new edge requirement of uber-cool fashion with ubiquitous comfort is the latest trend. This styling with comfort trend in the Indian fashion world is recently showcased in the Lakme Fashion week and it has something for all of us. We need to update our wardrobe with this trending style delights that has even twisted the nine yard drape into Pre stitched sarees and saree paired with leggings like exciting versions.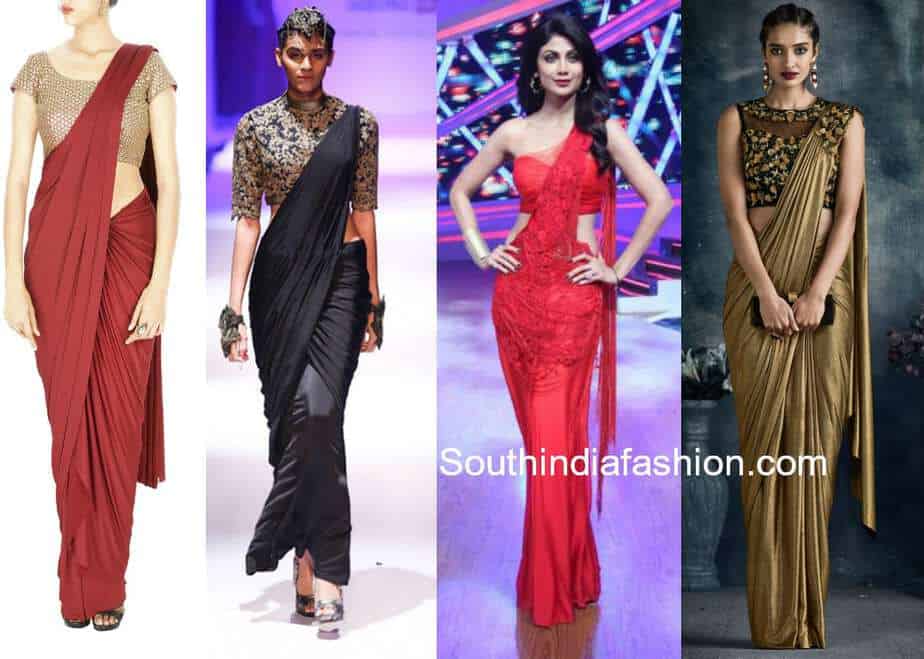 Indian Saree is considered as one of the ancient age garment in the colorful history of world class popular fabrics. With grand history of more than 5,000 years of existence, mention in Vedas –the oldest literature of mankind, the essence of elegance offered by Saree is still ubiquitous. From ramps to leading ladies on cine screens, fashion shows to vibes of street fashion in urban and rural India, this none yards of fabric has many types of wearing styles. Whether there are models in the fashion shows or conservative grandmothers – the saree is as entrenched in our culture as it ever was.
All things said, Saree wearing is indeed a cumbersome work for many and most importantly time taking. If you don't wear and carry the whole length in right way, the quotient of elegance is getting directly affected. If you are tired of wearing Saree in traditional styles and want to dive in hottest trend of Indian woman wears, make your own statement with this new designs of pre stitched saree and saree paired with leggings.
The pre stitched sarees are exciting comfort to offer to runway trend lovers this year. Undeniably this is one of the perfect matches for modern Indian woman with limited time to fashion up with work responsibilities. How wonderful to lock the elegance and style of traditional Indian wears without investing time in draping the nine-yard fabric. Pair this trending saree wearing style with an off-shoulder blouse and embellished peep toe heel to turn heads.
SHOP PRE STITCHED SAREES ONLINE HERE!
Redefining the perfect balance of style and tradition, the pairing of leggings with saree is unique twist to season's favorite trend. You can pick  leggings to match the border of saree or work. This amazing trend can be jazzed up with loose asymmetric, slit and pleated sleeves blouses to outshine at any event. Indeed, it's a great option for evening sangeet parties and weddings!
Whether you want to attend a family wedding or want to carry an ethnic style in the upcoming official party or jump in festive mode with traditional wears, this futuristic sarees are must have in your closet. This latest collection showcased in Lakme Fashion Week and India Couture Week 2018 by famous designers can make your fashion flaunting game easier.
So, plan to shop for these trending saree styles brought to you by Indian fashion stars.