Whatever the occasion, the most suitable hairstyle would always be the bun hairstyle. High, low or messy no matter what style the hair bun may be, it will look perfect when worn on a saree or a lehenga. Bun hairstyle is also the most preferred hairstyle by the brides. While a hair bun looks perfect, you need something to make it look striking. A bunch of flowers will do the job. Flowers are the best friends of a hair bun. They can complete the look and also make you stunning in no time.
When it comes to adorning the hair buns with flowers, you can get as creative as you can. Use as many and any variety of flowers to make your hairstyle unique. Here are some flowers you can make use of for your bun hairstyle.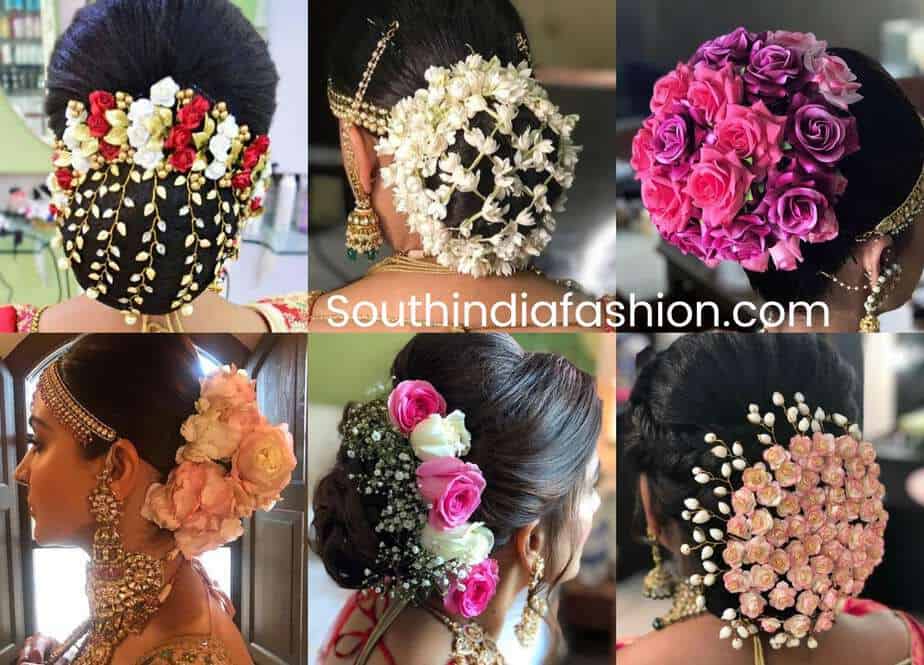 Indian Bridal Bun Hairstyles With Flowers:
1. Bun Hairstyle With Jasmines
A bunch of woven jasmine flowers are all you will need to round up your look if you are opting for a traditional saree look. The flowers go well with your hairdo especially if you are wearing a kanchi pattu saree. You can round them around the bun or roll them all over the bun. You can also wear the jasmines gajra in a crescent shape above or below the bun. Use your creativity to wear your bun hairstyle with jasmine flowers as you wish.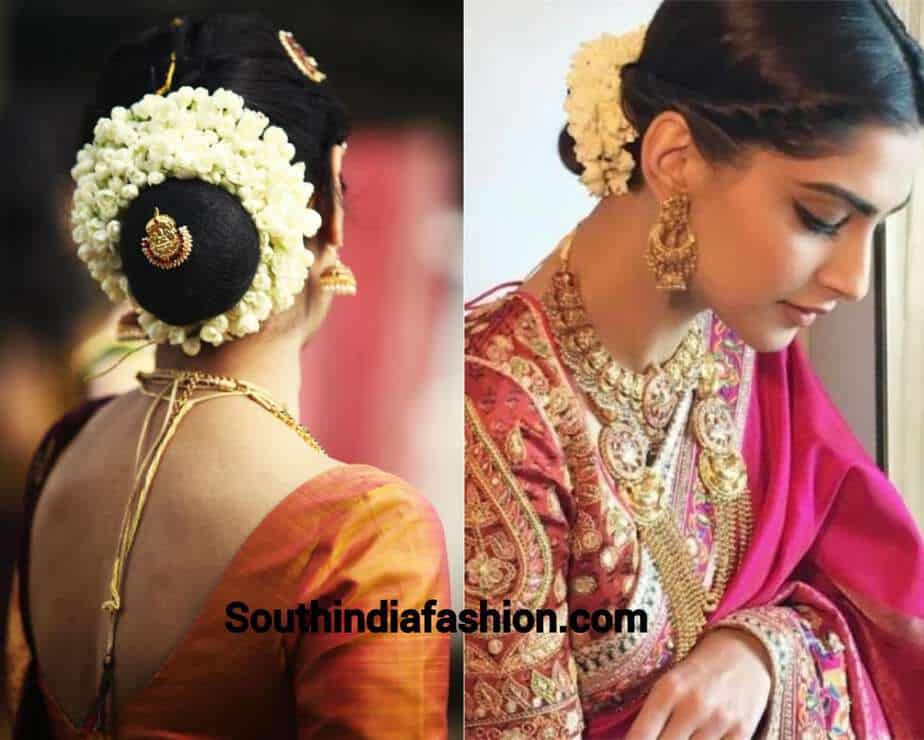 2. Marigold 
While most women do not know, marigold is a perfect jewel for your hair bun. It is bright and lively. A thread of woven marigolds can be rounded around your hair bun. These flowers go well with silk sarees and lehengas. They are as desi as a hairdo can be.
3. Orchids
Though these are international flowers, they look good with desi outfits. If you are wearing a shimmery lehenga, you can complete the look with a bun hairstyles adorned with Orchids. Unlike other flowers, use only two or three of these on the side of your bun. You can also put them horizontally on the hairdo.
4. Wedding Bun Hairstyle With Roses
Roses are the personal favourites among many Indian women. They are the symbol of elegance and beauty. Especially the red roses look gorgeous when worn with any type of saree or lehenga. Tuck a bunch of roses on one side of the bun or all over the bun hairstyle and you are ready to go. They also look good in pictures too.
5. Hydrangea
From the moment people saw Anushka Sharma wearing these beauties on her wedding day, women have gone crazy over Hydrangeas. These are very perky and cheerful and go well with  lehengas or traditional sarees. You can cover your entire bun with the hydrangea flowers or tuck a couple under one side of a low bun.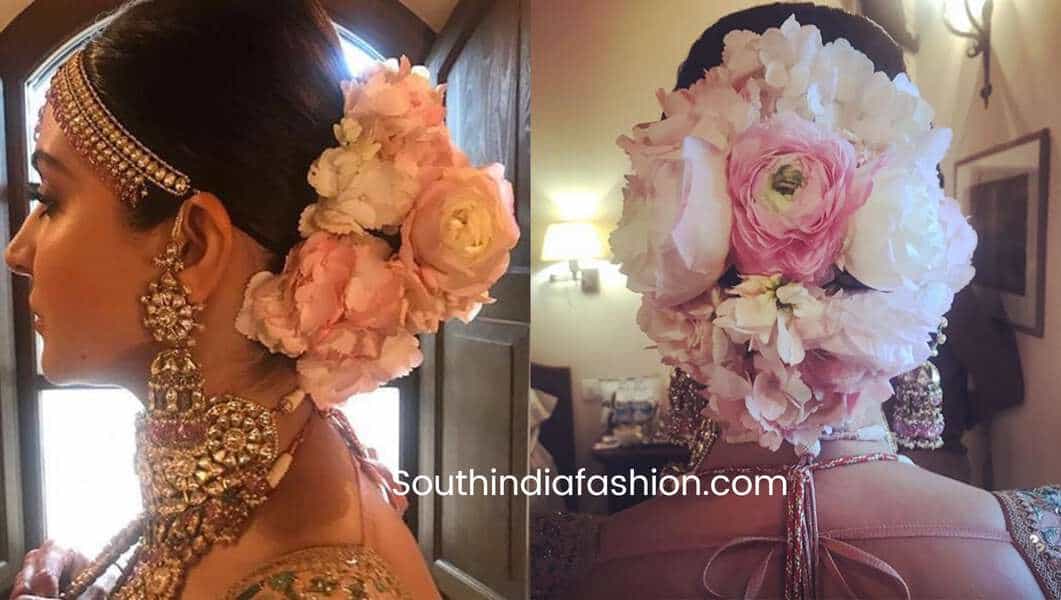 6. Mixed Flowers
Why stick to one type when you have so many options? Women are now trying out a mixture of flowers for their hair bun. You can use a couple of them or even more to weave around your hair bun. It will look interesting and unique. Chrysanthemums, lilies, daisies, posies and even wild flowers are used for this type of hair bun.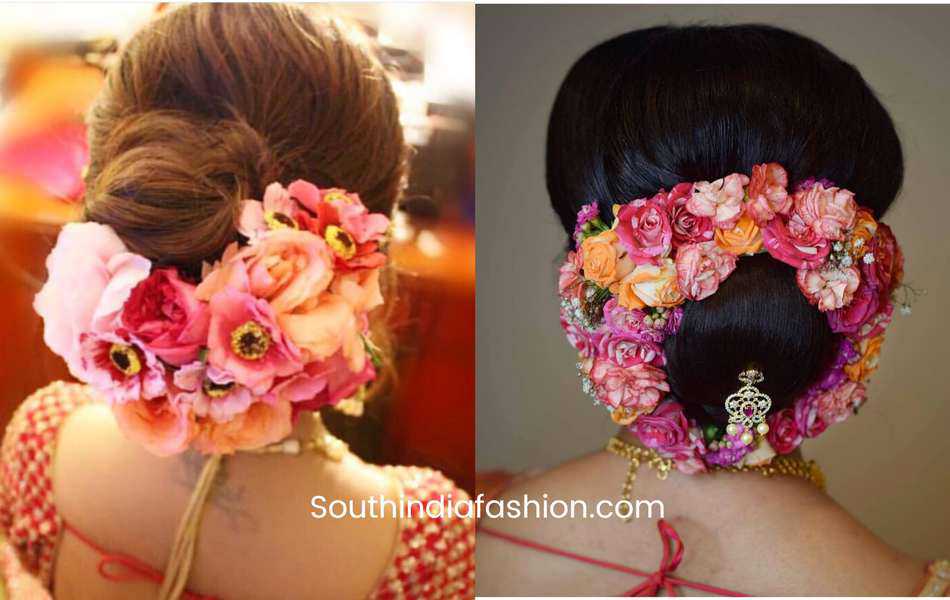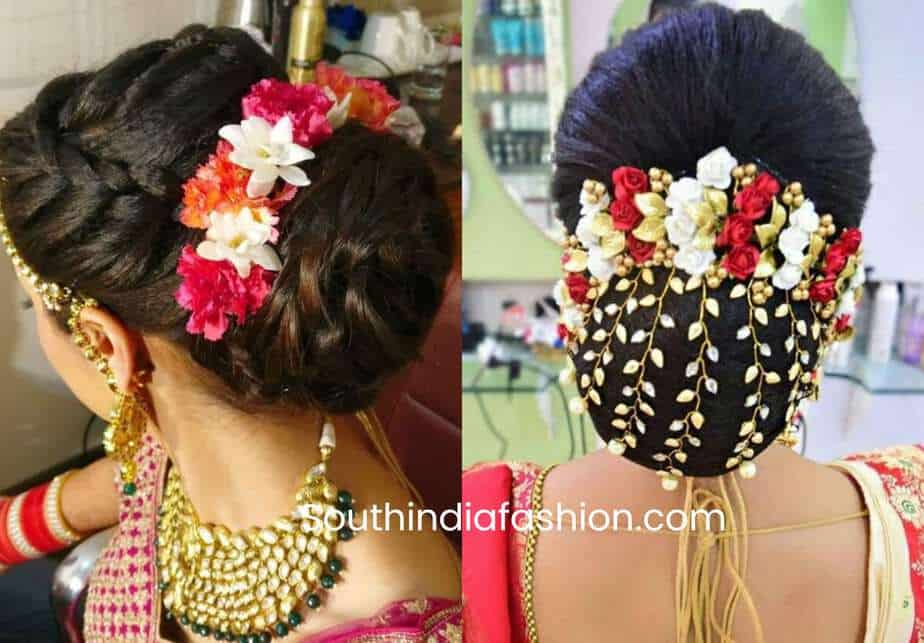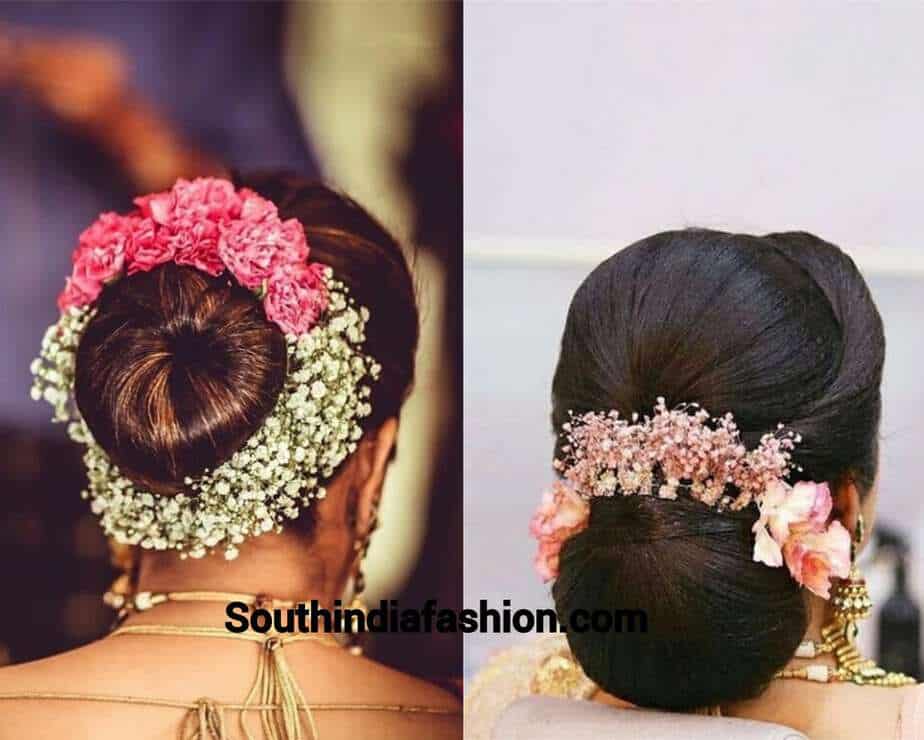 These are some of the flowers used on hair buns that you too can try out.