Whoever said that the actresses' shelf life is lesser than an actor's must pay attention to these four Tamil actresses. They have been around for almost two decades and still look like it is their first day in the industry. They are not quite young, but still beautiful and absolutely stylish. In fact, they are among the top ten stylish women in the Tamil movie industry. Young girls look up to them when it comes to style and fashion.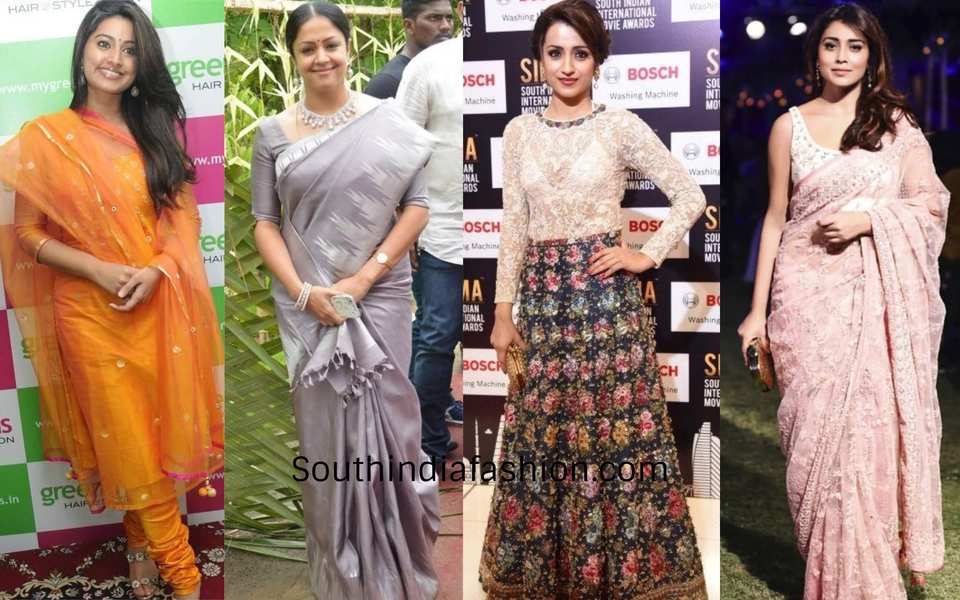 Let us look into why these Tamil actresses are considered the style icons even today –
1. Trisha Krishnan 
Her debut movie came out in 2001, and since then Trisha has been a fashion icon till today. In an industry that believed not much in western style, Trisha came as a fresh breath of air. With her svelte figure, modern style and chic looks, it didn't take her long to capture the hearts of the entire Tamil Nadu. Her fashion has evolved over time and today we see her in elegant clothes. But, age doesn't stop her from experimenting with her looks. That is the reason we sometimes see her in trendy and unique outfits.
2. Sneha Prasanna 
Sneha was not a style icon in her initial days. She became a household name for fashion in the last decade. Her love for Indian attires is what made her famous in the entire south India. There is probably no better actress who can pull off a saree look like Sneha does. She loves wearing traditional silk sarees to events and functions. We love her south Indian saree look and can't stop drooling over her collection of various silk sarees. But, she also can pull off a modern look by wearing a pair of jeans, fancy dresses and pretty skirts.
3. Jyothika
The voluptuous actress is not into fashion as much as her couterparts. But, that is what makes her all the more interesting for her fans. Her style is simple and comfortable. As a wife of a super star and mother of two kids, we see Jyothika mostly in sarees, salwars and kurtis. Needless to say, she doesn't like much makeup or overdoing her looks. Jyothika does experiment with her looks once in a while by trying out a pant-saree or a fun ensemble.
4. Shriya Saran 
A very beautiful actress, Shriya looks perfect in whatever she wears. She has the best features that compliment any outfit she gets into. Shriya is mostly seen in interesting gowns, colorful dresses and flowing skirts at events. On special occasions, she also wears beautiful sarees.
This is how the most fashionable actresses of Tamil film industry dress up even today.