When you are wearing traditional outfits like the saree, lehenga or a salwar suit, you cannot miss out wearing jewels. And one of the most important piece of jewelry that will complete your look are the earrings. A pair of earrings can emphasize your outfit as well as your look. Especially those traditional, large earrings are the best USP of your look. There are innumerable numbers when it comes to types of earrings. But, let us look at some of the earrings that go well with your traditional outfits.
Here are some earrings that you can pair with your traditional outfits –
1. Traditional Jhumkas
The large umbrella shaped jhumkas are the most important accessories that any Indian girl must own. Jhumkas are ever green and traditional. When it comes to ethnic looks, a jhumka will never let you down. Silver crafted, gold engraved or plain imitation, there are many varieties when it comes to the jhumkas. If you are wearing a simple saree, a pair of large jhumkas are enough to round up the look. You can also wear Step Jhumkas that consist of many jhumkas hanging one below another mostly in descending order. (BUY HERE)
2. Large Chandbalis
A flat version of Jhumkas, chandbalis are flat and shaped like a crescent moon. They dangle below your ears and attract any onlooker very easily. They are purely traditional and go well with silk sarees, grand salwar suits and shimmering lehengas. (BUY HERE)
3. Chandelier Earrings
If you want to look like a million bucks, you should definitely wear a pair of shining chandeliers on your ears. They look just like the chandeliers on the ceiling – a shimmery and crystals. These earrings are good to go with chiffon sarees, simple salwars are modern lehengas.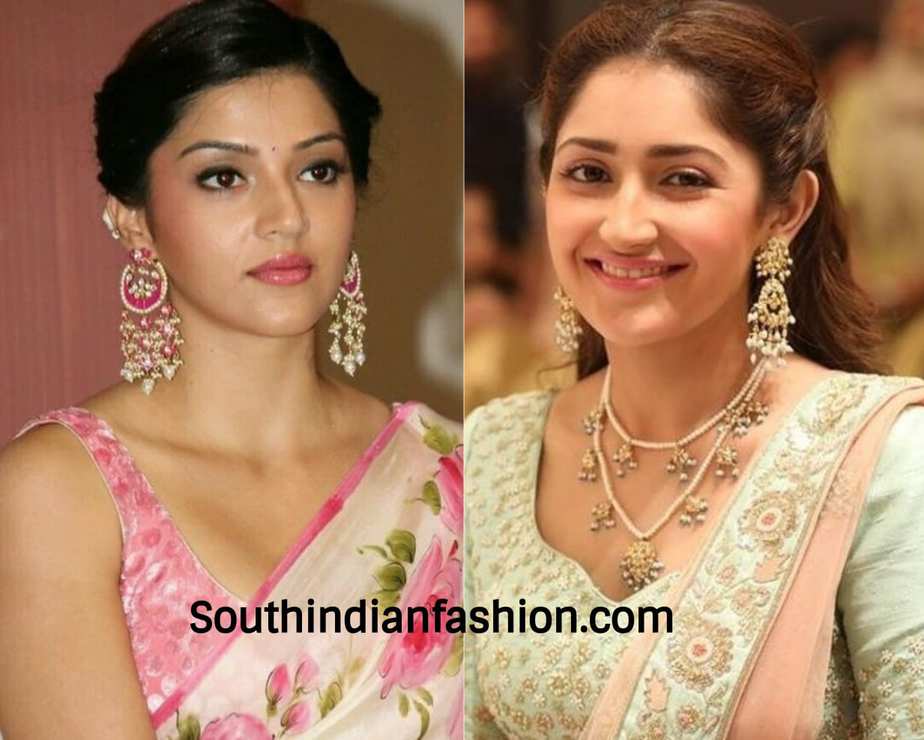 4. Modern Danglers
These are certainly a bit modern than the other types of earrings mentioned here. But who says you cannot wear modern earrings along with the traditional outfits? In fact these days, it is in fashion to wear danglers that are unique and quirky along with handloom sarees or silk salwar suits. (SHOP HERE)
5. Large Studs
If you want to keep it low profile, yet look absolutely stunning, you can pick large studs. These are elegant and imperial. The large studs go well with silk sarees and cotton salwar suits. (BUY HERE)
6. Tear Drop Earrings
As the name itself says, these are tear drop shaped earrings. The tear drop shaped main piece does have pearls or beads hanging down from it. This is a very traditional piece of jewelry and can be worn with salwar suits and sarees.
These are some earrings that will certainly suit your traditional outfits and looks.