A saree is the most malleable of all the outfits. It can be manipulated and worn as we wish. Every year, we see different versions of a saree coming into fashion. How do you know what saree is in fashion? Look around and see what is popular and what saree is being worn a lot. It is not that you must wear what everyone is wearing. You can surely use your creativity to invent trending saree styles that are unique and attractive.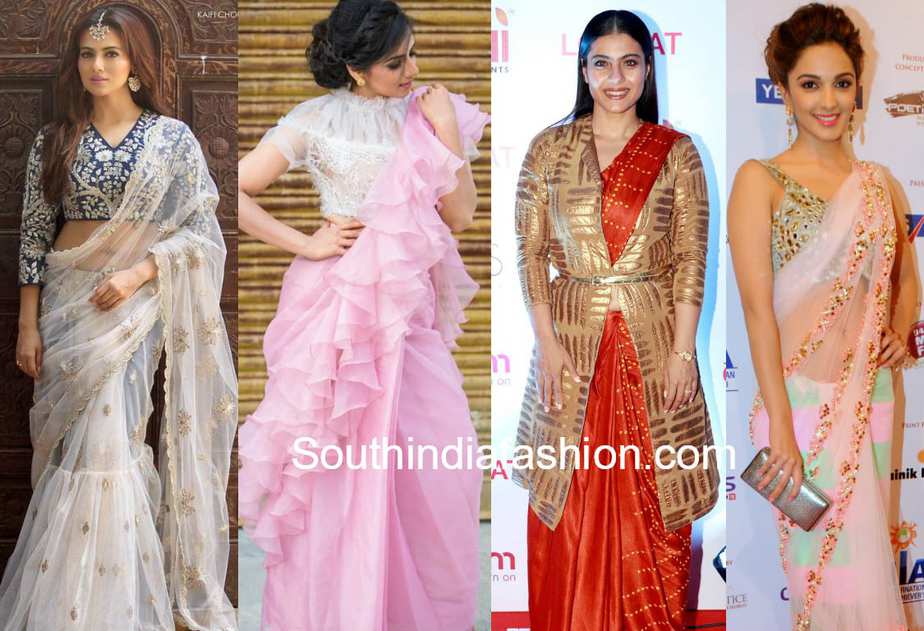 Here are some trending saree styles that are grabbing attention this season:
1. Sheer Saree
A sheer saree is sexy and sensuous. If you have a fit body and want to flaunt it, then you can drape a sheer saree that is transparent and beautiful. A sheer saree is light weight and easy to drape. It is the perfect choice for evening parties and receptions. A sheer saree is mostly shimmery and shiny and hence doesn't need too much of accessories. Ditch the huge jewelry and opt for simple diamond or pearl sets. Keep the makeup shiny and you are good to go.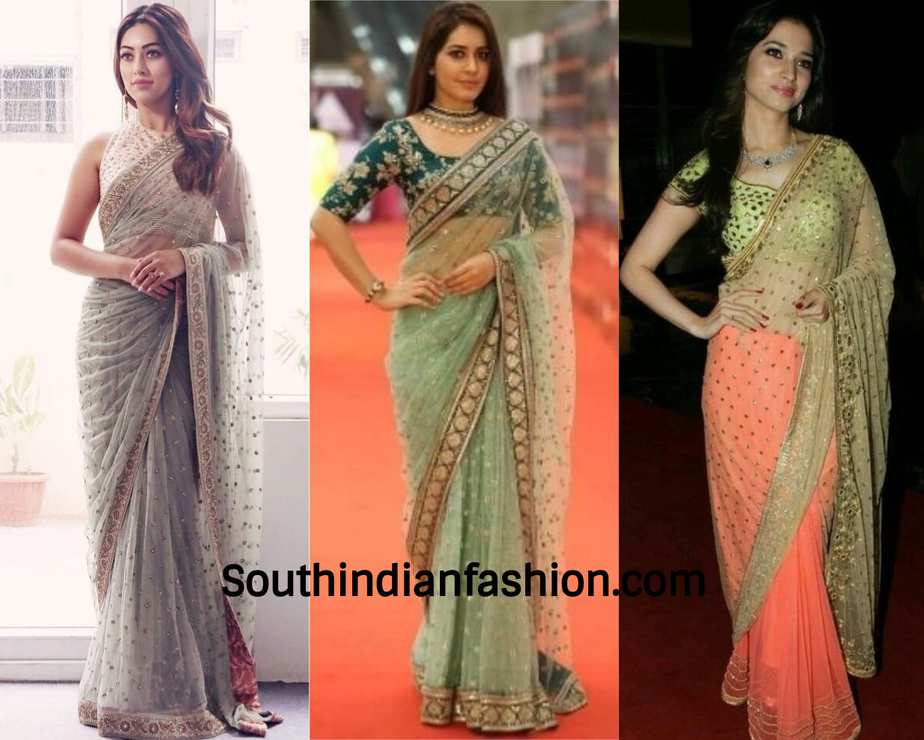 2. Saree Jacket 
If you want to stand out in the crowd, you have to be different. A saree worn with a jacket is unique and attention seeking. It can make you look confident, funky, elegant and beautiful all at once. A jacket worn on a saree creates a style statement. The jacket can be matching with the saree or it can be completely different from the saree. You can use a large belt to keep the pleats of the saree in place before you wear the jacket.
3. Frill Saree 
A frilly saree is fun to wear. It is youthful and cool. The frills may be too many, or just a simple frill at the border of the saree. Frill sarees are often worn at evening occasions because they are glittery and grand. A frill saree goes well with stone cut jewelry and a bun with parted hair.
4. Fringe Saree 
Fringe sarees are a rage this season Women love fringe. From hairstyles to skirts, fringe was used in everything women wore, except for sarees until now. Today, we see sarees made using fringe pattern. The fringe may be in the blouse, the pallu or the border of the saree. It is a treat to watch you swirl in a fringe saree. Keep the makeup simple and jewelry minimal.
5. Ruffle Saree 
Again, a concept just like the frills, ruffle is recently being used in the saree world. Ruffle saree is ideal for Indo-western occasions and modern events. If you do not want to part with your saree look even at modern events, then you can wear a saree which has ruffles all over. Crystal jewelry and pastel makeup will complete your look.
These are some saree styles that you must try this season.