Wearing a Saree is traditional, they used to say. But not anymore because today, saree is all about the modernity and sensuality. The saree may itself be an ancient and ethnic attire. But, the way you wear it can reform its look entirely. Today we see actresses like Sonam Kapoor and Shilpa Shetty wearing the saree in modern ways that really awe us. The saree looks are sometimes more stylish than any other western outfits.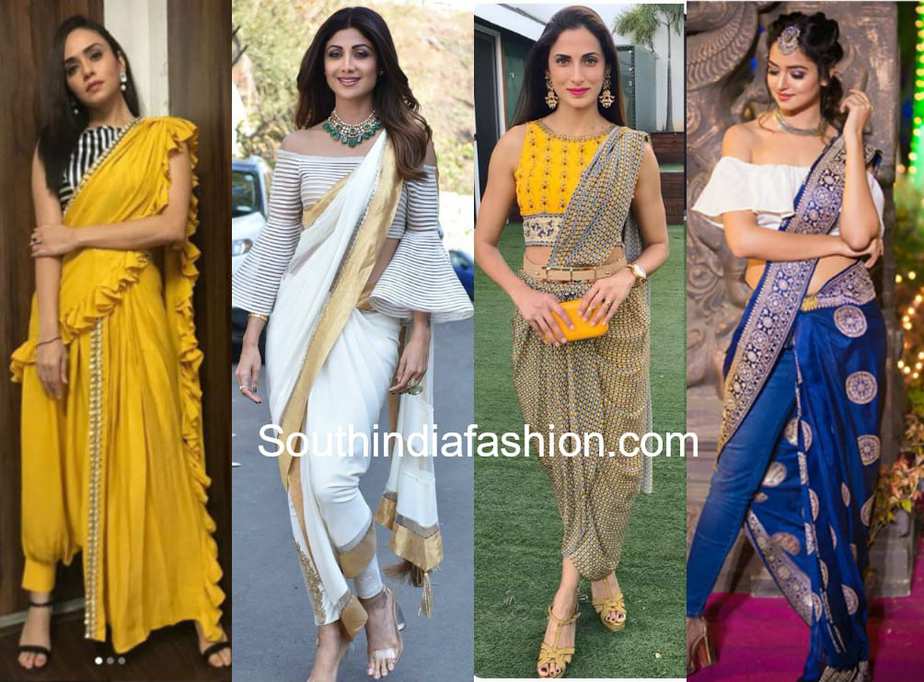 Here are some modern ways to drape a saree:
1. Dhoti Saree
In this method, the saree is worn like a dhoti in the lower part and then the pallu is wrapped onto one side of the shoulders. The saree looks like you are wearing a dhoti. It is a modern way of wearing the traditional saree. This look is fun to wear at parties and dinners.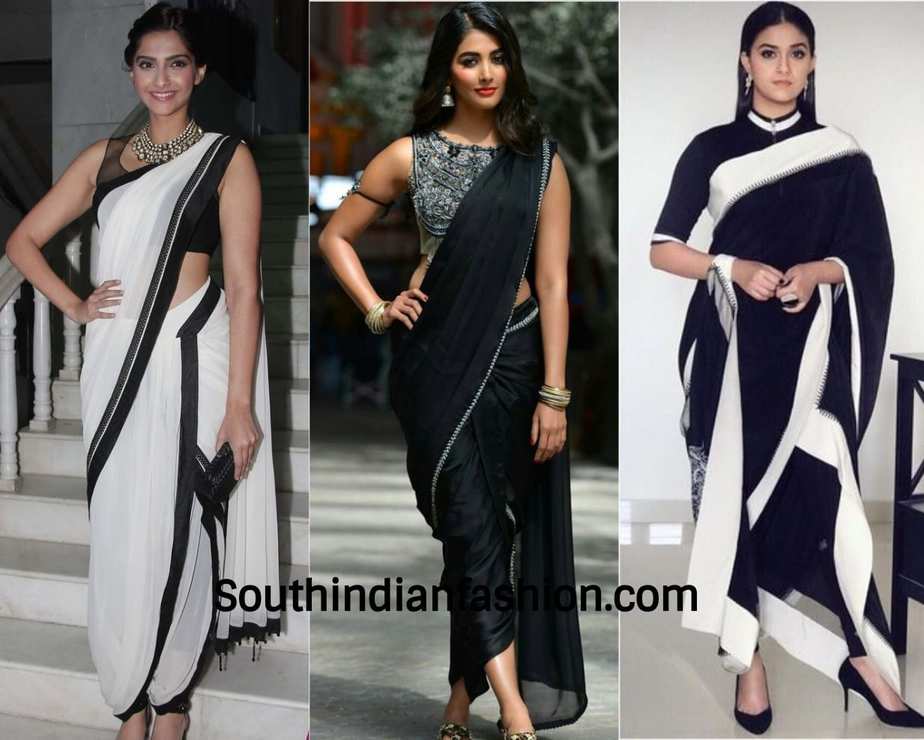 2. Pant Saree
The pant saree is when you wear a pant or leggings underneath the saree and wrap the saree in such a way that the pant is half visible. You just tuck the saree into the pant and do not bother to make the pleats. However, you can make pleats in the pallu that goes on your shoulder. When worn with confidence, this look suits a wedding or an engagement party.
3. Dupatta Pant Saree
Here, there isn't a 6 yard saree to be precise. There is just a dupatta and a pant with the blouse. Wear the pant underneath the blouse and then use the dupatta like a saree pallu to wrap around your waist and bring it onto your shoulder. This look is super comfy and light weight.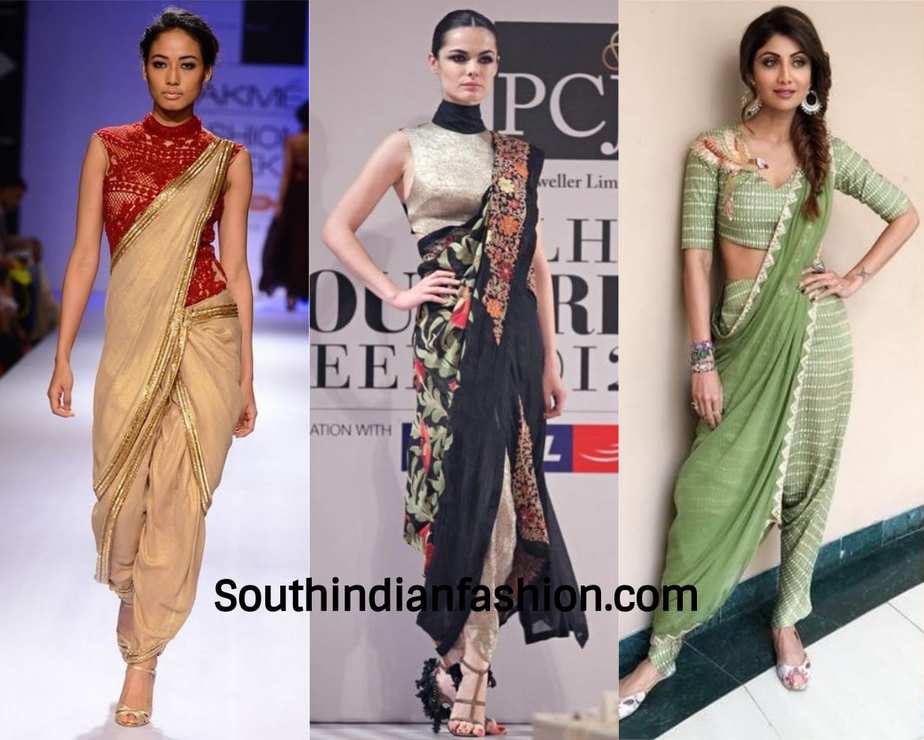 4. Pleated Pant Saree
This one is similar to the dhoti saree, but here the dhoti or the saree itself is pleated to make a Patiala pant kind of a look. The pleats add volume to the look. You can wear this if you are super skinny and tall. The pleated pant saree can be worn to any special occasion with matching antique jewelry.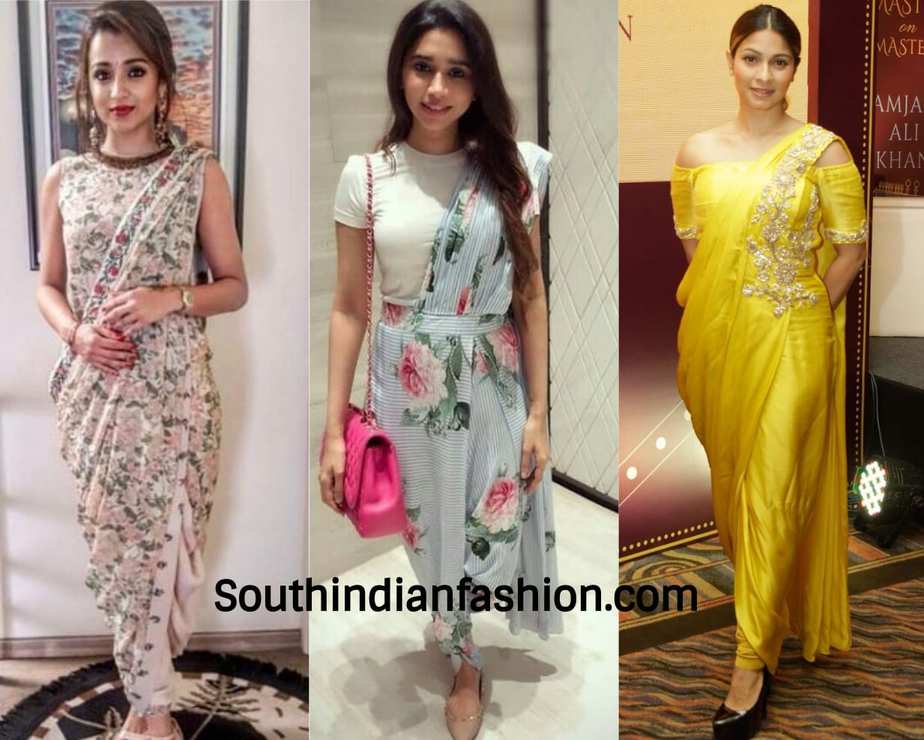 5. Skirt Saree
Here there isn't a pant underneath the saree. There is a skirt. Of course, we all wear a skirt under the saree. But in this look, the skirt is visible. The saree is wrapped just on one side of the waist. The other side is left open to show off the fancy skirt underneath. This is an ultra-cool way to wear a saree. Use collared or one shouldered blouses for that modern touch.
6. Silk Saree Pant
Unlike other sarees, wearing a silk saree in the pant way is difficult. Because the silk sarees are heavy and need to be secured into place, they must be pleated and pinned properly on top of the pant. The pallu must also be pleated neatly. You can wear off-shoulder blouses and fancy belts on the silk pant saree to look chic.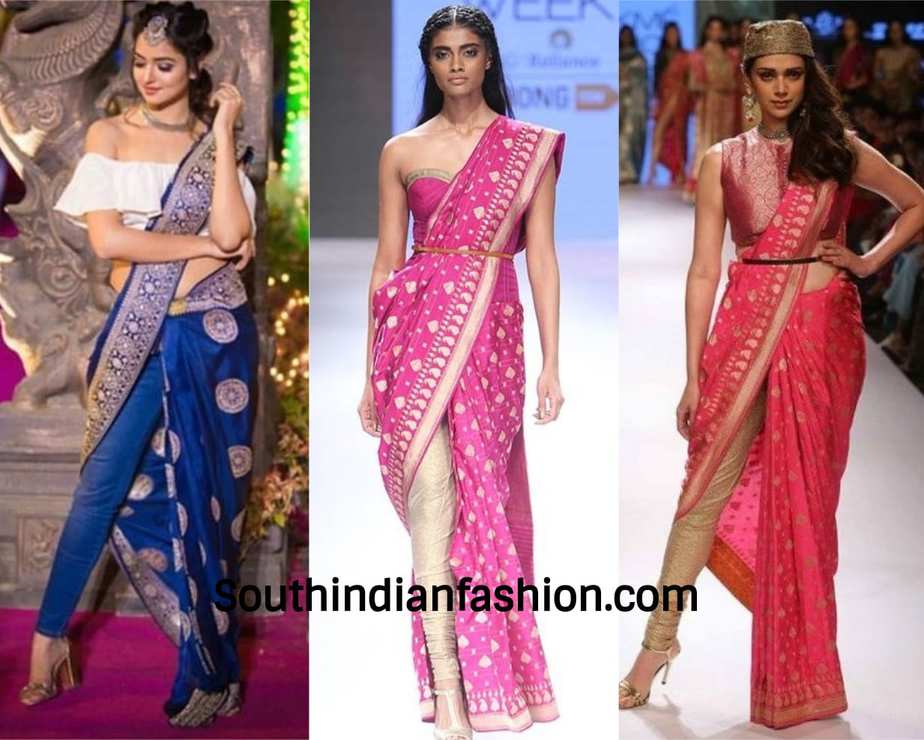 These are some ways in which you can wear the saree in modern ways.