If there is one saree that is rich in looks, history and traditionalism, then it must be the Banarasi saree. A Banarasi saree dates back in time to the ancient city of Varanasi. This is a city which is also known as Banaras. The Banarasi sarees are some of the finest sarees that are handmade in India. They are mostly made of silk, gold and silver zari and rich embroidery.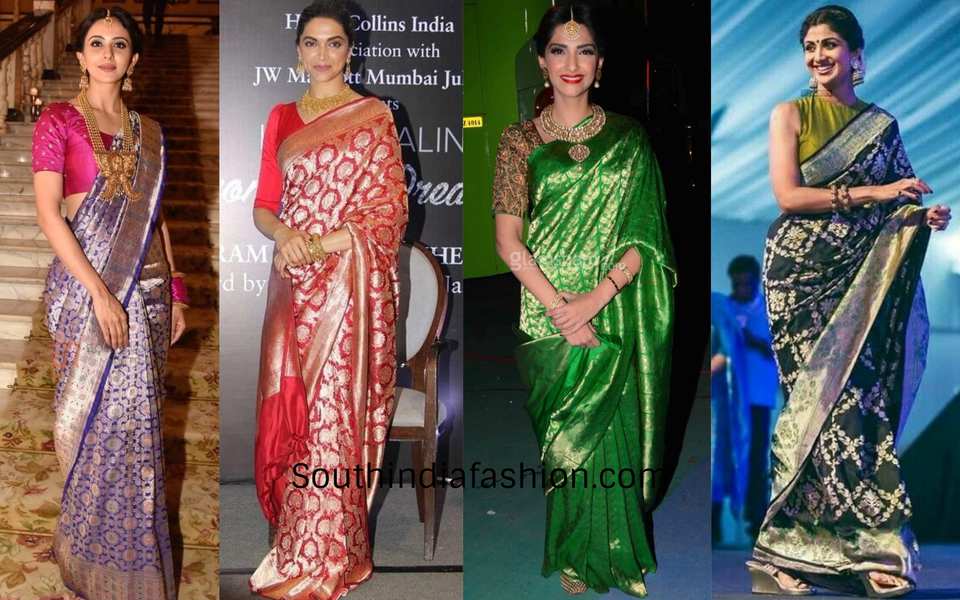 Here are eight ways in which you can wear the Banarasi saree like your favorite celebrities:
1. Red Banarasi Sari like Deepika Padukone
If you have an opulent, red Banarasi saree you can wear it with the matching blouse that comes with the saree just like how Deepika Padukone did. The blouse can be simple and plain with its sleeves end at the elbows. You can however accentuate the simple look with traditional gold jewelry. Messy bun and bronze makeup will complete your look.
2. Green Banarasi saree like Sonam Kapoor 
If you are planning to wear a green Banarasi silk saree to a wedding, you can create a look just like Sonam Kapoor. Wear a contrast blouse with intricate embroidery. Use traditional jewelry. Do not forget to put a maang tika on the center parting of your hair. Dark red lips and festive makeup will do just perfect with this look.
3. Red Banarsi Saree like Anushka Sharma 
Anushka sharma looked like a goddess in a regal red Banarasi saree at her wedding reception in Delhi. If you want to imitate the look, keep the draping and blouse of the saree simple. Nude makeup is the best for this kind of saree. Heavy kundan jewelry goes well with this wedding look. Prominent red bindi, center parting of the hair with sindhoor will be all that you will need to steal the look.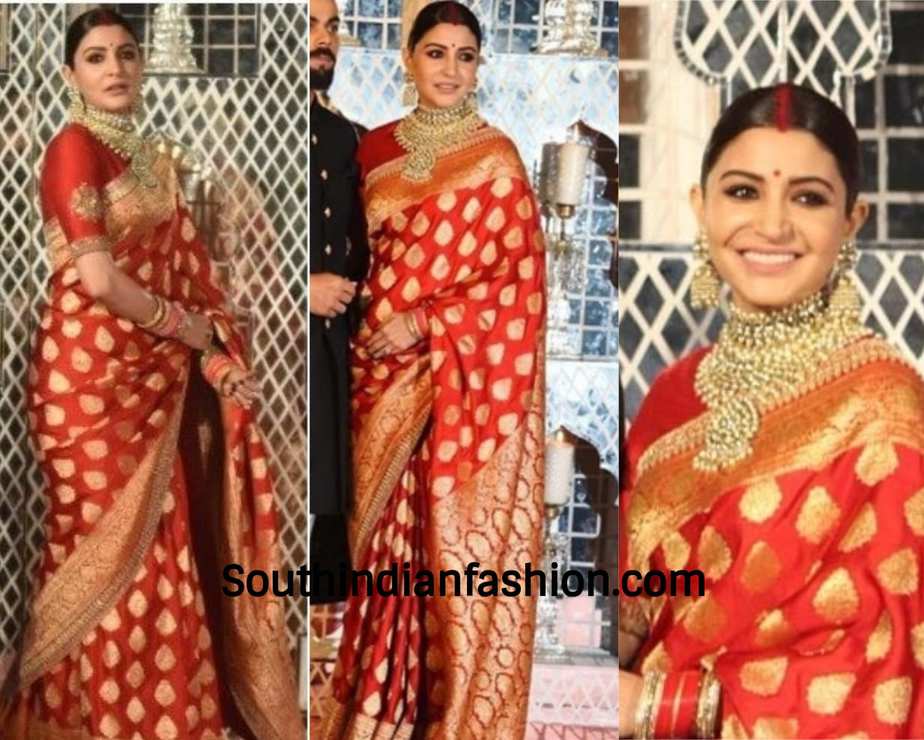 4. Black Banarasi saree like shilpa Shetty 
If you love to wear your traditional saree with a twist, then here is Shilpa Shetty's look for you. A black Banarasi silk saree can be worn with a sleeveless contrast blouse, probably of an olive green one. Large jhumkas and bangles are enough. Skip the necklace. Braided bun and simple makeup must be opted for.
5. Green Banarasi saree like Deepika Padukone 
If you want a traditional look with a little bit of modern touch, you can wear bell sleeved closed neck blouse with a traditional green and golden Banarasi saree. Traditional jewelry and a neat bun with bronze makeup are all accessories for this look.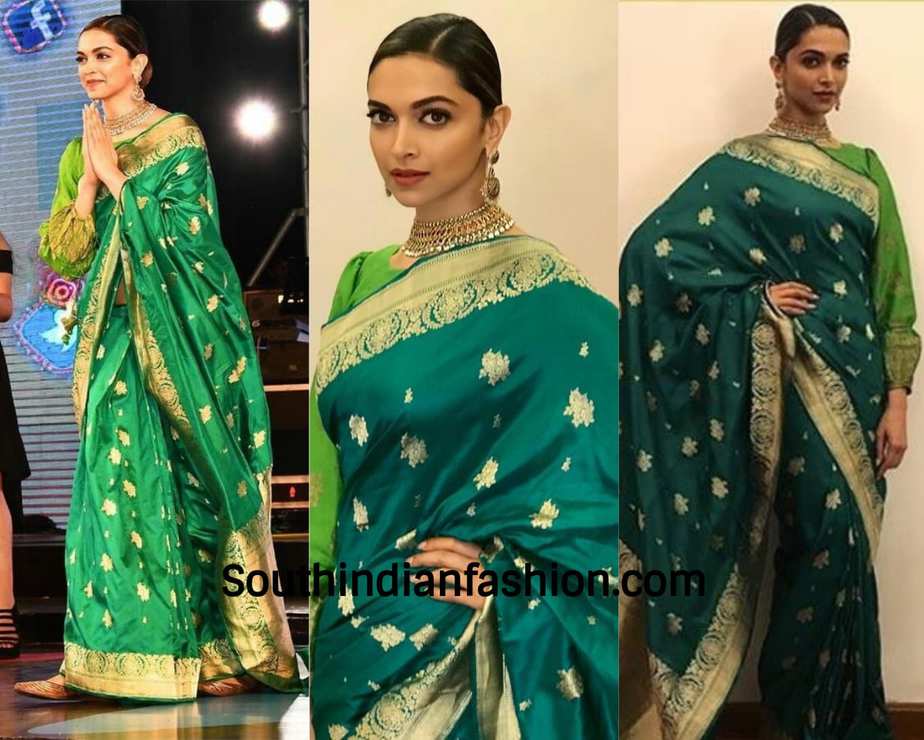 6. Red and Gold Banarasi Saree like Diya Mirza
If you have an ethnic gold and red Banarasi silk saree, you can wear it to your friend's wedding like Diya Mirza. A plain golden short sleeved blouse and large chandbalis will suffice the look. Free hair left to float in air and simple makeup and a smile on your face must be checked.
7. Blue Banarasi Saree like Rakul Preet 
A clean and elegant look can be achieved with a Banarasi silk saree. All you will have to do is follow Rakul Preet. A grand blue Banarasi saree must be worn neatly pleated in the traditional way with a contrast pink blouse. Heavy temple jewelry along with a maang tika on center parted braided bun hairstyle will complement your look. Make up of pink shades will go well with this look.
8. Purple Banarasi Saree like Sai Pallavi
If you are one who loves girl-next-door looks, then imitate Sai Pallavi's look. The purple and silver Banarasi saree must be worn with a matching blouse. Leave the hair open and let it be natural. No makeup look with dangling earrings are enough.
These are some Banarasi saree looks that you can follow.