One of India's finest silk saree is the Gadwal silk. It is light weight and very easy to wear. Made traditionally in Andhra Pradesh, this silk saree is a favorite among the local people as well as celebrities across India. Gadwal is basically a village that was previously a part of Raichur district in Karnataka. Today, it is a part of Mahabubnagar district in Telangana. This was the place where the natives began to weave magnificent sarees called as the Gadwal silk. These sarees are very famous and available retail in the market. Go to any silk saree shop and ask for a Gadwal silk, you will get it.
Here are some interesting facts about the Gadwal silk sarees:
1. Make 
The Gadwal sarees are handcrafted by weavers. The sarees are mainly known for their zari work. These sarees mainly consist of cotton body with silk pallu and borders. The weaving is so light that the saree can be packed even in a match box. Hence it is a best gifting option for people staying abroad. Gadwal sarees also have admirable zari patterns as butta work and well-crafted borders and pallus.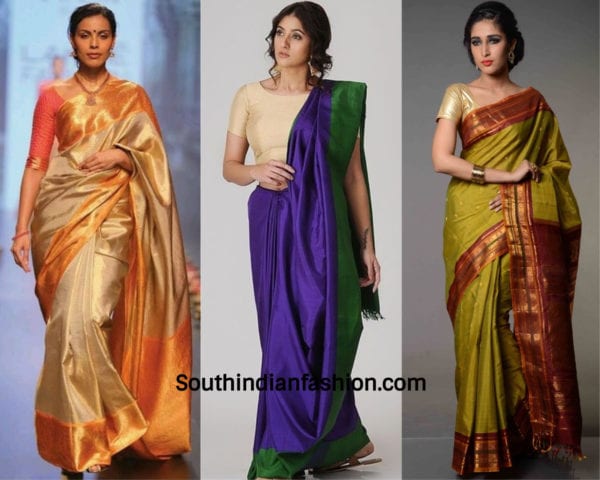 The cotton part of the saree is weaved separately and then interlocked with silk borders and the pallu. This is an art of interlock weft or back-breaking technique. It is known as kupadam.
2. Designs 
The designs on the Gadwal sarees are mainly influenced from the temples and their architecture. Beautiful and exotic traditional shapes are used to design the borders and butta of the sarees. The saree might be cotton with silk border, purely silk or a hybrid of the two. Gadwal sarees are available in earthy colors as nature is the main influence over the design. But today, you can also get brighter colors in this variety. Also, there are modern designs available in the saree too.
3. Origin and History 
The Gadwal sarees are hand woven, which has been the main source of livelihood for many weavers in the region. In fact, the sarees are so famous that weavers were brought from Gadwal to Benaras by a king to learn the art of weaving this kind of saree. Hence, Gadwal sarees are immensely popular all over the country.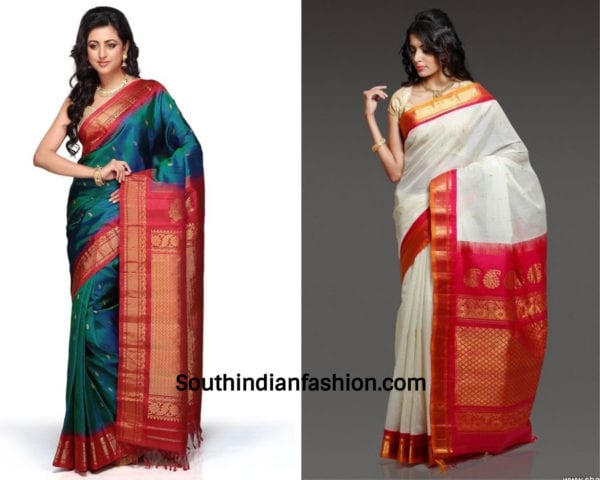 4. Wearing the Saree 
You can wear a Gadwal silk to any event, be it a wedding, reception, naming ceremony, birthday or a puja. The zari is silver and golden with bright hues. These sarees are available in rich and elegant colors. paired with Indian jewelry and festive makeup, you will be a showstopper at any event you grace.
This is a brief introduction to a beautiful saree – Gadwal silk.
SHOP GADWAL SILK SAREES ONLINE HERE!