If you have an event coming up in a week and have not planned an outfit, do not panic. There is something that you can wear which will not only look good on you, but is also super comfortable. Chiffon sarees are beautiful to touch, see or wear. It is the ultimate saree that you can choose to wear to a special occasion. After all, we have all grown up watching Sridevi, Rekha, Madhuri, Kajol and Juhi draped in these soft sarees and dancing in the green fields of Switzerland. This alone shows how comfortable these sarees are.
Shop chiffon sarees online HERE!
So, here are some interesting facts about the chiffon saree and tips to wear it like a diva:
Chiffon is a plain-woven fabric which is transparent and lightweight. It is a sheer fabric made of silk. Pure chiffon is always made of silk. But, the cheaper versions are made with the presence of nylon or polyester. Chiffon is mostly used to make evening gowns and dresses in the west. But, in India, we all love to wear six yards of chiffon sarees that sways with the wind and makes you look glamorous. As it is very soft to wear, most women prefer the saree over heavy silk sarees.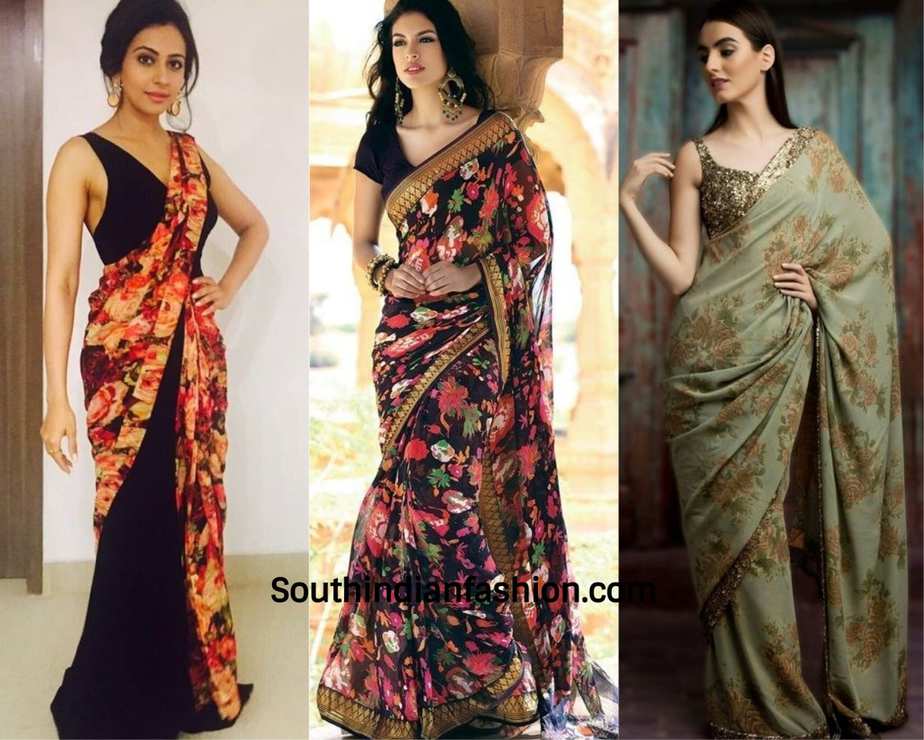 Types of Chiffon Sarees:
1. Floral Chiffon Saree
The floral chiffon is the most common type of chiffon saree that has floral designs all over it. It is the most preferred kind of saree that simple women prefer to wear to friend's house, office, small get-togethers and events. The floral chiffon saree is colorful and youthful.
2. Plain Chiffon Saree
A plain saree is one thing, but a plain chiffon saree is another thing. A plain, single color chiffon saree is the ultimate example for elegance. It is super cool to wear these sarees to meetings, parties and casual outings. The saree can be teamed with a designer blouse and desi jewelry if you want to pep up the look.
3. Dual Shaded Chiffon Saree
A chiffon saree that has two colors running through it is sensuous and attractive to wear. The colors may be two shades of a same color or two completely contrast colors. For such sarees, you will have to wear trendy blouses to look young and modern.
4. Designer Chiffon Sarees
If your chiffon has prints, designs, embroidery or trimming on it, then it is going to look fabulous. You can opt for such sarees if you do not like the simple look. These sarees will be blingy and you can wear them to larger events like weddings too. These sarees can be teamed with contrast blouses, off shoulder tops, sleeveless blouses and what not. Just remember to keep the jewelry and makeup minimal.
These are some ways in which you can wear your chiffon sarees.