Over the years, the silver screen has always had great influence over our lives. Be it our food, our culture, our love life or the hobbies, movies have always inspired us. One more thing that has made a major impact on our lifestyle is the filmy fashion. We all love clothes that the actresses wear. We love to imitate our favorite actresses' clothes and makeup. While it is not easy to buy the same brands, there is surely no harm in an imitation. The imitation is at its peak when it comes to saree blouse trends. Featuring five trending saree blouse inspirations from celebrities..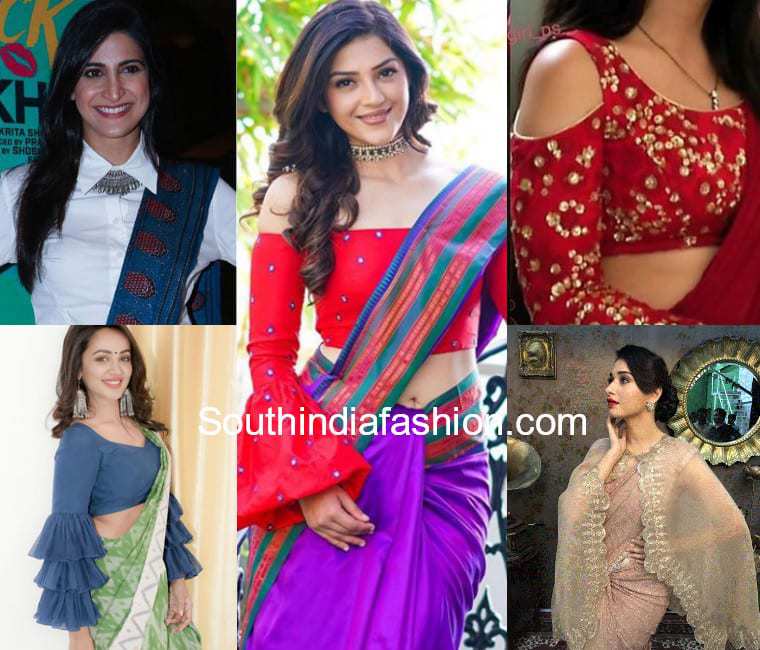 Here are five trending saree blouse inspirations from celebs:
1. Cape Blouses 
This is considered as the hottest fashion of the year. The cape sleeves are large and spacy. They are easy to wear and flaunt. You can wear the cape on the pallu, or inside it. One good thing about the cape blouses are that they are as much comfortable as they are fashionable. The cape can be of the same color as the saree or in contrast.
2. Big Sleeved Blouses 
Large sleeves are a trend these days as we see many actresses preferring the look. The large sleeves can be of different types – bell sleeves, ruffle sleeves, ballon sleeves or just about any kind of sleeves that are big. They are ideal for women with large arms and can make even large women look fashionable. Boring, old sarees can be worn to modern occasions by matching them with big sleeved blouses.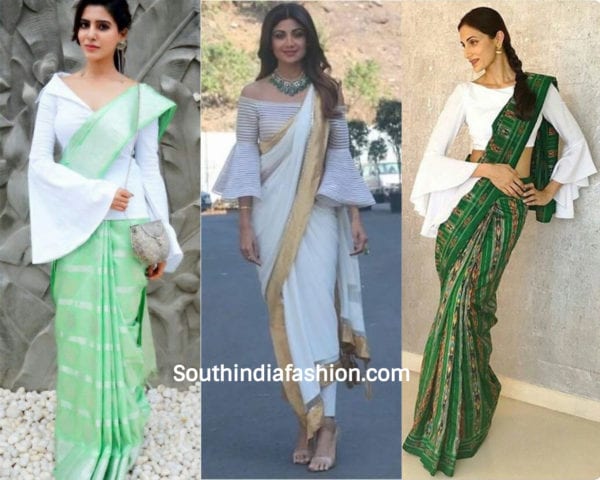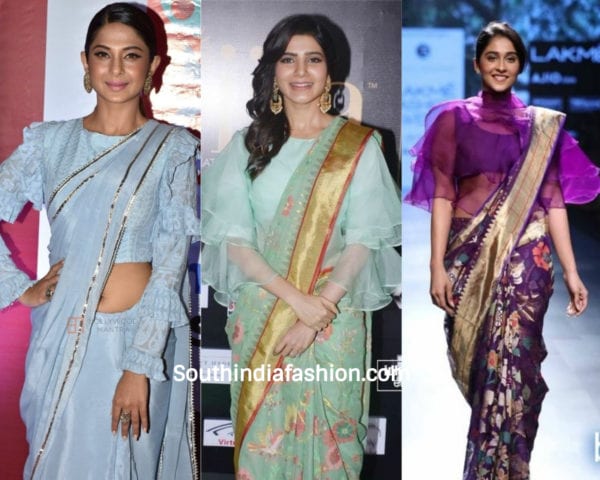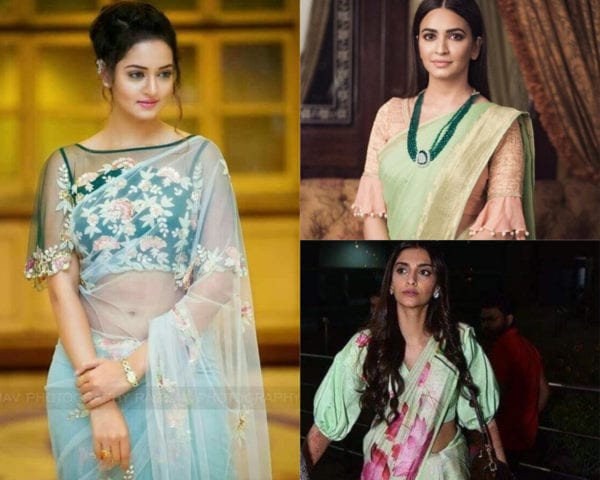 3. Shirt Blouses 
The shirt blouse is something that most of the actresses are trying out now. It consists of long blouses that will reach down to your waist. They may have buttons at the front, just like a shirt. These blouses add a touch of modernity to typical sarees. If you want a chic look, you can just put a fancy belt on the pleated pallu across your waist. It is a trendy eye-catching look.
4. Cold Shoulder Blouses
The cold shoulder was in trend last year, and seems to be a favorite among young girls even today. The cold shoulder consists of a cut, or an open at the shoulder region of the blouse. It is mainly to make a traditional saree look hip.
5. Off Shoulder Blouses 
If you are bold enough, and if it is a modern occasion that you will be going to, you can always wear off-shoulder blouse on a sheer saree. It will look fancy and stylish. If you have slender shoulders to show off, then you can try this extremely stylish look. The saree will be no less than any modern gown when you wear it with an off-shoulder blouse.
These are some saree blouse inspirations that we picked up from your favorite stars.