90s were the times when there were some major fashion revolutions. In those years, people began to sit up and take notice of good outfits. That was the time when people began to take fashion seriously. Be it the puffed sleeves or the chiffon sarees, the saree too got a decent facelift during the 90s. There were some trends, quite bold for that time, which are considered a fashion trend even today. Some of the 90s saree trends have come back now after almost two decades.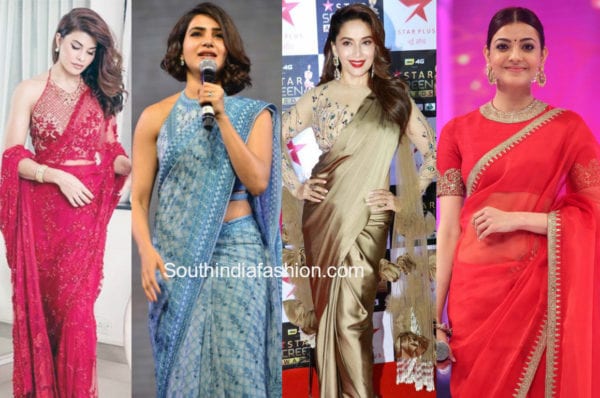 Let us look at the 90s saree trends that are back in trend again:
1. High Neck Blouse 
Be it Sridevi or Madhuri, they have all worn a high neck blouse with a beautiful saree in the 90s. Today, we see the trend slowly coming back into fashion with Sonam, Deepika and other stars wearing high neck, polo neck and collared blouses on their designer sarees. These blouses are best suited for an evening party, cocktail party, dinners and receptions. As the neck of the blouse is high, you do not have to wear any neck jewelry. A chunky pair of earrings will suffice.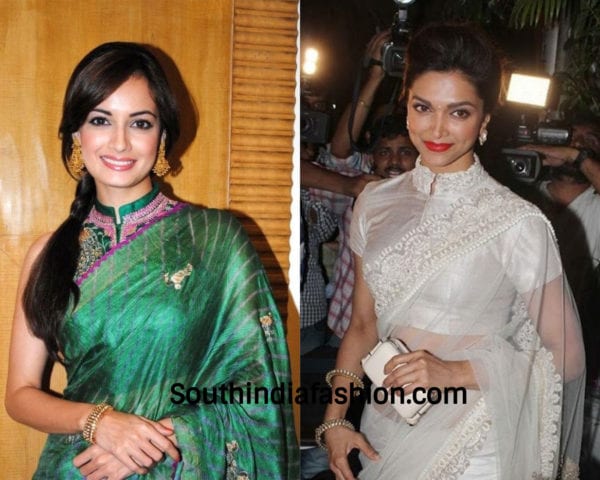 2. Satin Saree 
When Kajol wore a satin saree and danced in Dilwale Dulhaniya Le Jayenge, the entire nation held their breath. The next thing we knew, every woman was hunting for similar dual shaded satin sarees. This trend seems to be back in 2018, thanks to the many stars who are flaunting the satin sarees at various events. Satin has a sophisticated look, hence all you have to do is pair it with a fancy blouse and wear it with attitude. As satin itself is shiny, you can ditch jewelry. Keep it simple and classy.
3. Puffed Sleeves Blouse 
The traditional puff sleeves that we saw actresses like Raveena wear in the 90s is back with some twists. Today, the puff is rather larger sometimes, too small at times and layered too. A puffed sleeve blouse goes well with the traditional silk sarees. If you have slender arms, you can wear short puffed sleeves blouses with your saree. Traditional gold jewelry will suit this look perfectly.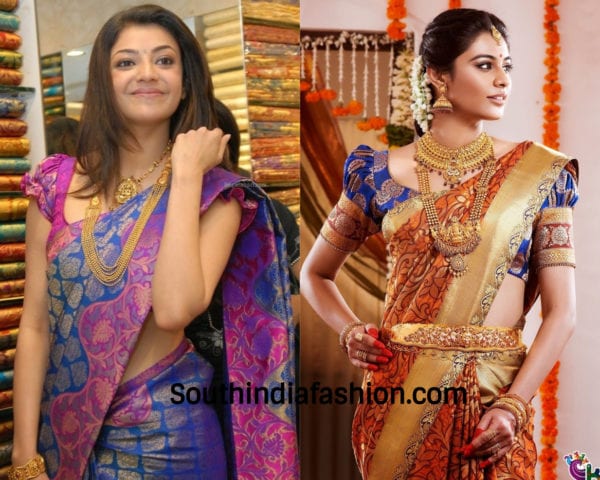 4. Chiffon Saree 
No Bollywood movie was complete without a song where the heroine is dancing in the Swiss Alps in a chiffon saree. Chiffon sarees are the ultimatum of elegance and beauty. A simple, plain chiffon saree can be paired with a sleeveless blouse for semi-formal events. If it is a traditional desi event, go for fancy blouses and diamond jewelry with a chiffon saree.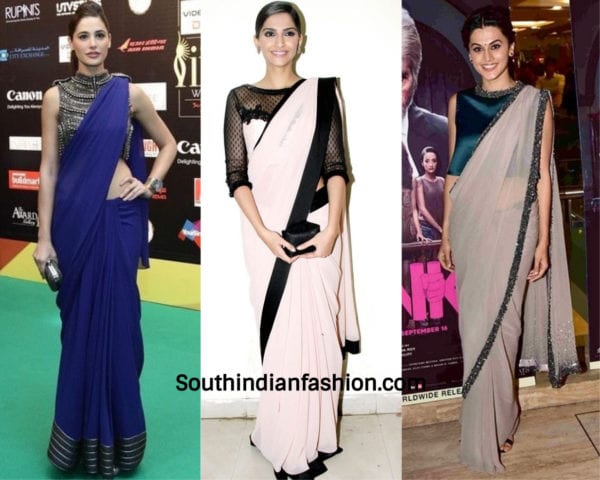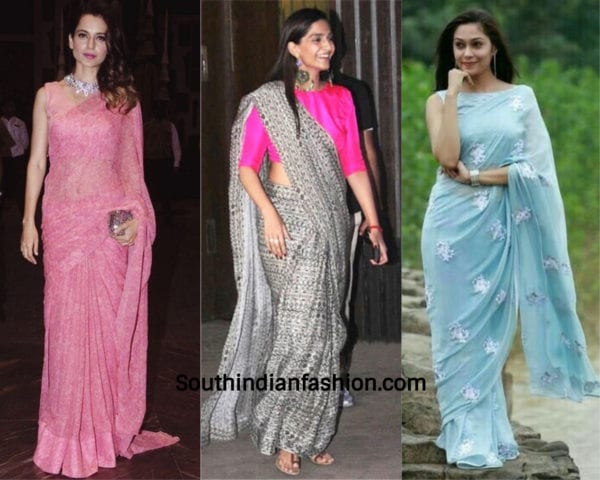 5. Lace Saree 
When Madhuri and Karishma wore lace sarees, we all loved the way it looked on them. Such is the beauty of a lace saree, it looks good on any woman. A lace saree is modern and suitable for all kinds of events. Just pair it with a simple off-shoulder blouse and you can attend any hi-class party. Pearls are the best suited accessories for a lace saree.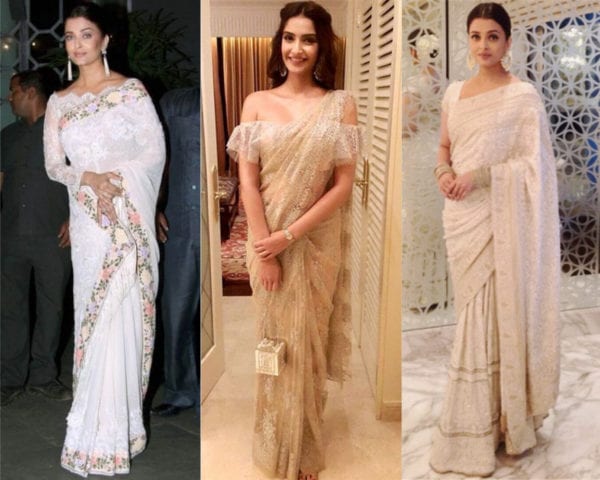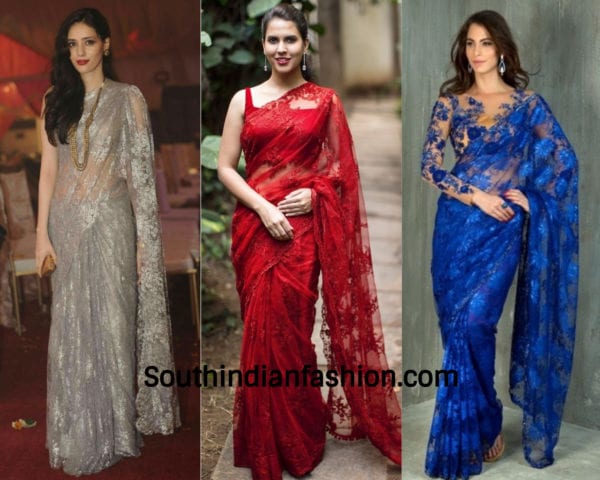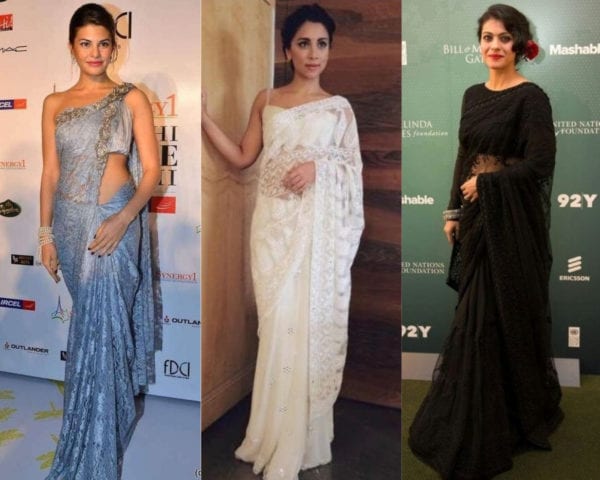 These are some of the saree trends from 90s that we love to wear even in 2018.