Jewelry is the most important accessory to complete your look whenever you are dressing up. While many people prefer to flaunt their money and show their status by wearing expensive gold and diamond jewelry, there are some women who still love simple handmade jewelry. Simple, handmade artisan jewelry not only cost you less, but they are also beautiful. You can team them up with western outfits as well as Indian wear.
Here are 7 Celebrity-Inspired Handmade Jewelry Trends :
1. Cloth Earrings 
They are easy to make and damn simple. Earrings made of tiny pieces of cloth and some cotton are funky and colorful. May be that is the reason actress Bhavana Menon chose to wear them at her mehendi function instead of elaborate jewelry. The colorful pompom earrings matched her outfit and looked absolutely delicious. You can wear these kind of earrings with your college outfits and long skirts.
2. Tassel Earrings 
Tassel earrings are made from a bunch of threads. They are easy to make and easy to wear. They look super cool when worn with gowns and dresses. We see Kareena Kapoor wearing these beautiful tassel earrings at an event. You can wear them with your gowns and ethnic wears too.
3. Thread Necklace 
A thread woven necklace is simple, but highlights your neck when worn on a nice top and long skirt. You can also wear large thread necklaces with sarees and salwar suits. The thread woven necklace can also be accompanied with a small pendant at the center.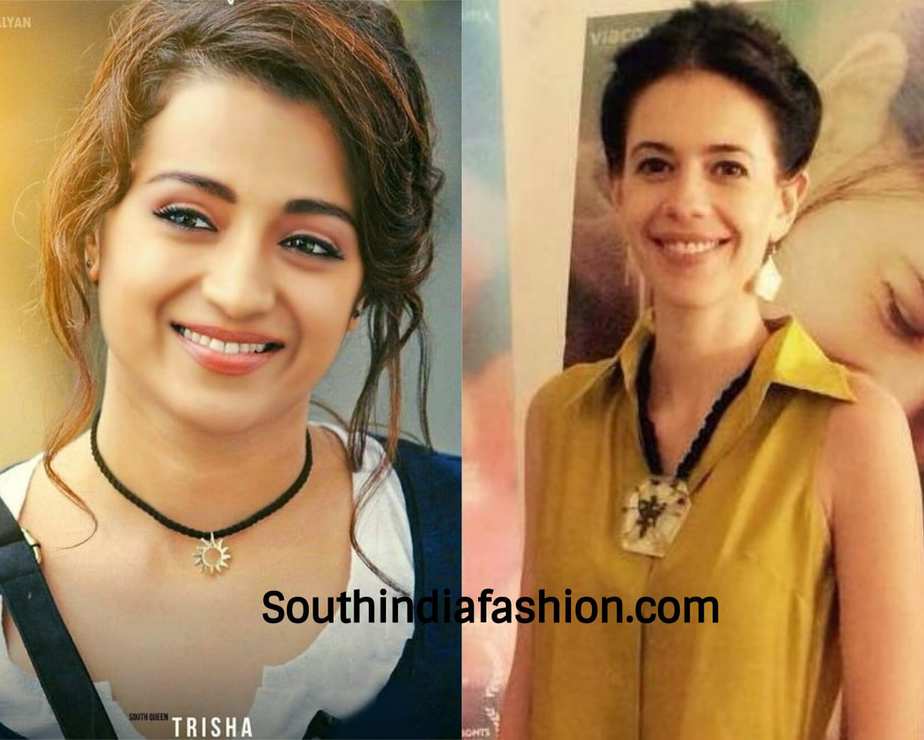 4. Wooden Earrings 
Wood is one more commonly available raw material for simple handmade jewelry. A wooden earring can be of any type and pattern. You can also color the wood, hence you can have colorful wooden earrings. Here we see Nazriya wearing simple step-on-step wooden earrings that match with her outfit. You can wear these kind of earrings with chudidhars and salwar suits.
5. Cloth Choker 
A cloth choker is ultra-simple and easy to make. It looks prominent when worn on your neck. We have seen many stars wearing cloth chokers with their casual outfits. The chokers go well with t-shirts, tops, mini dresses, maxi dresses and any such casual outfits.
6. Beads Necklace 
We often see yester year actresses like Suhasini wear sensible pieces of jewelry like the beads necklaces. They are handmade by artisans and are elegant. They go well with modest cotton sarees, but can also be worn with lehengas.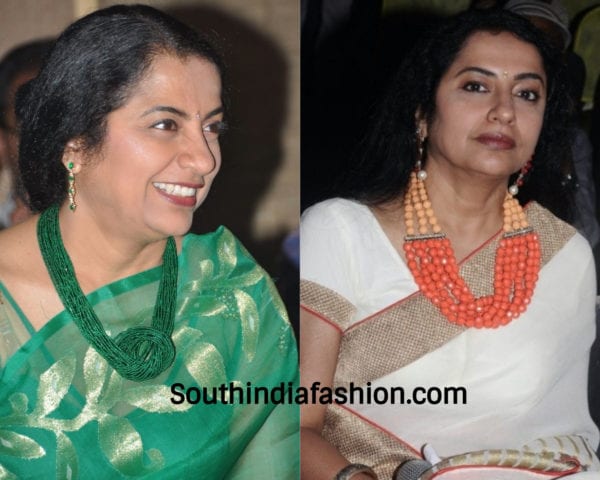 7. Maggam Bangles 
The handmade maggam embroidered bangles are the best accessories when you are all dressed up traditionally in silk saree and gold jewels. These thread woven bangles come in all colors and designs. We saw actress Sridevi Vijaykumar recently wearing these thread bangles to an award function.
These are some of the simple, handmade jewelry that we see our stars wearing.