Whether it is acting or style, the lady superstar has always been the number one actress in anything that she does. Nayanthara is one actress who is loved not just for her talent, but also her fashion sense. We love the sarees that she drapes and the dresses that she wears. But most of all, we love Nayanthara hairstyles. Nayanthara loves to experiment with new hairstyles every time she is in front of the camera or on the red carpet.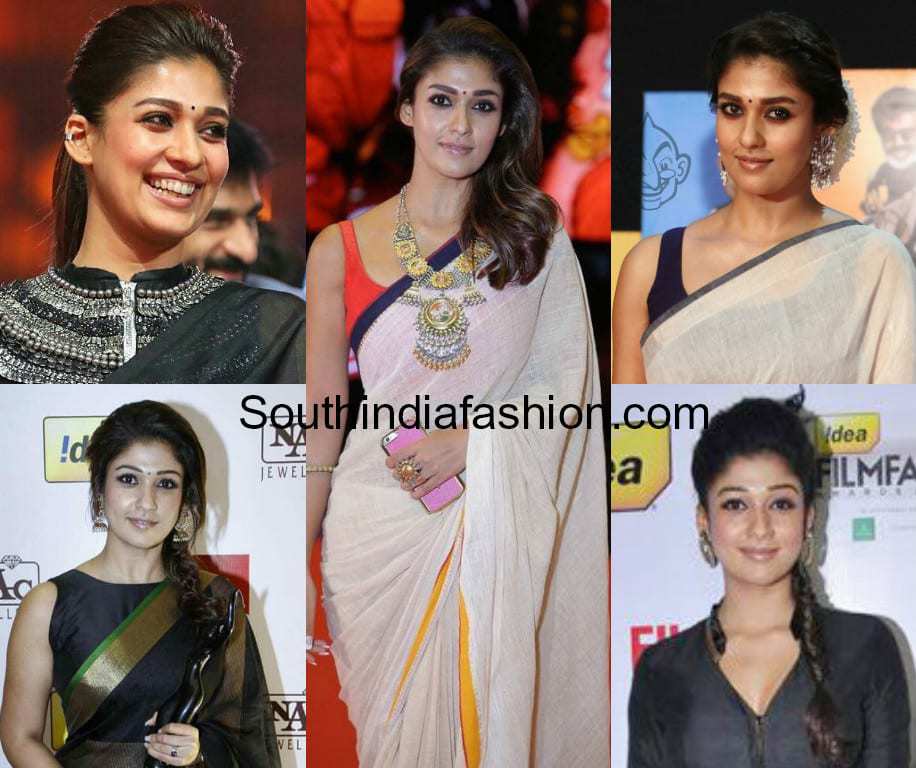 Here are 8 Best Nayanthara Hairstyles That Will Inspire You:
1. Nayanthara's Side Braid Hairstyle
The braid that Nayanthara often pairs with her modest sarees to award functions is very simple. It is just a common braid that is pulled to one side of the shoulder. This braid can be accompanied with a puff or a messy hair on the top of the head. The braid suits a saree look perfectly.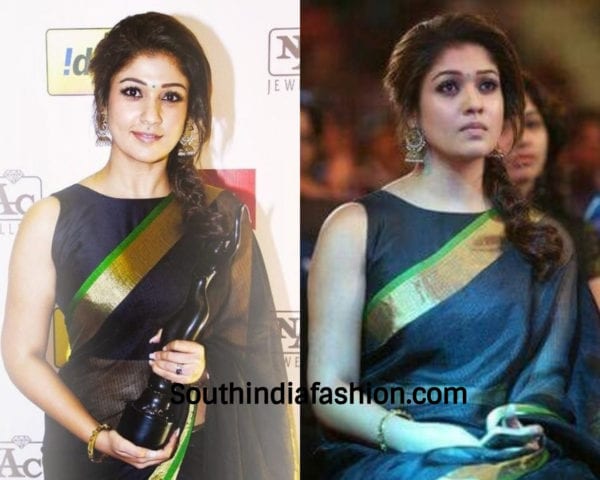 2. Braided Bun With Flowers
If you are wearing a festive saree like a silk saree, then you can pull a Nayanthara style braided bun with it. Part your hair on one side and make small braids on each side of the parting. Join the partings at the back of the head and make a bun. You can round up jasmine flowers around the bun for a special touch. This is the best hairstyle for a festive look.
3. Fishtail Braid 
If you are at a semi-formal event, you can go for the fishtail braid hairstyle like Nayanthara. It is an intricately woven fishtail braid accompanied with a high puff at the crown. This hairstyle can be paired with anarkali suits and salwar kameez.
4. Wavy Hair With Hairband
This humble hairstyle is your go-to hairstyle when you are off on a trip or to your college. Curl your hair and wear a hairband across your head making a small puff while settling the band. Leave the hair free all over your shoulders. You will look youthful and young in this hairstyle. This hairstyle is for jeans, long skirts and t-shirts.
5. Nayanthara's Top Knot Bun
On a casual day, when you are brunching with your buddies, you can pull all the hair high up on your head and make a bun. The high bun must be then rounded up with some strands of hair to make it look all natural. The top knot bun goes well with the jeans and casual looks.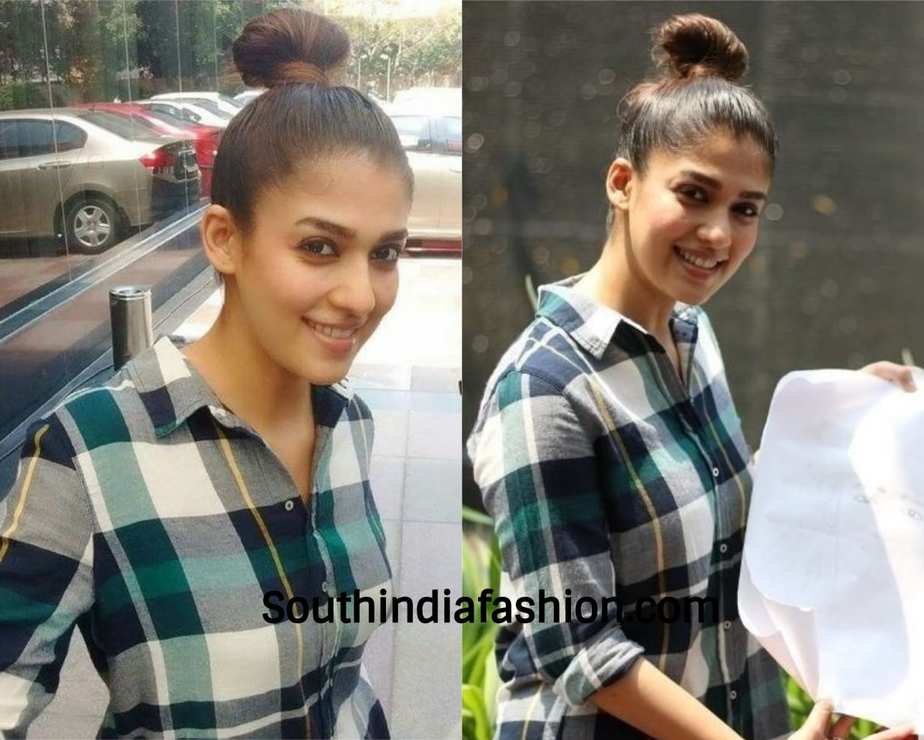 6. Nayanthara Messy Bun 
If you are in a mood to look messily beautiful, opt for the Nayanthara messy bun. The bun is secured while the hair is left messy. Though it is a messy bun, it looks absolutely well in order when paired with a kurti or a tunic top.
7. Nayanthara Ponytail
The high pony that Nayanthara wears to many events is the simplest hairstyle in the history of fashion. But, it looks so elegant and neat that we love to imitate it. The high pony can be done with a puff in the hair or tightly combed back hair. Both are good for a simple saree look.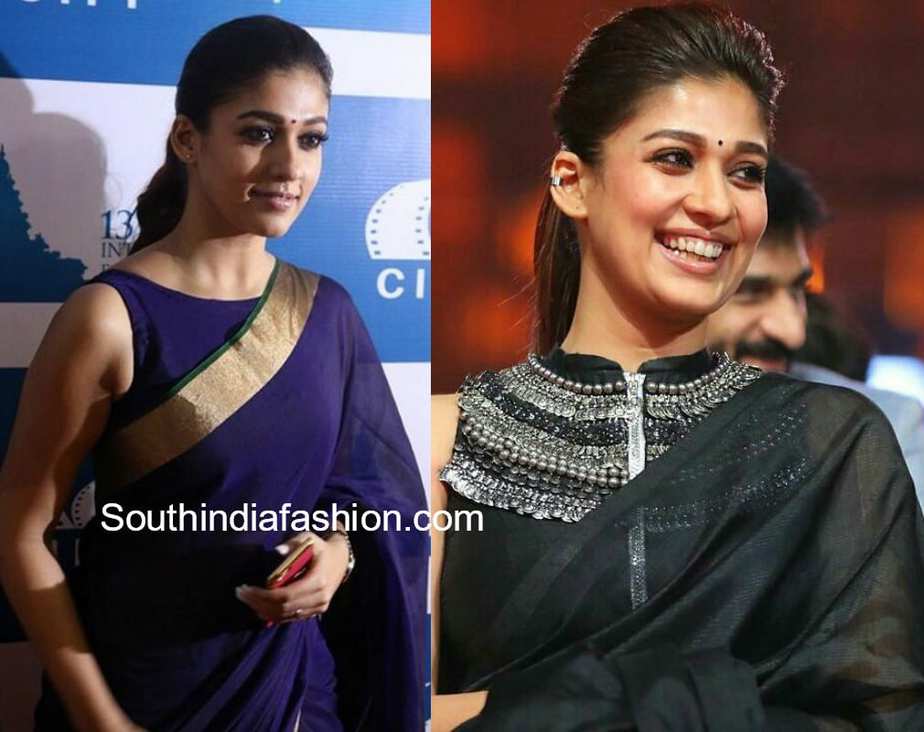 8. Pinned Back Wavy Hair 
This particular hairstyle can be renamed as the Nayanthara hairstyle as we have seen her wear it in many of her movies. It is simple, all you have to do is brush the wavy hair and do a slight parting on one side. Take parts of hair from both the sides and secure them in the middle with a clutch. It's done! This hairstyle gels well with a saree look.
9. Nayanthara Puff Hairstyle
The puff hairstyle is common in Nayanthara's movie looks. It is easy to make and looks cool with casual outfits. All you have to do is make a large puff on the top of the head and pull the side hairs on both the shoulders. This hairstyle is suitable for long hairs and can be worn daily to work.
10.  Side Swept Wavy Hair
This is one of the most trending hairstyle to complement your sarees.  Curl your hair and bring them all to one side of your shoulder. The side swept hair is good with a casual evening saree look. You can wear large jewelry to accentuate the simple look.
These are some of Nayanthara hairstyles that we love.