This week, all eyes are on just one woman – Keerthy Suresh. She played the great actress Savitri in her biopic Mahanati. While the entire film industry is in awe by the story, making and characters of the movie, we fashion lovers are mesmerized by how beautifully the actress has carried each and every look in the movie. A period film, Mahanati (Nadigaiyar Thilagam in Tamil) is set in four decades – 50s, 60s, 70s and 80s. The vintage fashion of all these decades is shown in the movie.
We just love how elegant and poised Keerthi looks as Mahanati Savitri. The sarees, hairstyles, scarves and makeup are all drool worthy. Most of the credit should go to the costume designer of the movie Indrakshi Pattanaik. With help from designers such as Gaurang Shah, Archana Rao and producers Swapna and Priyanka Dutt, Indrakshi has created a master piece in this movie.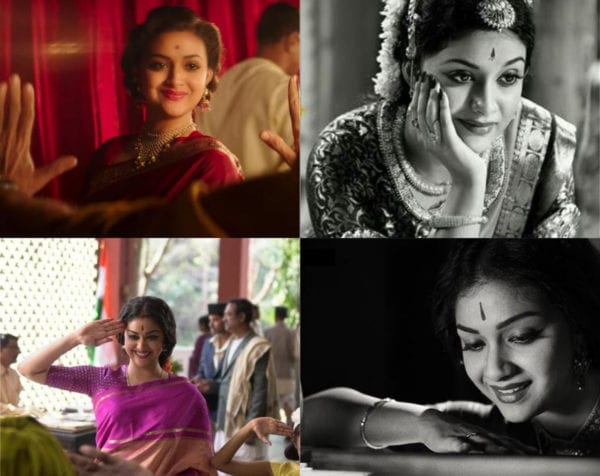 Here is how Keerthi successfully donned the looks of  Savitri in Mahanati:
1. Silk Saree 
Will the old school look ever be complete without silk sarees? Kanchipuram sarees are a must for any period movie set in the 70s or 80s. Keerthi wore the silk sarees with great élan and attitude. The heavy, large bordered silk sarees are a staple even today at weddings and poojas.
2. Closed Neck Blouse 
The signature style of the 70s was closed neck blouses. There was not too much of body exposure, hence there were elbow length sleeves and collared or close necked blouses. We see the same trend catching up once again with many actresses wearing these kind of blouses on several occasions.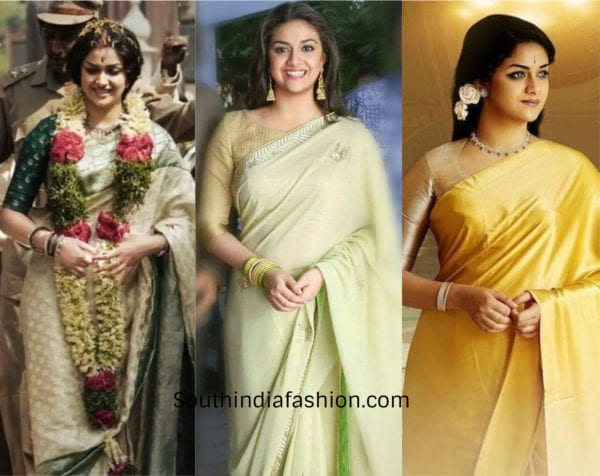 3. Teardrop Bindi 
The Mahanati was well known for her iconic teardrop bindi. She wore it regularly and it was almost like her identity. The large teardrop bindi up on the fore head will extenuate your forehead region and make your face look fuller. If you have a round face or an oval face, you can wear medium sized teardrop bindi on occasions like Keerthi Suresh does.
4. Jewelry 
Jewelry is one more important thing that you will need to wear to round up your vintage Indian look. Indian women, especially south Indians love their heavy gold jewelry. The traditional designs are back in trend once again. Be it the jhumkas, drop earrings or the chandbalis, they look absolutely delectable when you wear them with Indian attires. When you are dressed in a saree or an anarkali, all you need to complete the look are a pair of large shimmering earrings. Keerthi's jewellery in Mahanati were designed by L Bajrang Pershad jewellers and Sri Fine Jewelry.
5. Make up 
Pouted lips, large eyes and winged lashes are what that define the great actress. Keerthi is also seen imitating the same make up at promotions and in the movie. Emphasizing the best features of the face will make you look attractive. Use of basic colors like red and maroon for the lips, black for the eyes is enough to complete your makeup if you want the vintage look. Hairstyles of the bygone decades were also unique. There were buns, plaits and center parted hairstyles that give you a exalted look.
Keerthi Suresh seems to have the first and the last word when it comes to dressing up vintage. If you want to look gorgeously south Indian just like the Mahanati, take tips from Keerthi.