Kareena Kapoor has been in the entertainment industry for almost two decades. We see no other actress ruling Bollywood with so much confidence and talent for such a long time. She is one star who is looked upon as not just an actress, but also a fashionista. Young girls love to wear what she wears both onscreen and off it. Marriage, motherhood and age has not made her take a back seat when it comes to acting or fashion.
Everyone knows Kareena Kapoor is a good actress. But, we feel that she is a complete woman when we are talking about fashion. Be it on screen, or on the ramp, or just as a host of a party, we always see her doing her role perfectly and well-dressed too.
Here are some reasons why we think that Kareena Kapoor is an ideal woman..
1. An Actress 
It is her profession and it is what she is recognized for. She is a great actress and is dressed beautifully in all her movies. We have seen her donning many roles from a teacher to a doctor, and she has dressed her part impeccably in all the movies.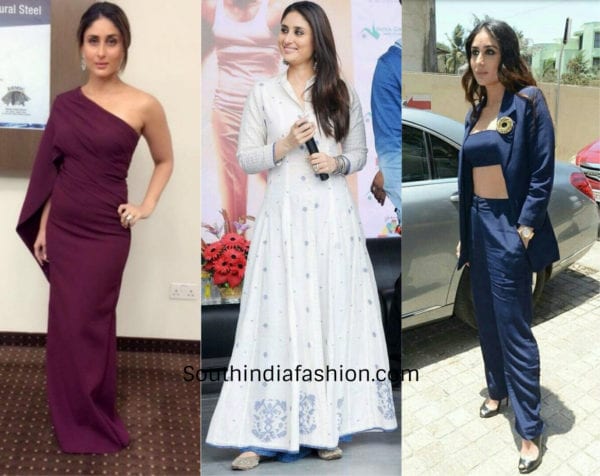 2. A Model
Actresses are often seen on the ramp promoting a brand or a designer. Kareena Kapoor too endorses many brands. When she is on the ramp walking for a designer, she looks absolutely stunning. We have seen her in dashing gowns and heavy lehengas. She looks divine in those intricately designed Indian attires. We also love her in her sarees during various formal events that she has graced.
3. A Host 
Whenever Kareena is hosting a party or attending one, she looks every bit of an angel. It may be a late night party, but Kareena manages to dish out the best look that breaks the internet. We love her casual outfits that are both comfortable and cool for parties.
4. A Traveler 
As a busy woman, Kareena Kapoor gets to travel around the world for her work. Though she has her hands full, Kareena never disappoints the cameramen outside the airport. Every time she steps out of a plane, she is looking fresh and stylish. Her casual outfits for travel is what every female traveler is taking notes of.
5. A Mother 
As a new mommy Kareena Kapoor surprised the onlookers. She managed motherhood and her child in the most fashionable way that all mothers are inspired by her. She wore comfortable yet to-die-for outfits as she carried her baby Taimur to work, travel or a friends place.
6. A Family Woman 
While she is doing so much in her life, we must not forget that Kareena is a woman at the end of the day. Sometimes she is seen hanging out with her friends, visiting her parents, going on a date with her hubby or simply spending time with her sister. She is even seen at the gym regularly to be a healthy and fit woman. At all these times, we are just in awe at how she manages to pull out just the right look to flatter everyone.
These are the reasons why we think Kareena Kapoor Khan is a true fashionable woman.