Four times Filmfare winner Samantha Akkineni doesn't stop surprising her fans, be it her acting prowess or her looks. The beautiful lass from Chennai has recently changed her looks as she dons a short hairstyle now. Samantha Akkineni's short haircut  gives her a petite look and conveys a new mantra of fashion.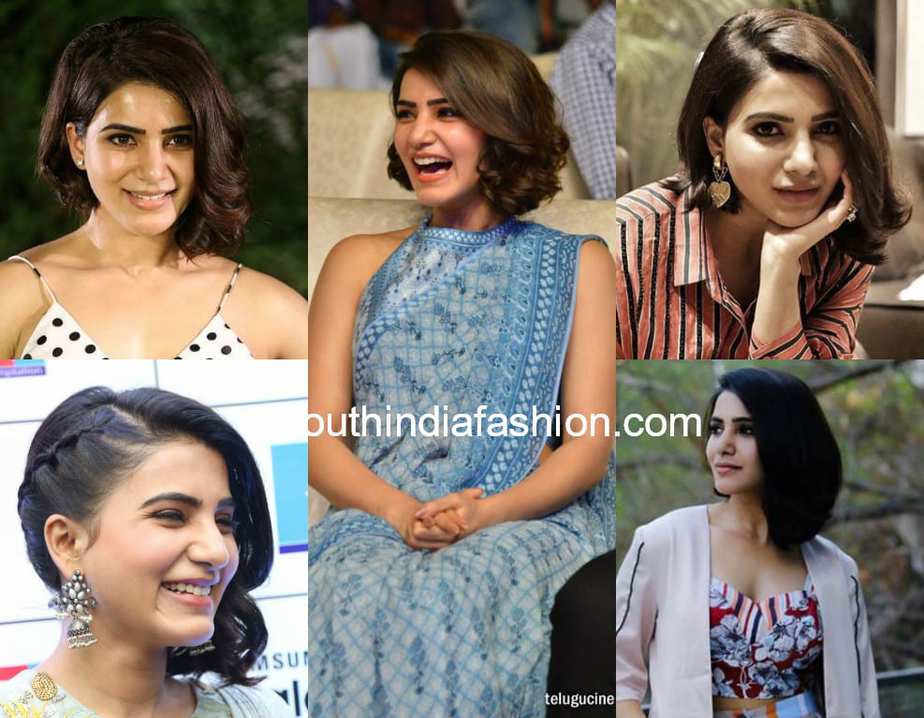 In the recently held success bash of Rangasthalam, this pretty woman scored high on fashion when she looked graceful and elegant in a blue saree. The short hair complemented her attire and not even for a minute she looked odd. Samantha's curly bob hairstyle added to the feministic feel to her ensemble. She broke the traditional rules of long hair with saree and has rather helped saree to reinvent itself as a wear for modern woman.
The short bob is giving her a stylish edge and has helped her to drop few years. She is wearing her new hairstyle with every kind of dress possible, like skirts, pants, dresses, gowns, and saree. Sometimes she is seen ironing the ends, while at other occasions she is curling her mane.
Short hair is a new in-thing. Samantha has proved that it goes well with any kind of dress, be it Indian and western casual. It looks chic with gowns, casual with jeans, refined with salwar kameez and classy with saree.
The free tresses can be curled to give you a mischievous look and can also be ironed to perfect straight rendering you a professional cut. The new haircut goes well with Samantha's oval face and seems to appraise her beauty. The hairstyle requires minimal accessories and gives a complete rounded look to a girl.
At the launch function of Samsung Galaxy S9 event at Big C Samantha teamed her steel blue saree-drape dress with bob hair. She left her tresses curled and loose on left side, while braided her right side hair, giving her a chic look.
With sun showing us his full might, having long hair is a tough job. You can't leave it open for long and tying them compromises your looks. But, short hair gives you the freedom to enjoy all weather and be in-style all around the year. It goes with all kinds of faces: small, large, oval, and square. The maintenance of short hair is also easy and less demanding than long tresses. Another advantage is that you can easily tame your stay fringes and look awesome throughout the evening.
Short or long, Samantha is one girl in Tollywood who likes experimenting her looks and her every try out is a success and raises the fashion bar. A style icon for young girls, Samantha rules Tollywood. Samantha Akkineni's short haircut will sure become a new style of the young girls who follow her every move and embrace her looks.