When we think of pattu sarees there are a few things that come to our mind. Vibrant or jewel toned Kanjeevaram sarees are the first thing we think of, but as the mercury rises we can think of light color pattu sarees that can make waves in the wedding circuit as bridal sarees or as wedding guest Kanjeevaram sarees where you can look elegant.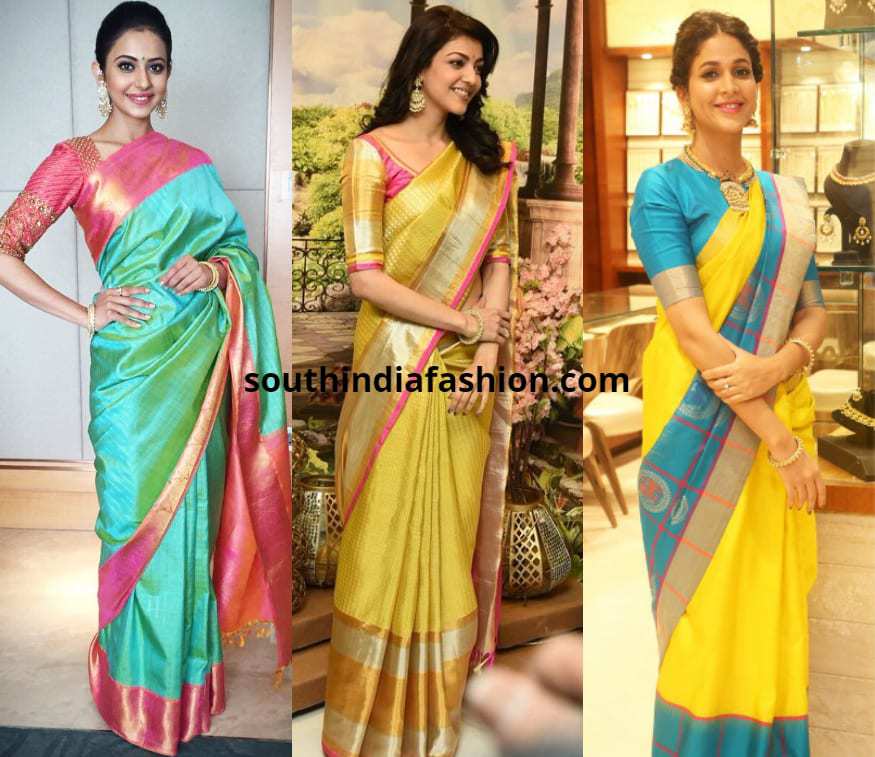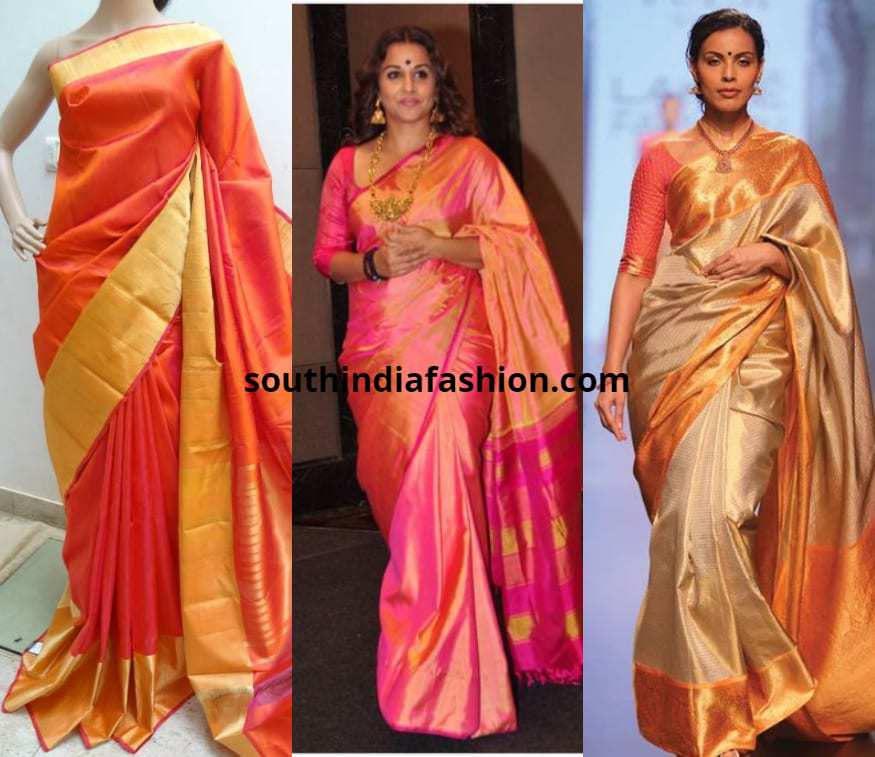 Light color pattu sarees are perfect especially for youngsters or anyone for who want to look all summery and fresh in ethnic wear. Not just single color Kanjeevaram sarees like the heavy bridal sarees fits this bill but also contrast Kanjeevaram sarees of two light colors works very well. When the standard bridal saree color is red, options like pink Kanjeevaram sarees or a gold bridal pattu saree are the lighter choices we are talking about. In Kanjeevaram sarees colors like pink and gold not only look lovely with self heavy borders, but also with contrast borders.
The most popular color combinations for contrast light color pattu sarees would be leaf green with pink, yellow with pink, gold with pink also a light violet with pink. Colors like pink and gold work beautifully with a lot of other lighter colors to give you perfect Kanjeevaram sarees.  Some unique choices include a white with baby pink that looks so refreshing on a Kanjeevaram saree.
The next step after choosing the light color Kanjeevaram saree is to choose the blouse. Again if you are wearing this as a bridal saree or for one of your pre wedding festivities, you can go for a heavy blouse in saree color. Opt for maggam work blouse, stone work blouses or cutwork blouses for the heavy feel. Else if you want to go for a simple look, go for a darker, contrast choice to make both the saree and the blouse stand out in a beautiful way.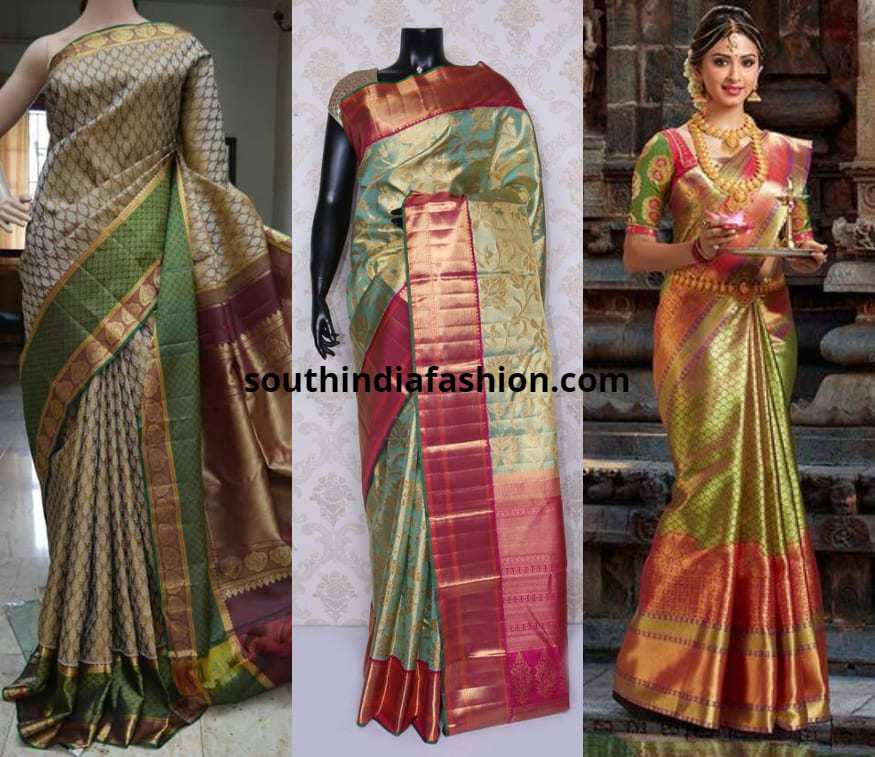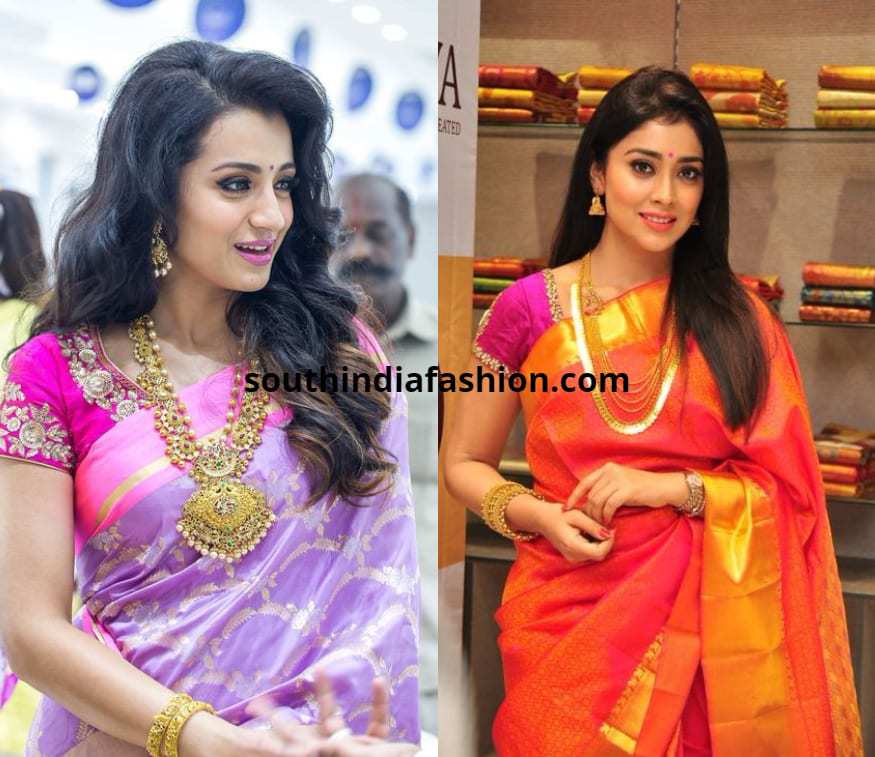 Light color Kanjeevaram bridal sarees are in vogue now if you are one of the fun brides. You can accessorize it just like you would a deep color pattu saree. Heavy diamond jewelry, temple jewelry or antique jewelry are perfect for a bride or for a wedding guest. Do not think that light color Kanjeevaram sarees will dull the shine of an overall look. It looks as classy as a jewel tone pattu saree.
Light color pattu sarees are the name of the game this wedding season. Pick a few up come what may!!