A saree is a versatile outfit. You can wear it wherever you want and the way you want. Confused about what to wear to an event? Wear a saree! No dress code but don't want to take the risk? Wear a saree. Duh! Easy, peasy and breezy! If you don't have footwear to go with your cotton saree, wear your sneakers, just like Kangana Ranaut did!
Where else are you going to find such versatility with style and accessories as well? If you can go on and on about sarees just like us, here have a look at these 5 sarees that deserve a space in your closet!
Be it summer, winter or weddings, these Kanjivaram sarees are forever. From a season to another and from a generation to next, it is an heirloom and a timeless classic. The charm never fades away and its magic is real! Just drape it and see how it unravels! The intrinsic golden zari work on the borders and pallu add to its beauty, making it the epitome of perfection!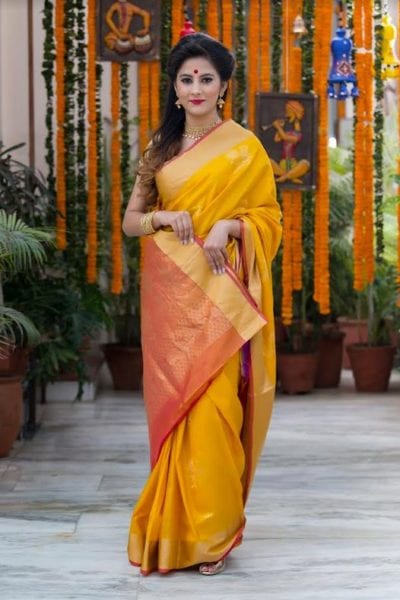 Pure cotton sarees and linen sarees are more comfortable and trendier than summer day dresses. Don't believe us, look for yourself!
This linen saree is easy to drape, easy to maintain and beautiful! At times, when you can't wear summer dresses or aren't much sure about the occasions though, a linen saree in summer can be your best and safest bet! It is as airy as evening summer breeze and skin-friendly too! Check out the design-minimal and barely-there, just what you need to style your summer evenings!
Summer weddings are eagerly anticipated. For, you don't have to layer up and hide your beautiful saree behind the jackets and trench coats. However, you don't want to keep on sweating in those heavily embellished silk sarees either! Fret not! There definitely is a way out! This beautiful tissue silk saree, which flaunts an interwoven zari border to carry just the right amount of bling!
Easy to wear and maintain, this maintains a balance between the style and comfort! Don't you want one for your summer wardrobe?
Show your sunny side without sidelining your sartorial sense! A colour that is capable to give complex to the summer sky and make you look oh-so-cool! This pure South cotton saree is all you need to spice up your summer soirees!
Sarees are a beautiful way to style your summers! Make your summer events a lot classier, trendier and memorable by draping the perfect and trendy sarees!
Browse more sarees online HERE!