Silk, chiffon, georgettes and other designer sarees are very much in trend but the cottons, handloom cottons and linens are a class apart. They are not only versatile but can make a better statement compared to the other conventional designer sarees. With the right styling and accessorizing anyone can ace the linen saree look. Here are some tips on how to style and accessorize linen sarees for a party look and office wear.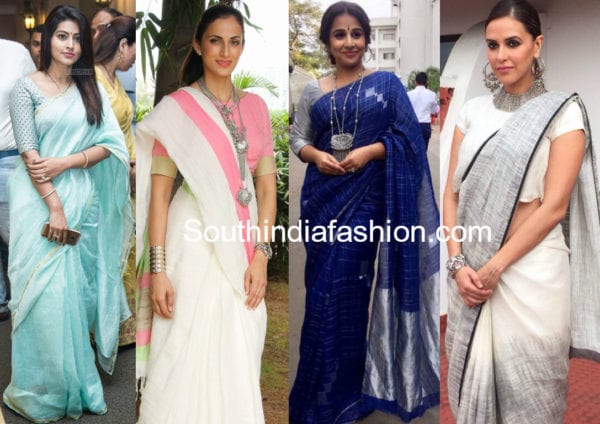 How To Style and Accessorize Linen Sarees
Linen Sarees For A Party
Our celebrities are seen flaunting the classic cotton and linen sarees with great style and confidence. From the red carpet to day events, they've nailed in them proving that anyone can rock the classic linens this summer.
Choose from a variety of plain linen sarees, linen sarees with zari border and linen checks sarees with the right jewelry to game-up your party saree style.
Celebrities like Kajol and Vidya Balan are well known to rock the linen sarees at day events and even on the red carpet. Bold bohemian jewelry, make-up and natural hair-do is what they believe in and have always rocked in it.
Linen Sarees For Office Wear
If you are a professional working woman or want to flaunt a very modest and sophisticated linen saree look, then keeping the look simple will do the trick. Pair your simple linens with matching or plain blouses and carry minimal accessories for a formal and neat look.
If you want to make a statement with your office wear, then you could experiment with a classic drape, contrast blouses or even jacket layering.
Simplicity is the key for Vidya Balan's saree dressing and we love how she effortlessly flaunts day to night looks. Plain linen saree with zari border contrasted with a full sleeves kalamkari blouse is simple yet trendy for office wear.
For the contemporary woman, Neha Dhupia's bold style of teaming up her linen saree with a jacket is hands down the most stylish way to rock a sophisticated and formal look.
And if you want to make a striking statement and still look modest in a linen saree, Sandhya Mridul's draping style will instantly make everyone around you go wow!
Carry minimal accessories and wear sober jewelry to balance out your office look.
Types Of Blouse Designs To Choose For Linen Sarees 
Any linen saree can be uplifted with a statement blouse or accessories. Style your simple linen sarees with western crop tops or off shoulder tops to take the glamour quotient up by a notch. You could also pair up your linen sarees with block printed or kalamkari blouses to leave a lasting impression. Keeping the urban touch which blends beautifully with linens, even the antique bohemian jewelry plays a major role in complimenting your linen saree look.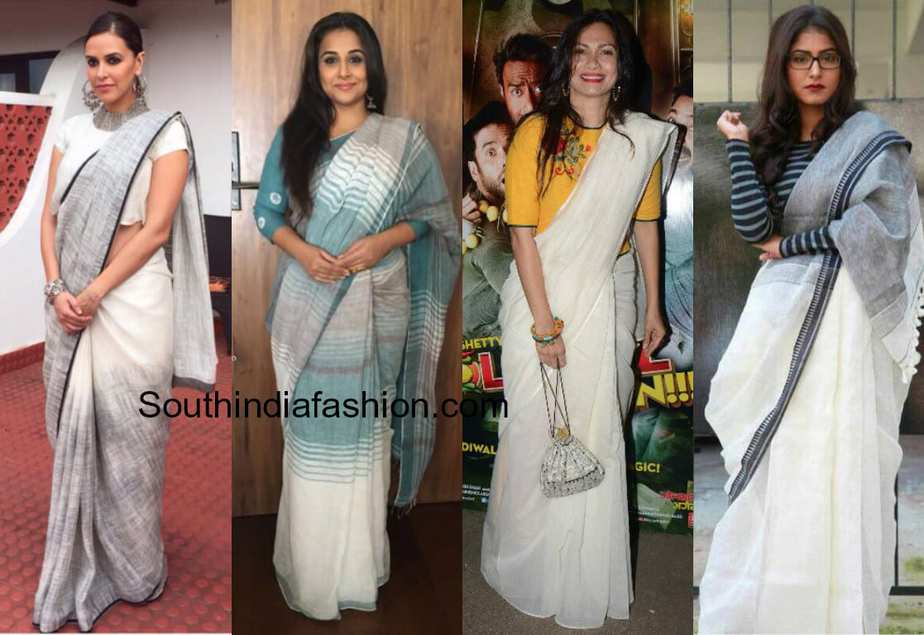 Our celebrities like Neha Dhupia, Vidya Balan, Kajol, Shilpa Reddy and many more have rocked the simplest linen sarees in the most stylish different ways on the red carpet and party events. Stylish crop top style blouses, halter style, shirt style or even simple elbow sleeves and full sleeves blouses work beautifully for them.
For a party look in linens, accessorize with bold statement jewelry and carry stylish clutches or potli bags.
When styled right and carried with confidence, the plain linen sarees or linen sarees with borders and prints can be worn by anyone at any age and at any occasion. If you are a saree lover, you must own atleast one linen saree and make the most of it this summer. It's versatility will leave you impressed and others staring.
How to Accessorize Linen Sarees
1. Jewellery With Linen Sarees
Silver antique jewelry and bohemian jewelry look best with linen sarees. They transform your entire saree look thus giving you a contemporary fusion style. Antique or vintage necklaces, chokers, earrings or you could even layer your necklaces for a trendy style statement. The minimalism of a linen cotton saree allows you to go bold with your accessories. However, make sure that you do not over-do when you  accessorize linen sarees and create a balanced look.
If you are choosing to wear a heavy necklace, skip on the earrings and vice versa. If you wish to wear both earrings and the necklace, make sure you balance out the look. Accessorizing completes the look of a linen saree so always ensure to wear appropriate jewelry with your linen sarees for a dressy look.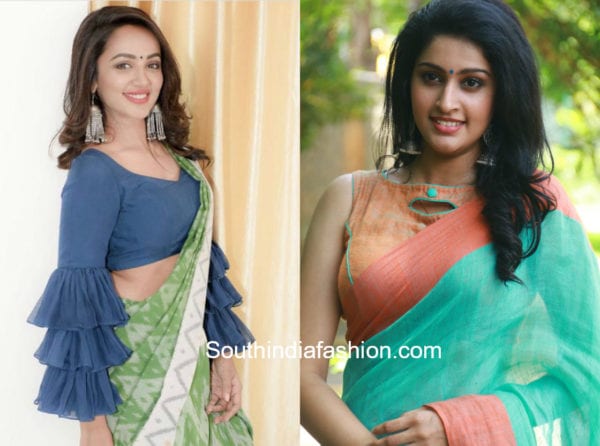 2. Shoes and Bags For Linen sarees
Stylish juttis, brogues and such urban chic shoes are sure to complement your linen saree look. If you want to create an urban chic look with your linen saree, then go with western footwear and if you want to keep it traditional, flaunt your Indian sandals. Likewise, carry totes and stylish handbags for a formal and classy look. And if you want to go ethnic, carry embellished box clutches and potli bags.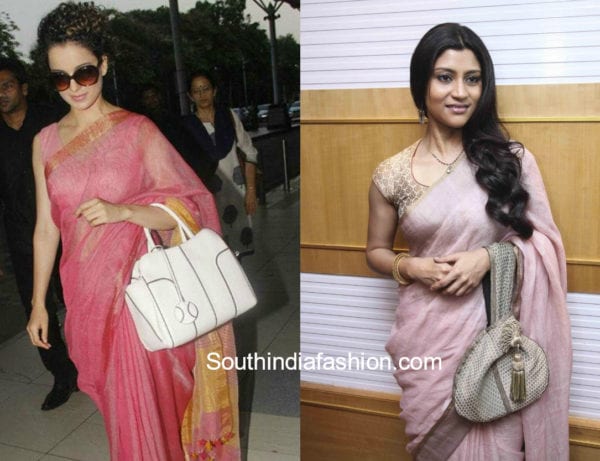 BUY LINEN SAREES ONLINE HERE OR HERE OR HERE!!
Any linen saree look can be instantly dressed up or down depending on the occasion or the style that you want to flaunt. So keeping these simple tips and tricks in mind, you are sure to rock your summer linen saree looks.