Mehndi ceremony is a gala pre-wedding event full of cheer, laughter and excitement. Brides, bridesmaids and wedding guests are dressed in colorful and stylish ensembles that are comfortable too as the event involves a lot of moving around, dancing and having fun. It is very essential for a bride to be comfortable in her mehendi outfit. From choosing the right color, right style to the right accessories and the hair-do, the entire look has to be thoughtfully finalized by keeping many factors in mind. However, brides have wide options to choose from traditional mehndi outfits to Indo-western wear. One can easily shop for their mehndi outfits online or get it customized as per their needs. So if you are a 2018 bride, then today's article is for you as we bring you some exciting mehendi outfit ideas and important tips to keep in mind while choosing your perfect Mehndi outfit. But not only that, your mehndi outfit is just a click away as we have also mentioned the shopping links to buy them online.
10 Gorgeous Mehndi Outfits For Brides
1. Long Skirt and Crop Top
The evergreen long skirt and crop top is a very comfortable option for all brides. Not only the bride but even the bridesmaids can co-ordinate with the bride and doll up in colorful prints. Anushka Sharma's mehendi outfit by ace designer Sabyasachi is a huge inspiration for all the 2018 brides.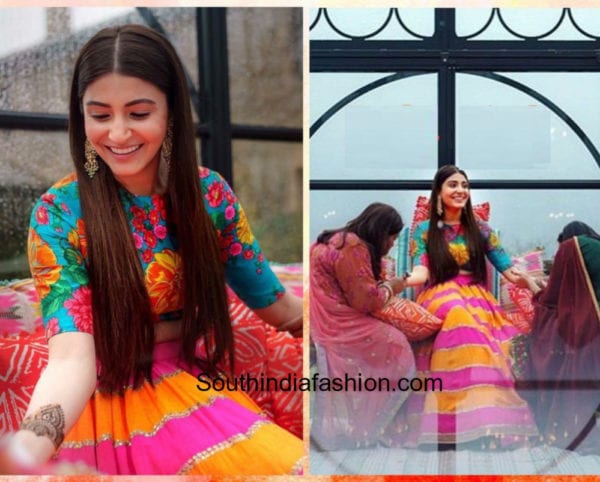 2. Cold shoulder floor length anarkali
Floor length anarkalis or anarkali gowns made a major come back last year and are only getting bigger. Flaunt the cold-shoulder trend and rock the mehendi look with great style and grace. The mustard anarkali by Anushree Reddy serves as a brilliant mehendi function outfit as the neutral color will not let you worry about mehendi staining.
Click here to shop online!
3. Yellow and Pink Anarkali
A traditional anarkali is the most graceful and feminine ensembles one can flaunt for the mehendi occasion. Bright hues like yellow, pink and green are the best colors to wear for Mehndi. This mustard yellow anarkali with hot pink detailing by Mrunalini Rao is sure to steal the show. (SHOP HERE)
4. Orange  Floral Printed Anarkali Gown
This orange floral printed anarkali gown by Anushree Reddy is sure to pop up at your mehendi event. (BUY HERE)
5. Pink Long Gown 
A shocking pink long anarkali gown is in trend and sure to grace the occasion. Comfortable yet stylish! (BUY HERE)
6. Mint green asymmetric top & pastel pink lehenga
With the pastel hues highly trending, this pastel cape lehenga by Prathyusha Garimella is sure to leave you impressed and other staring.(BUY HERE)
7. Peplum Top and Dhoti Pants
If you want to be the bold and edgy bride, the peplum top and dhoti pants are super-chic, comfortable and will give you a fusion look. However, before diving in for the bold look, make sure you are comfortable and confident enough in it. Shop the look from Aza Fashions Here!
8. Dhoti Pants and Crop Top
Dhoti pants and crop tops are a super fun way to mix and match and create chic fusion look for Mehndi functions . Shop this outfit Here!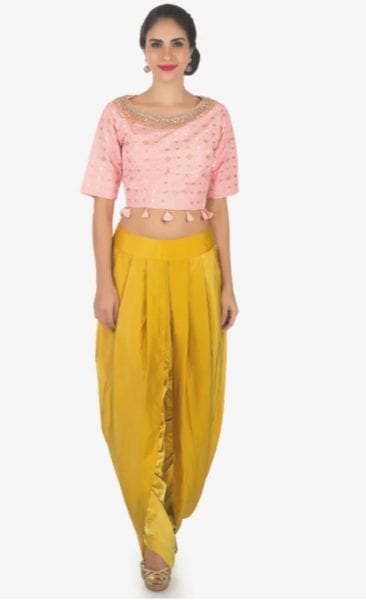 9. One shouldered Cape gown
The one shouldered cape gown is a wonderful investment for your mehendi function as it can also be used in a variety of functions. Shop this western vintage outfit from here!
10. Coral Anarkali Gown
You simply cannot miss making a statement in this pretty coral anarkali gown by Papa Don't Preach. Shop the look here!
Keeping the bright colors and trendy designs in mind, we have carefully handpicked these mehendi outfit designs that will make you stand out from the crowd and in your pictures. Read more to know about the right jewellery and hairstyles to wear for Mehndi function.
Jewellery For Mehndi Ceremony
Accessorizing your mehendi outfit with the right jewellery is extremely important to compliment your look. Fresh flowers jewelry is trending since long and definitely here to stay. One can go for floral head crowns, hand harnesses, rings, bangles, necklaces, anklets and just about every ornament can be replaced with the beautiful floral jewelry.
Apart from floral jewelry, one can also opt for gota and pearl customized accessories.  Scroll down for jewelry inspiration for your mehendi function.
Mehendi Function Makeup and Hairstyles
The make-up and hairstyle complete your mehendi function look and you have endless options to choose from. As a bride one may simply go bold with the make-up. It is advisable to tie up your hair for you mehendi function as it will help you to stay comfortable and if you want to leave it loose, pin it up on the sides or on top so you can be hassle free. Adorn your hair-do with flowers for a graceful look.
We hope these tips help you to look your best at your mehendi function and if you have anymore queries, please feel free to drop in your comments here. 🙂