Deepika Padukone is ruling Bollywood now. With one hit movie after the other, she is earning credits and establishing herself as a strong actress. Now not only she is a serious actor, she also has a fun side to her, and she can often be seen as goofy and adorable in person. She channels this ease and fun into her casual wear, which is evident in her airport looks. Here are some of the stylish yet casual looks of Deepika Padukone in her white tee.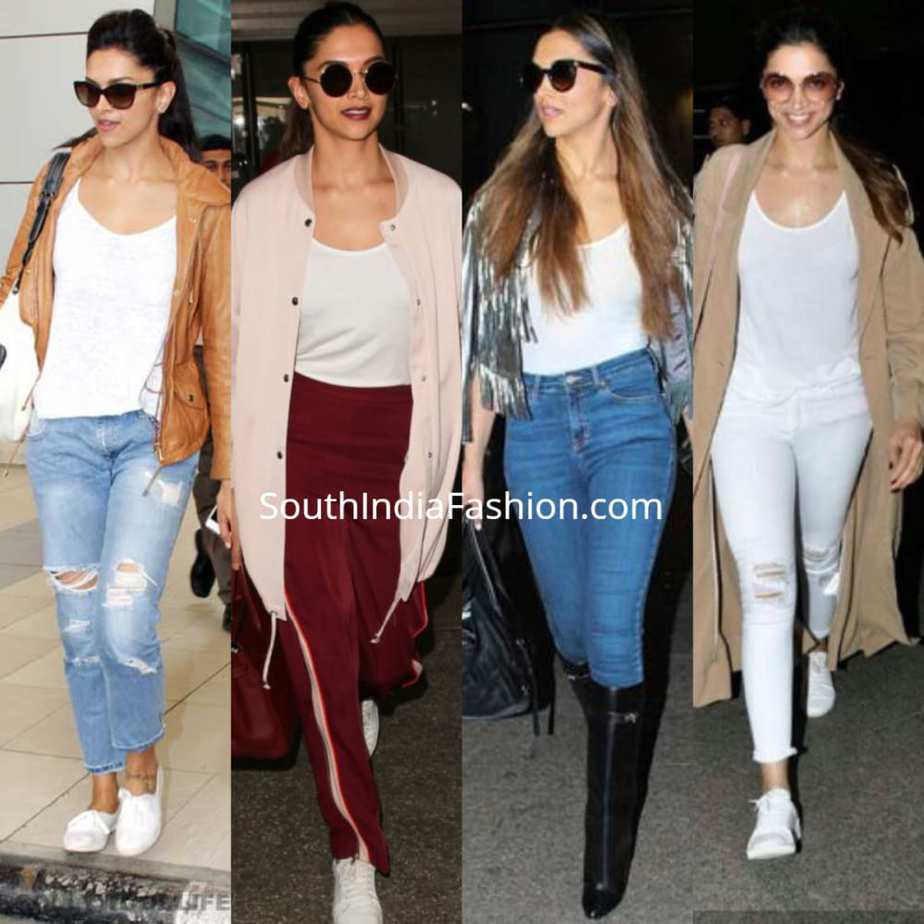 1. Starting to get what we're trying to say? Deepika Padukone is always at ease, and comfortable in her skin. This is one of the instances where she was all smiles. Her simple plain white blouse and white ripped jeans looked comfortably casual. She added some spark to the outfit with her pale brown duster coat.  And of course, that sleek ponytail and the sunglasses are totally on point.

Shop basic white t-shirts online. (BUY HERE)
Women's open front long shrugs (BUY HERE)
2. Deepika nailed the casual wear here again. She styled a basic white tee and a tan jacket with an ease. Her ripped jeans looked absolutely comfy and fitted. This is one of the easiest ways to give a makeover to your good old white t-shirts. She wrapped up the look with a pair of sunglasses and a ponytail.
3. Bringing the good old denim jacket back? This is how you do it, girls! Deepika Padukone styled her simple white tee (yet again) with a denim rugged looking denim jacket. She paired it with a pair of black pants and now the highlight of the outfit, those spiked boots. Did those shoes not add edge to the outfit?
Shop Women's Denim Jackets Online (BUY HERE)
4. Deepika here showed us another way to spice up your good old white tee. She paired fitting jeans with the top, and to add that little spark to the outfit, she chose knee-length black boots. She switched her usual sunglasses with a trendy pair and that hat to protect her tresses. A pop of bright lipstick completed her look.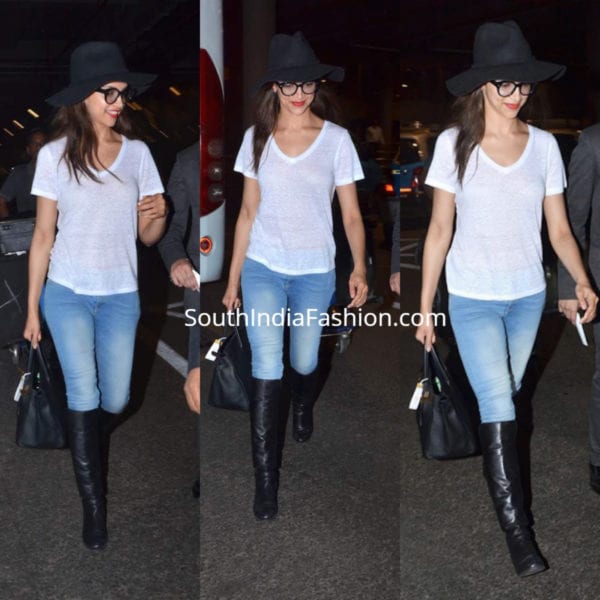 5. Deepika showed us how to layer out winter wear with this airport look. She wore this trench coat as the ultimate layer of her basic white tee and blue ripped highrise jeans. Isn't it lovely? The coat suited her tall frame really well and looked absolutely gorgeous. A pair of white sneakers and dark sunglasses finished her uber chic look.
6. A break from her usual no makeup and natural look, Deepika Padukone went with a bolder style here. She was spotted in this quirky outfit at LAX airport and we loved it! Everything from the deep burgandy pants and the matching lip color and those sunglasses. She paired her usual white tee with a pale pink jacket to go with those quirky pants.