The Lakme Fashion Week Summer Resort 2018 was a sartorial treat for us and we simply cannot get over this grand fashion event. From edgy contemporary wear to bridal lehengas to latest saree trends, the gala affair offered more than what any fashion lover could have asked for.
When it comes to sarees, the options are wide and we always love to experiment with different saree styles than the rather conventional one's. In this article we have scooped out the latest saree designs and saree trends featured at the Lakme Fashion Week 2018 that you just cannot miss out on. Read more if you are looking for latest saree trends for wedding wear, newest saree colors in trend or just about any saree trend that is sure to rule the fashion charts this 2018.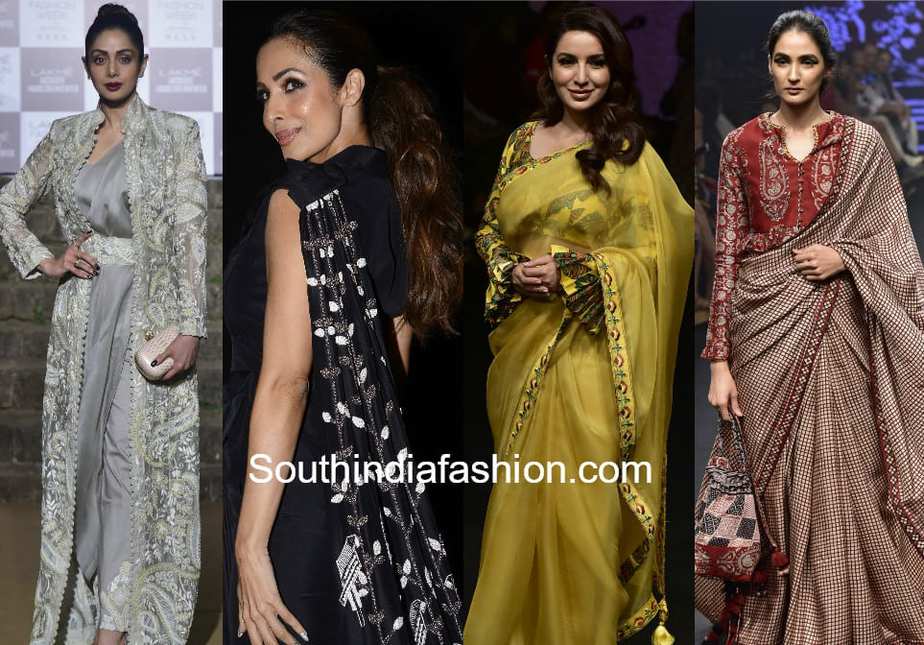 1.  Ruffled Sarees
The ruffle saree trend has been here for quite sometime and is definitely here to stay this 2018. From ruffled saree borders to pallus to blouse sleeves, a hint of this vintage trend is sure to add a statement touch to your sarees.
Sarees with ruffles are very versatile and only require the right styling. Always remember to go plain with your ruffled sarees and do not over-do with prints otherwise the ruffles will only lose the required attention. However, you can contrast with solid colors and minimal prints on ruffled sarees.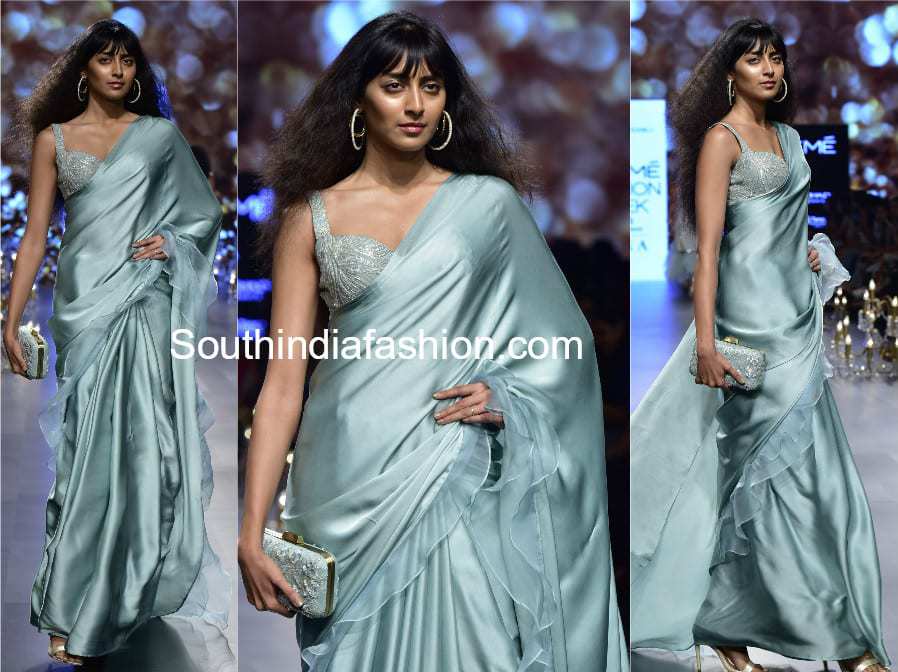 2. Saree With Belt
The Lakme Fashion Week 2018 ramp showcased back to back saree looks teamed up with waist belts. Indian sarees element a contemporary look when they are teamed up with belts and it is of course, one of the perfect options to accessorize if you want to look stylish and yet be comfortable.
Whether your saree drape is edgy or simple, whether it is traditional or trendy, you can never go wrong with a belt. So belt up your saree looks appropriately for the perfect fusion touch.
3. Saree With Peplum Blouse
Sarees with peplum blouses or peplum cropped jackets are sure to rule this 2018. It was a delight to see this trend beautifully styled at the LFW '18. Peplum saree blouses can also be mix and matched with your long skirts or lehengas as they are waist length. The long length of the saree blouse allows you to be used in multiple different ways such as cropped tops, layered jackets and so on.
The full length saree blouse looks very sophisticated, modest and stylish at the same time.
4. Sarees with Jackets and Capes
Sarees teamed up with jackets and capes is for all those who love to layer your sarees and create stylish contemporary looks. The jacket style saree is extremely stylish and can be experimented in so many different ways. The jackets, cardigans and long over coats look stunning on every different kind of saree and saree drape. Be it cotton linens, handloom sarees, traditional silks, tulle, chiffon, georgettes, sarees gown or dhoti style sarees, the Lakme Fashion Week 2018 showed us that layering is for the win.
5. Fusion Drapes Saree Trends
a. Saree With Pants
A saree drape is one of the most essential part as it defines the whole saree look. Sarees with pants is one of the most interesting styles we came across at the Lakme Fashion Week 2018 and we are so inspired by this trend that we just cannot wait to try it out.
The pant style saree draping of course requires the right amount of confidence and appropriate styling to carry the look. Teaming up your sarees with leggings and pants is one of the effortless ways to make a bold statement and nail the saree pant look. So if you are looking to create a fusion look, then the pant style saree draping is the one to go for.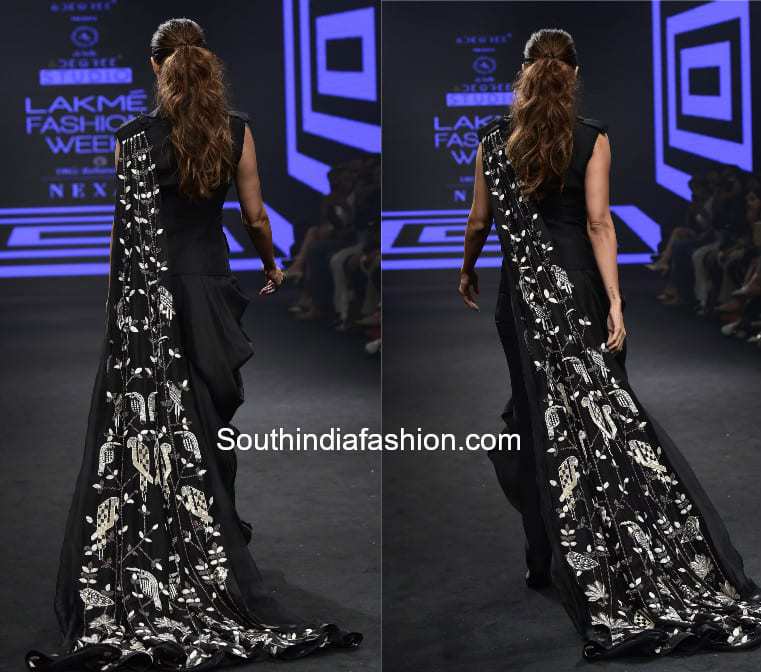 b. Dhoti Sarees
Dhoti sarees were a huge rage in 2017 and are only getting bigger this year. Dhoti pant sarees are the perfect fusion style to rock at a mehendi, sangeet or for any party look. If you are worried about the comfort and still flaunt a dhoti saree, then worry not as there are a plenty of pre-stitched dhoti sarees easily available online or can also be customized as per your requirements. Designer Anamika Khanna is well known for her her dhoti saree pant style designs and is a major inspiration to flaunt the stunning look.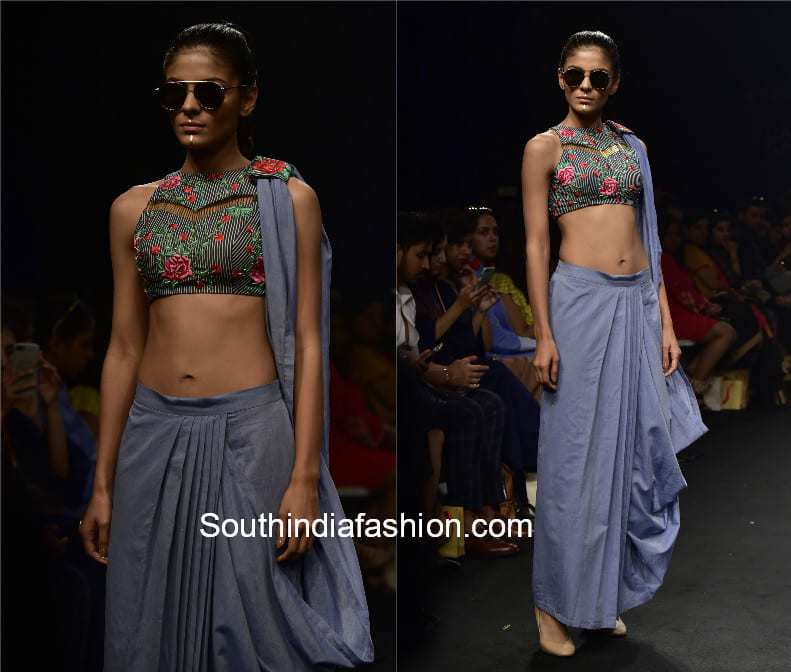 c. Saree Gowns
Want to rock a party look? Particularly in a saree? Take inspiration from Mini Mathur's saree gown style at the Lakme Fashion Week 2018 ramp. The black and gold saree gown style is a perfect outfit to rock at any party. Fusion saree drape just cannot get anymore interesting!
d. Modern drapes
If you want to look out of the box and stand out from the crowd, then these modern drapes are sure to make heads turn. Play with the pallu, skip on the pleats or just experiment with your own edgy drape style. All you need is the right attitude to flaunt the fusion saree drape.
6. Sheer Net Sarees
Sheer net sarees are trending since forever and will never go out of style. The net sarees look very elegant and a perfect style to opt for the summer weddings. Net sarees with delicate emroidery look very dressy and also help you to show-off your blouse designs.
7. Fringed Sarees and Blouses
The fringes and tassels have been rising since 2017 and are soaring even higher this year. Fringed saree borders, fringe blouses, fringe blouse sleeves, fringe capes look very bold and make a brilliant choice to rock an edgy saree look.
8. Sarees With Statement Blouses
We needn't emphasize on the power of statement blouses and how a blouse can transform the entire look of a saree. Blouses with deep cut-outs, ruffled sleeves, cold shoulder saree blouses, off shoulder saree blouses with concept embroidery are the trending saree blouse designs of 2018.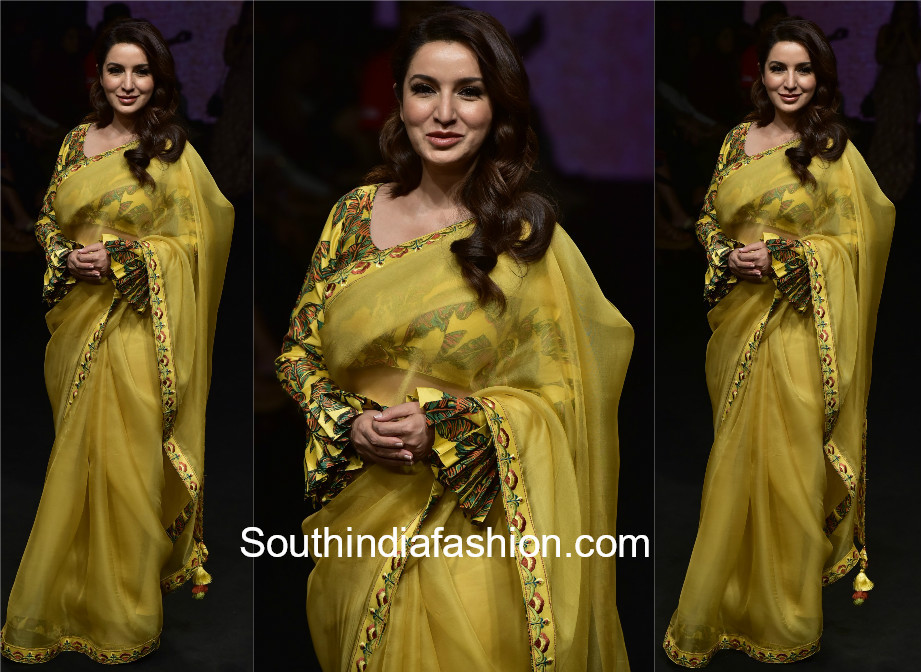 9. Sarees With Shirt Style Blouses
We love the idea of teaming up Indian wear with a crisp white shirt. Be it your long shirts or cropped shirts, shirt style blouses are a fashion statement. So ditch your regular saree blouses and add a twist to your saree look with the classic shirts.