You all know how big of a fan we are of the Yeh Hai Mohobbatein star actress Shagun Arora aka Anita Hassanandani. This television serial airs on Star Plus every night and we anxiously wait to see how Anita styles her saree looks. Like always, the diva never fails to surprise us with her stylish designer sarees and blouses. So today, we bring you 17 ultra stylish blouse designs sported by Anita Hassanandani. Take a look at Shagun blouse designs images and read more to know why we cannot get over them.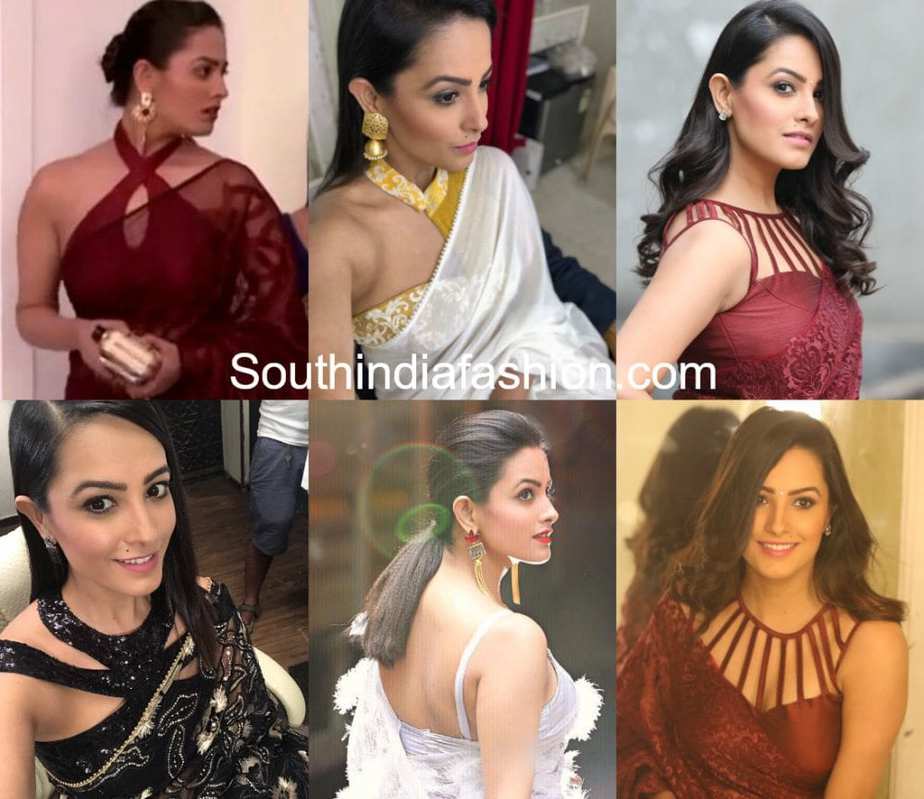 1. The Striped Cut Out Blouse Design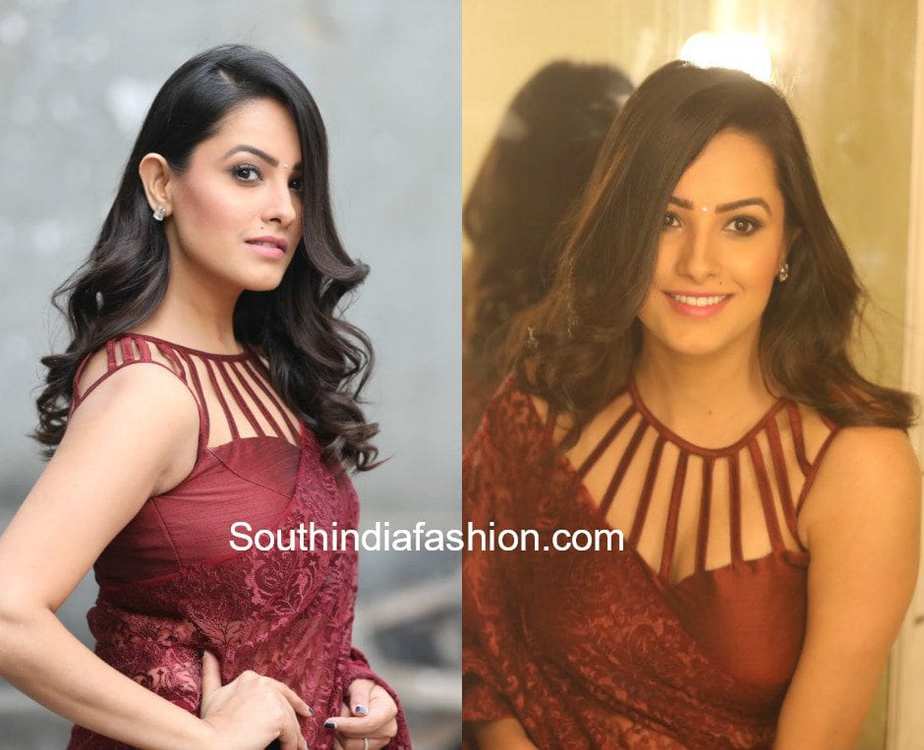 Anita paired up her classic burgundy lace saree with a matching striped cut out saree blouse. The high neck also ensure a secure grip on the shoulder and the cut-outs look stylish at the same time.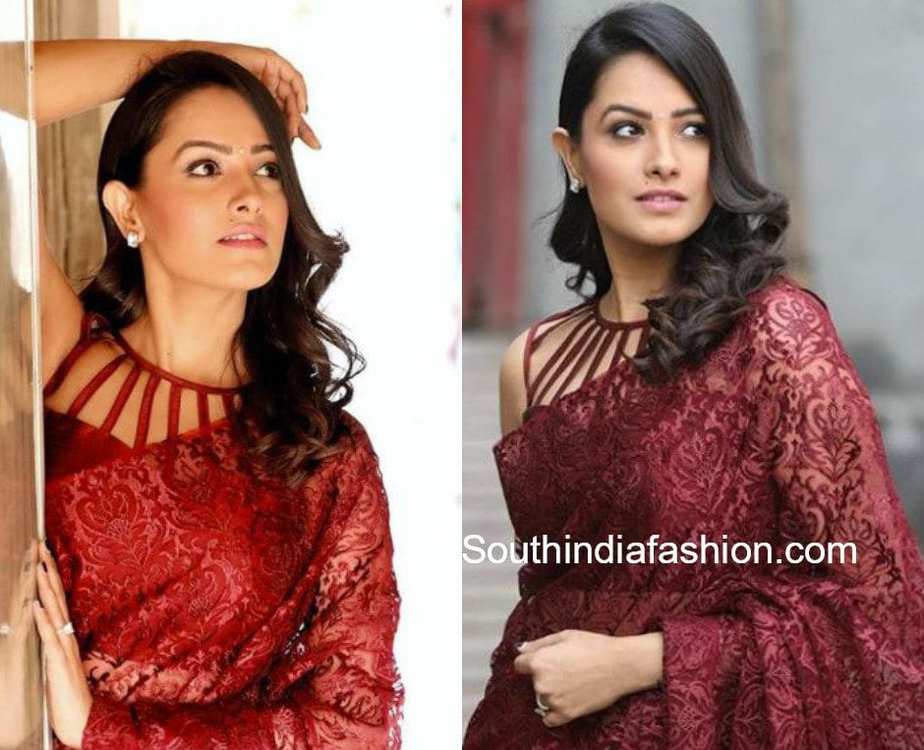 2. Anita Hassanandani in Halter Neck Blouse Design
The Yeh Hai Mohabbatein actress paired up a burgundy sheer mesh saree with a matching halter neck blouse. She confidently sported the halter neck style.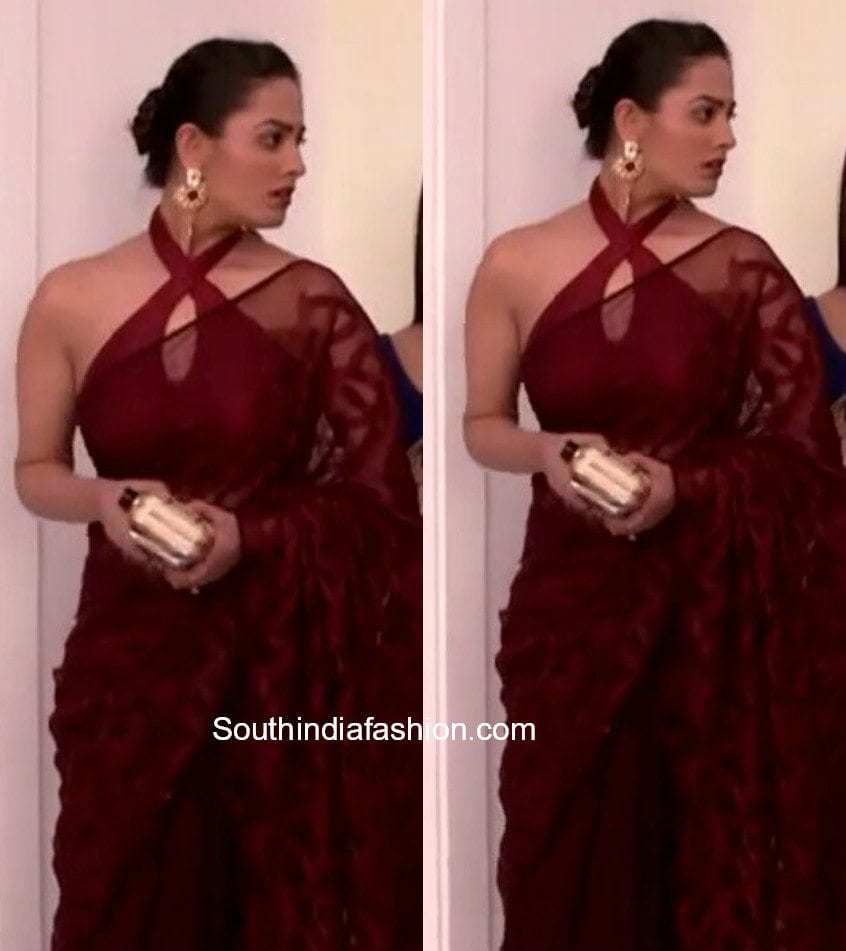 3. Shagun in Choker Style Blouse Design
Shagun did not miss out on the choker trend and looked stunning in a choker style blouse design. Shagun's saree collections are mostly very simple but she makes sure to make a statement with her blouses.
4. High Neck Collar Sheer Blouse
Shagun's high neck blouse styles are a big hit and we love how well she paired this grey high neck sheer collared blouse with a red saree.
5. The Edgy Cut-Out Blouse
Anita Hassanandani wore an edgy cut-out high neck blouse with a stylish black and beige net saree. A trendy black cut-out blouse is a definite must have.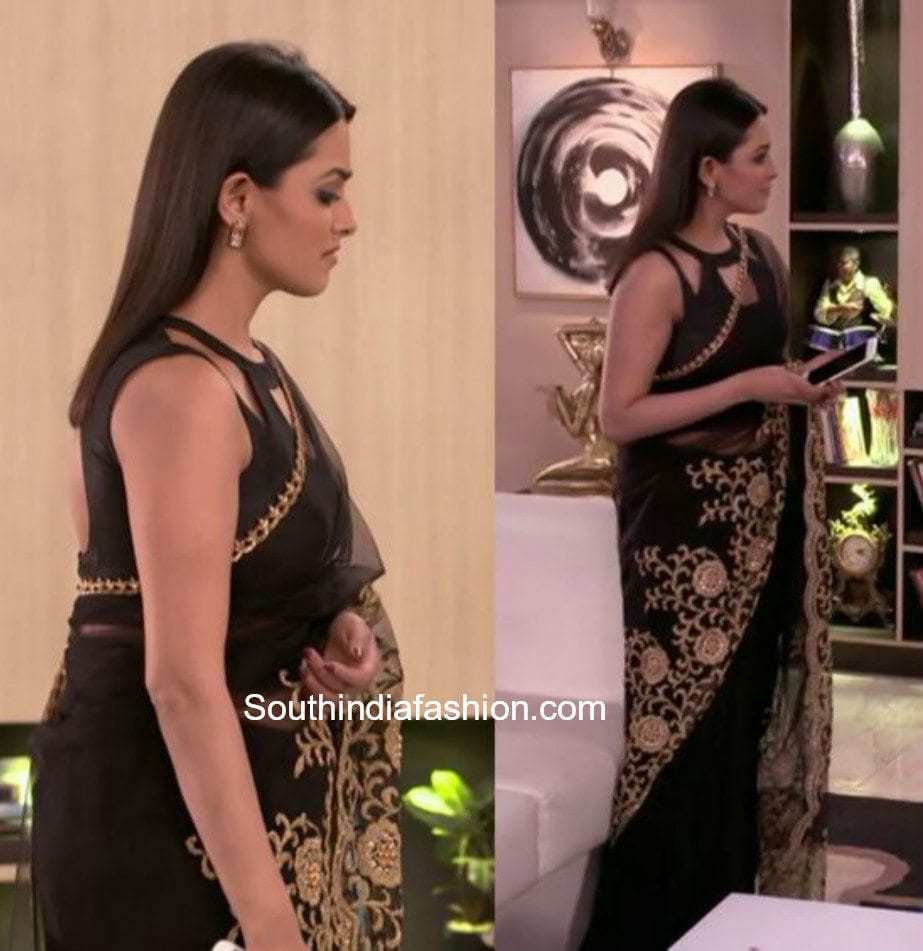 6. The Single Cut-Out Blouse
Anita Hassanandani wore a single front neck cut-out blouse with a net saree. Since most of her saree collections are sheer net, chiffons and georgettes, the blouse design gets all the limelight.
7. The High Neck Frill Collar Blouse
Anita paired up a simple chiffon saree with a matching brocade blouse with high neck and frill collar detailing. This Shagun blouse design in super sophisticated and classy!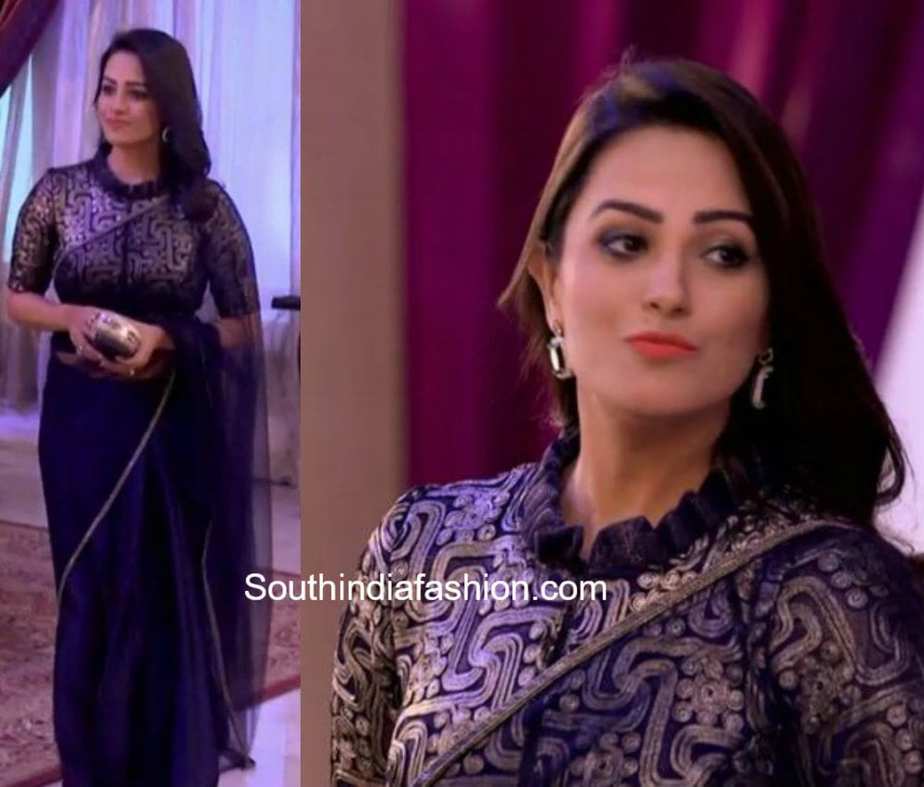 8. Shagun in Off Shoulder Blouse Design
Shagun also tried the off shoulder blouse style and effortlessly rocked in it. She loves to flaunt plain and simple sarees and blouses but makes a statement with the blouse designs.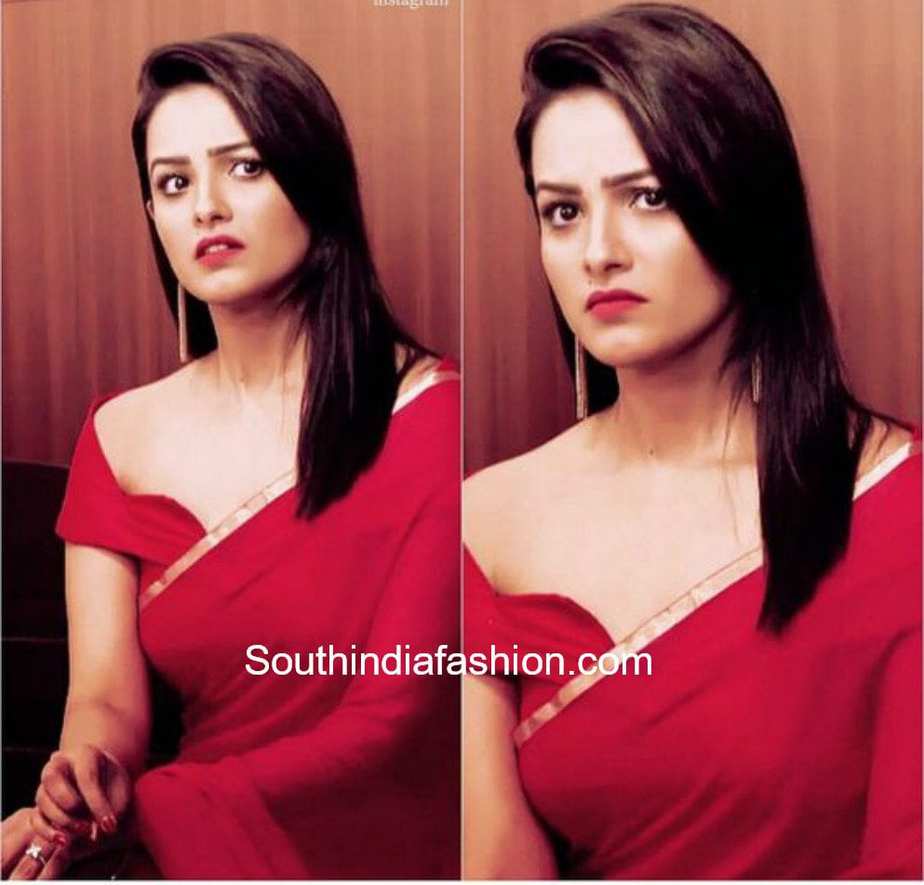 9. The High Neck Collar Blouse With Sheer Detailing
Shagun's plain beige saree makes a perfect party wear option because of her bold blouse. She teamed it up with a gold embellished high collar blouse with sheer detailing at the neckline.
10. Black Sequins Blouse
We all have seen many black sequins blouses, but Shagun has taken the glamour quotient up by a notch. See how beautifully she has styled the edgy sequins blouse.
11. Sleeveless Black Blouse With A Broad Strap
The Yeh Hai Mohobbatein star wore the sleeveless broad strapped black blouse with a grey satin and net saree. How we wish we could steal this saree of hers!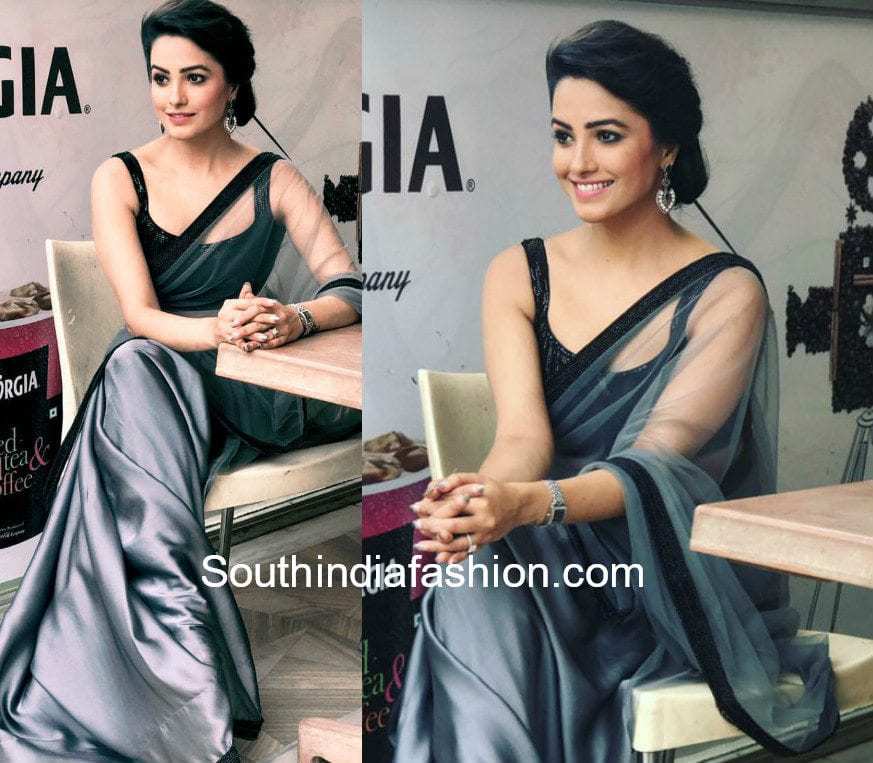 12. White Saree Blouse With Straps
This Shagun blouse style is another wardrobe essential which we simply cannot miss. A silvery white blouse with straps was paired with an applique frilled saree.
13. Gold Sheer Shagun Blouse
Anita Hassanandani dolled up in a gorgeous gold sheer blouse with a matching beige sheer saree. This look is a timeless classic!
14. Cold Shoulder Blouse Style
Shagun looked lovely in a pastel yellow saree with a matching cold shoulder high neck blouse with a front cut-out.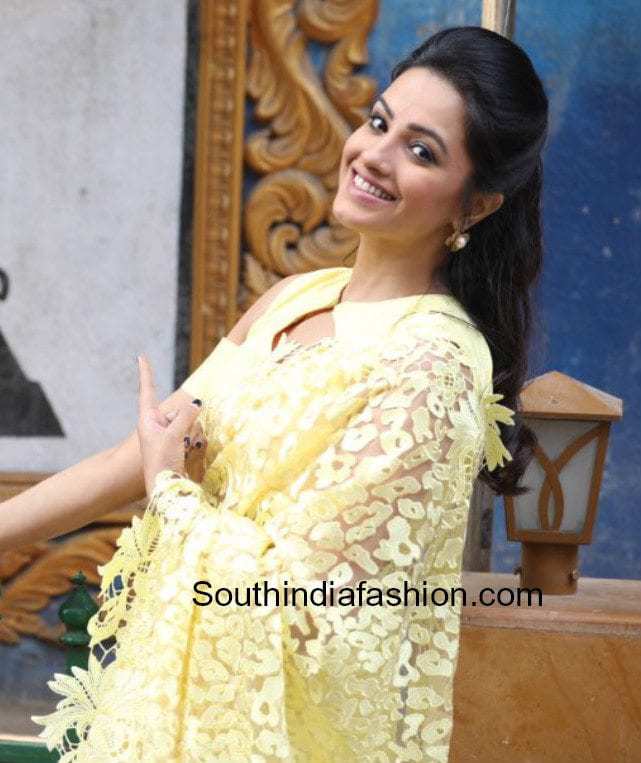 15. Single Shoulder Cut Out Blouse
Anita Hassanandani made a bold statement in a single shoulder cut-out blouse. The halter neck style make a lasting impression with any saree.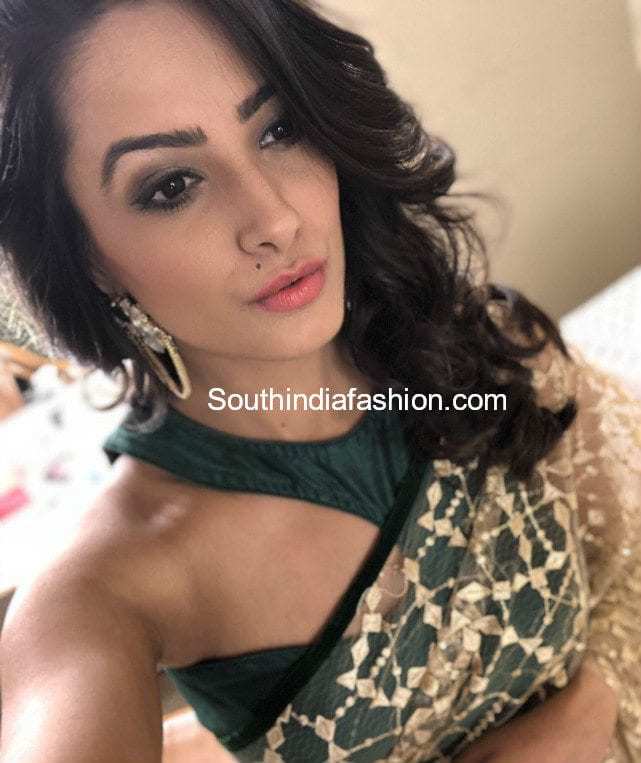 16. High Neck Saree Blouse 
Anita Hassanandani contrasted a vibrant orange saree with a black high neck blouse and a front neck cut-out. A perfect blouse design to take you from day to night!
17. Single Shoulder Collar Wrap Design
How innovative is this one shoulder collar wrap design?! Perfect grip on the shoulders, super stylish and comfortable at the same time.
Anita Hassanandani is our major inspiration for simple yet stylish sarees and blouse designs. Her stylish and moden saree styles are easily available online and even the blouses can be styled beautifully.
Buy Anita Hassanandani aka Shagun sarees online HERE!