Stars need to impress the audience with their amazing acting skills. Besides, they need to outdo in the world of fashion to grab the attention of people when they make an outing. They work hard to own cool and sophisticated look, but at times they pick casual outfits and create a mark. Today, we have found a few stars who pulled out black and white coloured ensembles with much grace.
The pretty cool actress, Ileana donned a clean and fresh look by adorning a Zephyr monochromatic ensemble. Did you notice that details on her shirt? Amazing, right! Minimal make-up, side swept hairstyle complemented her appeal. She gave a quirky touch to her look by adding spiffy earrings and finger ring.
The 'Padmavati' actress is an epitome of style as well as fashion. She was seen donning a black and white outfit during one of her promotions. Deepika dressed herself in a low-cut black kurti and married it up with white legging. Statement earrings and center-parted sleek bun added to her look.
The stunning beauty of South, Samantha Akkineni is the ambassador for Telangana handlooms. She picked a beautiful hand-woven monochromatic sari. Isn't it a fabulous twist of adorning a six-yard wonder piece? Obviously, a big yes! She added a belt to her sari and also a classy necklace.
Karisma Kapoor is one of the few actresses whose beauty is increasing with her age. She was spotted wearing a black and white one-shoulder outfit. She rounded off her look with perfect touch up and added black coloured pumps to her feet.
Bollywood's new star, Alia Bhatt is ruling the filmy dhunia. Asides, she is also a pro in the fashion world. She keeps up her fashion sense all the time and tries to pick the best outfits. She was clad in a black and white sleeveless jumpsuit. She added metallic shoes and went with minimal makeup.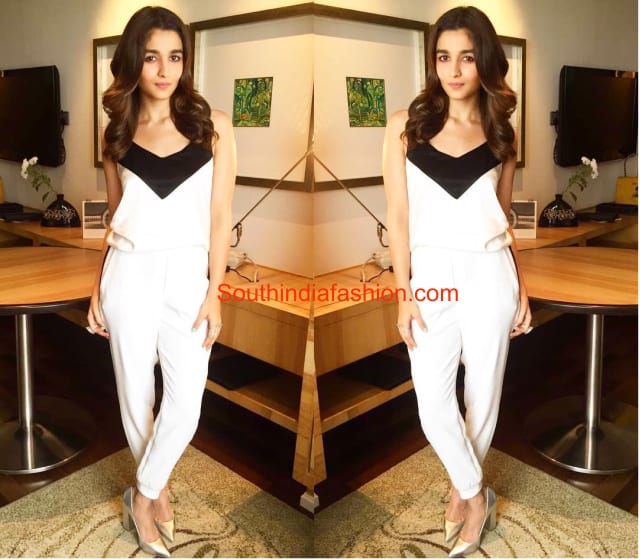 Huma Qureshi loves to experiment with her looks all the time. She picked a fabulous black gown which has black and white floral detailing on the sleeve of her shoulder. She looked dramatic in her outfit which showcased her sylphlike figure. She went with simple hairstyle and minimal make up, so that everyone can concentrate on her dress.
Tollywood actress, Rakul Pret Singh owns an amazing fashion sense. She takes maximum care to present herself in the most fashionable outfits. She carried an effortless look but without missing style. She donned black slim fit jeans and teamed it up with a white coloured high and low top. She finished off her look by adding sneakers and needed touch up.
Taapsee Pannu slipped into a modish monochromatic ensemble and the details of her dress were simply striking. She finished off her look with a dash of makeup, stylish hairstyle and stunning accessories.
How are the actors looking in black and white outfits? Which look do you like the most? Do share your comments with us.