If there is one strong trend that we swear by this season, then it is undoubtedly the one color outfits. Be it anarkali suits, sarees, lehengas, Indo western outfits or even your simple salwars suits, the all in all outfit in one single color is a timeless classic. We all love to follow trends but sometimes it's safe to invest in timeless and elegant outfits that will look in trend even 5 years down the line. So today's topic is all about how our very own celebrities are flaunting the one color Indian outfits.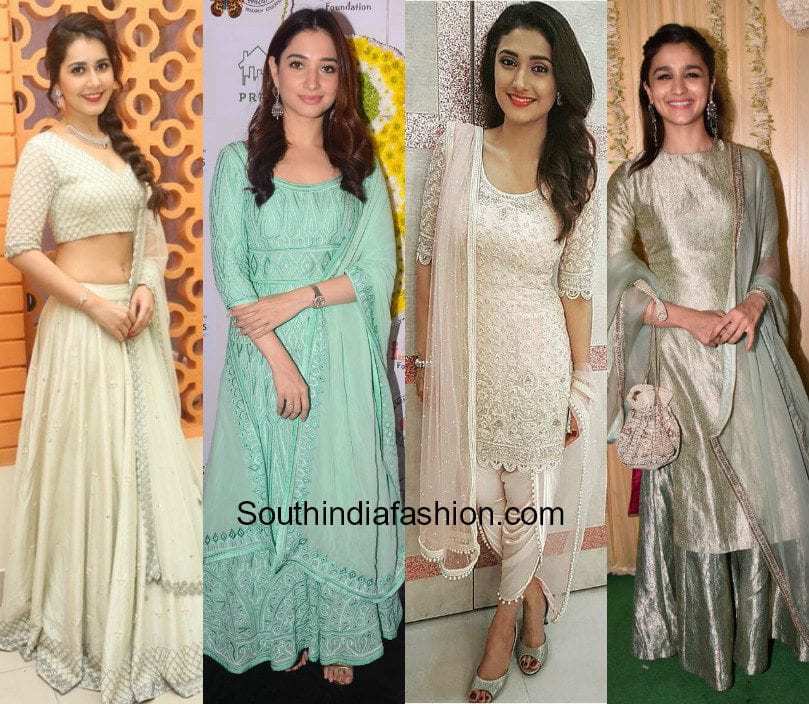 Single shaded outfits never go out of style and can be easily experimented with concept drapes and edgy layering. This makes it easier for anyone to effortlessly flaunt the dressy look without looking over-dressed.
The one color dominance makes styling so effortless yet stylish at the same time. It allows you to play with statement accessories and go bold with your accessories.
Single color outfits look best when they are in fresh and lighter hues like pastels, shades of gold and earthy tones. It is always best to go heavy with the embellishments or the accessories otherwise the outfit will look too simple.
You can go bold with silhouettes, experiment with edgy drapes, statement accessories and what not? The one color outfits allow you to experiment with everything else.
One colored outfits are so versatile that you can flaunt them at any age and at any occasion. What more can a woman ask for? Be it any style, we strongly recommend it to be a wardrobe essential.
Our celebrities dressed their stylish best in one color outfits this festive season and we are so inspired by their stunning outfits that we just cant wait to invest in one colored clothing. So are you going to flaunt this trend? And if yes, let us know how in the below comment box! 🙂