With the festival season making another fancy start, there are a lot more to follow in the coming months. Buying new sarees or pairing out old sarees with new blouses to give it a new look will be on. Now that there are a lot of pujas performed in the mornings or just that you need to visit, Kanjeevaram sarees are the first and obvious choice. But heavy Kanjeevaram sarees are a strict no-no here. Simple Kanjeevaram sarees are the way to go for these functions.
If you wear all your heavy Kanjeevaram sarees for these simple functions what will you do when you attend weddings as the wedding season is also just about to start? Simple. Pick up a few relatively simple Kanjeevaram sarees that you can wear for these functions. What defines a simple Kanjeevaram saree? As contrasting to a heavy and rich Kanjeevaram saree these simple Kanjeevaram sarees maybe will just have contrast colors of silk and the heavy zari will be skipped.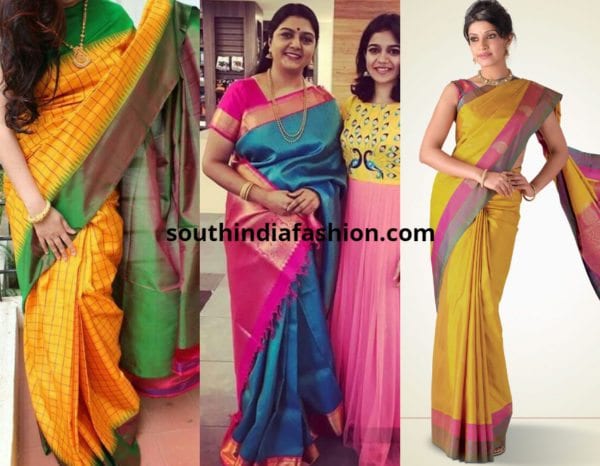 Going with thin checks is also a good option. Alternately you can also opt for a plain color Kanjeevaram with a simple zari border and pair it with a nice brocade cap sleeves or puff sleeves blouses. This gives an air of festivities along with being relatively subtle. You can also opt for the ever trending boat neck sleeveless blouse in contrast or saree colors. This cannot go wrong.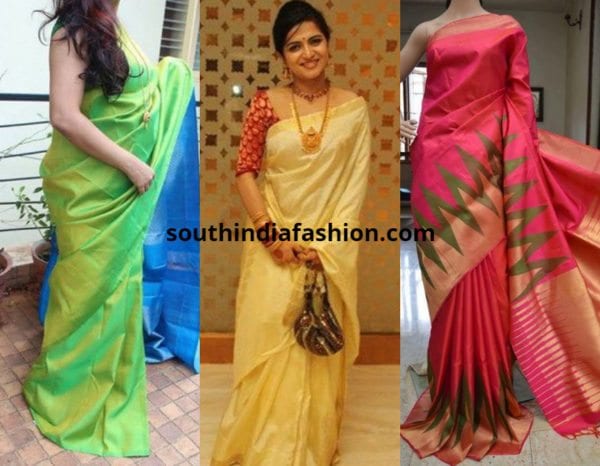 With respect to colors, pick festive colors like pink, yellow and green. Colors like red and gold are way too bridal for simple functions. People generally do not prefer black, so make sure you are not hurting sentiments of your hosts whilst picking your saree. Accessorize it perfectly with some jhumkas and a nice neck piece to match. You can even forgo the neck piece if you are not too keen about it. Options like a small bindi or flowers in your hair are an addition when you go visiting.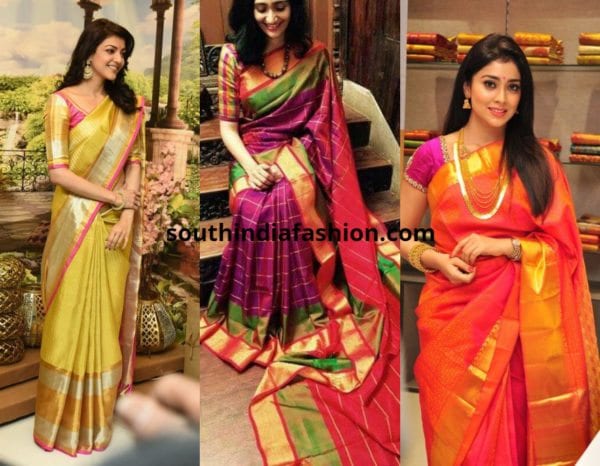 Hope these suggestions on simple Kanjeevaram sarees will help you in picking that elegant pink saree when you are scheduled to go for a morning function this season!!