Floral prints on lehengas have always been the thing. So what is the difference between that and the trending floral lehengas that have been on the fashion scene for about two years now but does not seem to die down? These floral lehengas are those gorgeous ones that have vibrant flowers like a rose or any other flower so clearly printed or appliqued or embroidered upon the fabric that you feel like you are in a garden.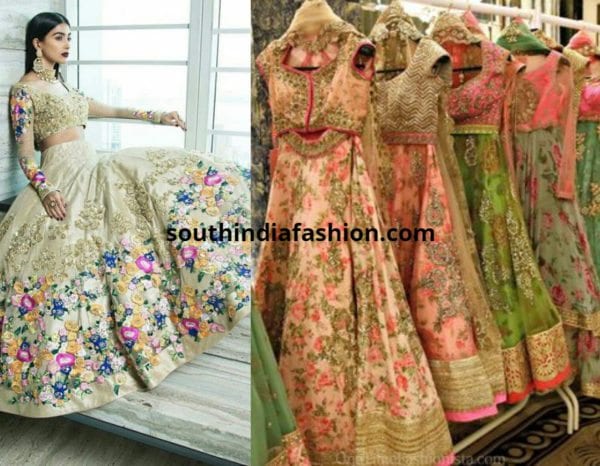 These floral lehengas have become a complete must have and ace designers like Anushree Reddy and Sabyasachi have showed us with their collection how gorgeous these floral lehengas can get. In fact they have gone a step ahead and showed us how even the men can sport floral patterns and rock it. Predominantly the current favorite floral lehengas include the flowy fabric printed teamed with a sequins blouse and a net dupatta. If not another favorite is the inclusion of a layer of tulle or super net and making the lehenga heavier and more suited for fancier events.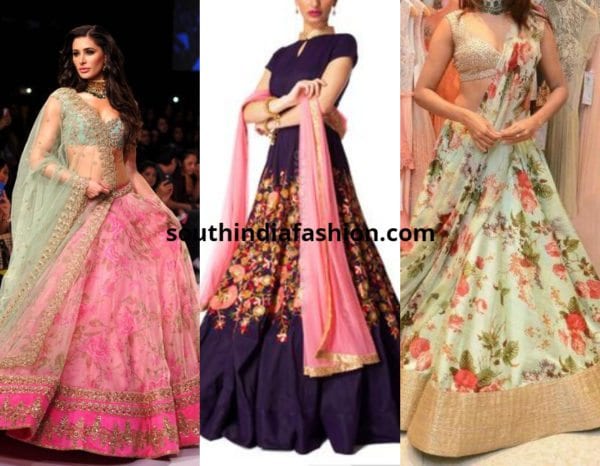 The best thing about these floral lehengas is that, it fits the trend of the fusion lehengas and so loved by the young brides and the bride gang equally. It is majorly favored for the afternoon and evening ceremonies for the balmy effect it provides. Also another thing is that, you can team this up with a funky crop top and shun the dupatta for a completely different fusion look that you can sport when you wear the lehenga again. This works very well when you attend a different wedding.
When you are picking a floral lehenga opt for colors like rose pink, mint green, powder blue like those colors that remind you of a garden and something very soothing. If you are wanting to customize it, a floral border patch or a silver color border or even a contrast border in place of gold would work very well. Hope these floral lehengas make the inner girl in you smile. After all what is a wedding without flowers??