Now that the next wedding season is fast approaching all you brides to be will be shopping in full swing. Lehengas and sarees are got in tons. Now a days these beautiful ball gowns have been making an appearance at least in one of the pre wedding festivities, mostly in sangeets and cocktail parties and also receptions. These ball gowns suit almost everyone and you can Indianize it to an extent.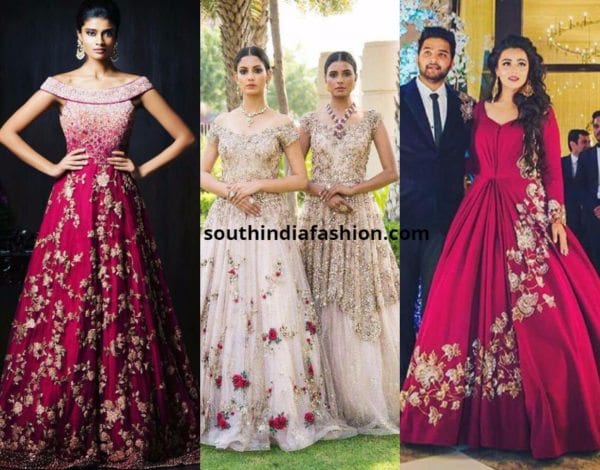 So what kind of gowns look the best for pre weddings? A ball gown is the first and obvious choice of every bride to be. It gives you a princess feel and glam factor goes high without even adding much accessories. These gowns work well especially when you have a theme wedding too. Ball gowns can be done best in shades of baby pink or powder blue if you are eyeing for a modern look. Else if you want Indian colors, jewel tones like emerald green and ruby red works very well.
How to Indianize a gown? You can add some heavy Indian tone embroidery in the yoke. Else you can add a scroll resembling a dupatta and team it up with Indian kundan or Meenakari jewelry. Add a belt, a bit plain one to elevate the look of the dress. You can also add a train to give it more drama, plus your girl squad can help you with your elaborate dress.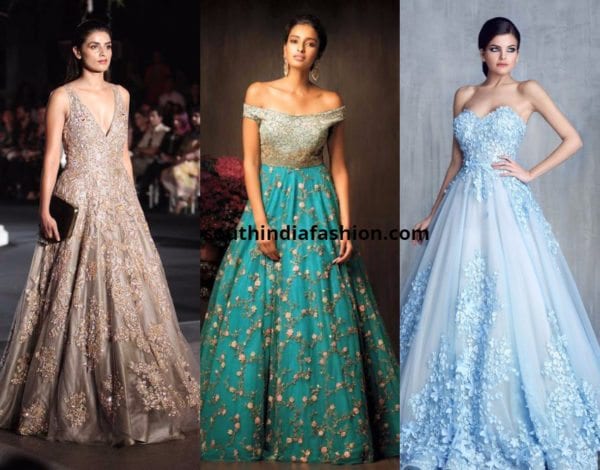 Remember Aishwarya Rai in the blue ball gown for the Cannes festival 2017? These ball gowns are timeless right from Cinderella to you, everyone looks so gorgeous. You can add elements like a carriage or horses to your pre wedding party and get the best pics of you in the ball gown. The flare of the gown can be adjusted based on how you like it.
These ball gowns can be accessorized with very simple things, a tiara for a OTT or Indian jewelry. Ultimately you will be bringing out the princess in you.