Karva chauth is a popular festival celebrated in North India but due to its popularity in Indian movies, now-a-days women from across the country celebrate this festival. On this day women fast entire day for their husband without even drinking anything, not even water. The fast is kept for the long life of husbands and in return husbands give gifts to their wives. Women are dressed in beautiful sarees, make up and all solah sringar for Karva chauth. As the festival of Karwa chauth is just few months away, you must have already started doing the Karwa chauth sarees shopping. And next on the list must be choosing the best karva chauth saree blouse designs. So, today we present to you some amazing blouse designs for Karva chauth.
Mirror Work Blouse for Karva Chauth
This one is among the latest blouse designs for Karwa chauth as the entire mirror work goes so well with the night celebration of karwa chauth. Most of the women go to the terrace at the night to see the moon through a sieve and then with the same sieve see her husband and then breaks her long day fast. With all the lights at the terrace reflecting on the mirror work blouse, it certainly become a view to capture for a life time. Here we have listed some trending karva chauth blouses with mirror work. Some blouse having small cuts of mirror while some have big cuts:
Elbow Sleeve Blouse for Karwa Chauth Saree
Quite in trend, elbow sleeve blouse is a good choice to wear on the Karwa chauth. This type of saree blouse looks good with silk saree like Kanjeevarams and Banarasi. Even elbow length sleeves in net fabric looks quite beautiful and can be worn with net and chiffon sarees. This blouse design can be perfect choice for those women who want to hide their bulky arms. But if you want to camouflage your arms then make sure that there is no heavy work done on elbow length sleeves. Heavy embroidery on the sleeves will make your arms look even heavier. Even if you have toned or slim arms, this blouse pattern is perfect as it's quite in trend.
Cut Out Saree Blouses
To add some innovation to your regular style blouse, you can surprise your husband by wearing cut out saree blouse. The cut out pattern can be in any style that you want, depending on how much back you are comfortable showing off. Most common patterns are circular cut, triangular cut, drop shape cut. Here, check out some latest cut patterns for inspiration for your Karwa chauth saree.
Cape Saree Blouse for Karva Chauth
Look as per the trend this Karva chauth by wearing the very trendy cape saree blouse. The best way to wear a cape blouse with your saree is by wearing a contrasting color cape with your Karwa chauth saree. You can choose a net cape with light work or cape with floral work. You have many cape options to choose, have a look at few of them below: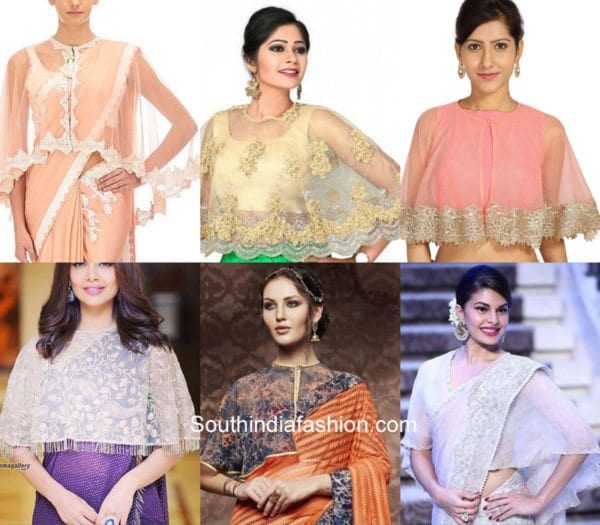 Cold Shoulder Saree Blouse Designs
If cape is not your style then cold shoulder saree blouse is a good option for you. If you already have a cold shoulder choli then the same choli can be worn as blouse also. The cut shoulder can also be accessorized with brooch or custom jewellery to give it a rich look. This blouse design looks good with both traditional saree as well as contemporary saree design. So, even if you are wearing a traditional saree for karwa chauth, you can still go on with this saree blouse.
So, these are 5 beautiful karva chauth saree blouse designs. You can choose the best one and give your blouse for tailoring as soon as possible. Tailors usually remain busy in this festive season and thus getting your saree blouse design for Karva chauth as early as possible is a good idea.