In the recent past the cape has been making appearances and adding so much glam to almost all the outfits. So what is a cape and what is the frenzy behind it? Well if you want to trace origins we would say that, it is a Victorian piece of garment won over your clothes. So how does it become a fashion must have in the 21st century that too with Indian clothes? Well that is the cool thing about it. Lets see how to enhance some Indian outfits by adding a cape to it.
1. Cape Sarees
With a saree being one of the most ethic outfits adding a cape it to it makes it trendy outright. You can add a short one with detailing on the hems and go for an enhanced blouse. Opt for a sheer one to bring out the best of the saree.
2. Cape Lehengas
A lehenga is exquisite. When you wear a cape on a lehenga it looks like a dupatta and enhances the overall look of the lehenga. For a lehenga you can go a long one, a short one or a something that spills out only from the shoulders. There are many options and all of it looks fab.
3. Cape Anarkalis
An Anarkali is an ever reliable dress. A cape with an Anarkali works well especially with the full length ones. Be it a floral cape, an off shoulder or a one side shoulder style it is a great addition to an Anarkali.
4. Skirts with Cape Tops
With crop tops and skirts being worn for a lot of events adding a short cape to it elevates the entire look of the ensemble. You can spice up the casual dress to a dress you can wear for a fancy event with just a simple addition.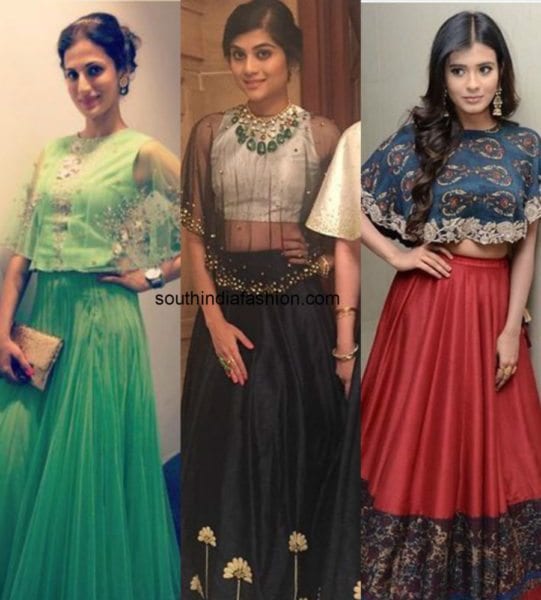 These suits almost all body types. Go for flowy, sheer options to make the most of it. This trend is here to stay!!