No matter how hot or cold the weather gets when we need to wear a saree we do not have a choice. But yes the fabric and prints can be fine-tuned according to the weather so as to make the whole effect a pleasing one. One such thing is wearing floral sarees during summers. Maybe not just in cottons but also so many other fabrics but yes the effect of the flowers look beautiful.
Floral sarees have always been a favorite. Be it small floral prints or large prints they seem to give off this aura which kind of calms people down. The best thing about these floral sarees is that in most fabrics these prints look very pretty. Right from pure georgette to Tussar these prints can be modified to suit the fabric. Also they suit all kind of body types. Add a sleeveless blouse for glam or a boat neck blouse if you are not comfortable with a deep neck. Alternatively instead of a plain blouse over a floral saree you can opt for a fully sequin covered blouse to make it more evening event friendly. If not for floral prints, floral embroidery or patch work can make a plain saree look great.
If you look at the latest floral collection by Sabyasachi you will know that florals are timeless. These sarees have been crafted to give it a vintage appeal at the same time a certain beauty that no other print can possibly bring around this easily. Fabrics like organza add to the old school effect and make it look so timeless.
It is not always that floral sarees look great on a pastel back ground. Bright and dark color base also makes the flower print pop and the effect is quite nice. Accessorize with some funky earrings and simple neck pieces. A delicate choker would go a long way. A floral saree can also be your experimental piece where you can try any kind of fusion drapes.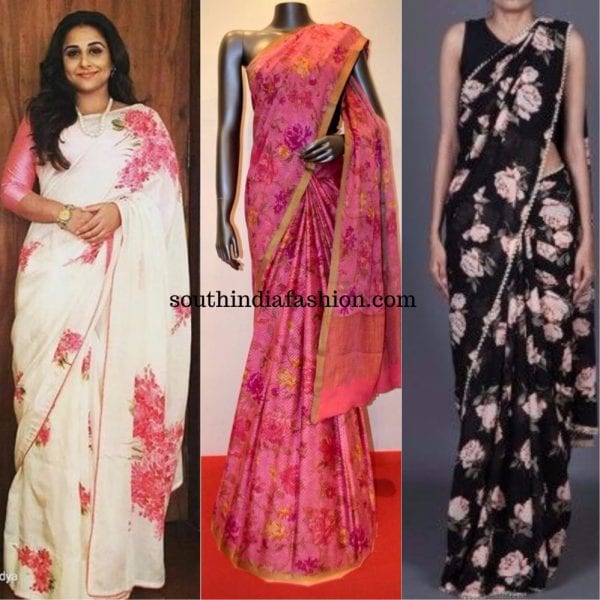 So ladies if you do not have a floral saree it is time to buy one. If you already have one, do buy another one!!
SHOP FLORAL SAREES ONLINE HERE!