What is the easiest way to make sure youngsters enjoy ethnic fashion? Well it is quite easy. Get them a Masaba Gupta ensemble. It is fun, colorful at the same time checks all the boxes of ethnic fashion too. Masaba Gupta is one of the youngest designers of the country who has given all of us so much fun fashion that we need to explore!!
Be it her sarees, lehengas or kurtas the USP of her designs are the fancy prints and the quirkiness she brings to the dress. Though the target of the brand is a younger audience the older people equally rock Masaba ensembles.
Masaba brings an air of the bohemian spirit to her collections and uses certain distinct funky prints and drapes in her outfits. Be it cut outs or a dhoti bottom with a peplum top, her designs are about giving a big spin to the regular and turning it into something so unique. She has brought a new contemporary dimension to the Indian ramps with her fluid and audacious designs, truly accentuating the free spirit of the new generation of Indian women.
Many celebrities love her and her clothing line and we can see them sport Masaba for a multitude of promotional events. If you are someone who cannot decide what kind of Masaba outfit will suit you, you can try out her sarees. They are beautiful and vibrant and everyone will fall in love with it. What the whole industry is totally crushing on now would be her denim separates though. Practical and cute it is a must have for all those girls who love fuss free fashion.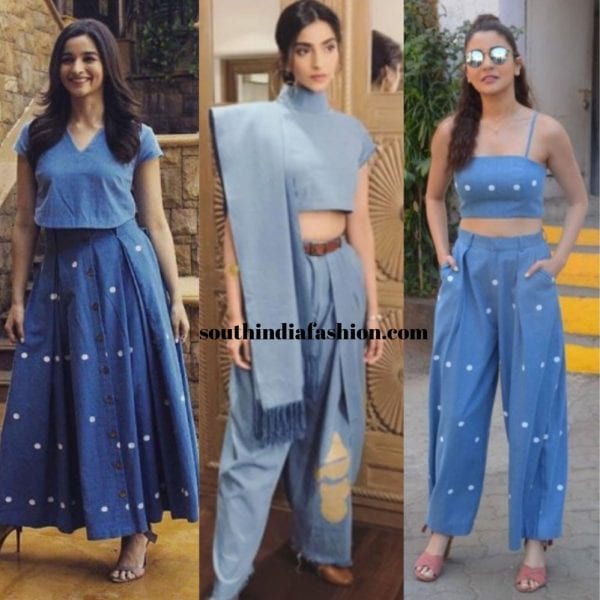 Apart from this Masaba Gupta has also launched an affordable line called Masaba Lite which aims at giving young girls affordable fashion. So thereby you do not have to save your pocket money for years to buy the perfect designer wear. Try Masaba Gupta today!