For how many of you, is tying a saree quite a cumbersome task and you feel you are more trendy and you cannot carry off a saree? Well for all you lovelies, we prove to you that sarees are as trendy as your LBD( they are actually timeless and can never go out of style). Like everything else sarees can be done with a twist that makes it oh so cool!!Presenting some fusion sarees that would make you want to try them right away!
1. Dhoti / Pant Style Drape Sarees
A funky way to wear the evergreen saree looks uber cool and perfect for those instagram selfies!! It involves a top, a light weight saree and a crazy mind to come up with something so fresh and young. Opt for crop tops and try vibrant colors to get the full effect. Our favorite celebs have draped this style and slayed it on the red carpet too.
2. Belted Sarees
Gone are the days when the heavy waist chain was worn for weddings as a perfect accessory for Kanjeevaram sarees. Now the latest trend is to add a belt to your saree. The belt could be of leather, of studded cloth etc. These belts are adding a totally new dimension to the saree and making it look very trendy. Both broad and thin belted sarees are in vogue.
3. Saree Gowns
Perfect for formal occasions, it has the spunk but just the right amount, that you can wear this fusion saree option for occasions like wedding receptions etc. Even as a bride it would be a great choice as your reception/Sangeet ensemble. Looks like an Indianized version of a ball gown with all the right embellishments.
4. Saree with T shirts and Crop Tops
Yet another totally trending style, instead of wearing a saree with a proper saree- blouse, this fusion saree opts for a saree teamed up with a t shirt or a crop top. The younger generation applauds this trend and they have taken it a step ahead by wearing sarees with shirts and tunics giving it a new edge.
5. Saree with Jackets
In the older days during winters, the ladies of the house wear a sweater over their saree. Call this a remix of winter protection, but sporting a jacket on your saree is "IN". Try out embellished jackets to make the look for festive. Wear light floral jackets over plain sarees this spring season for added oomph.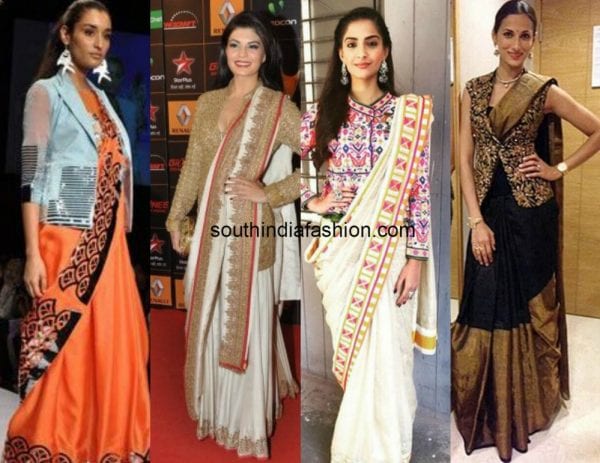 Wear funky accessories and winged eyeliner to rock this look. Statement rings and chains will be a good pick. Try one of these fusion sarees and let us know how you like it.