Ethnic wear is cute. We all love flaunting the gorgeous floor length anarkalis and the sarees. But sometimes, we need to add edge to it, because we might feel bored by rotating, mixing and matching the outfits of the same type. And here comes the indo western game in the picture. The quirky sense of style and the fresh look it gives wins any day. So here are a few tips if you're thinking about going Indo western this season!
1. Experiment. Experiment.
 Test your way away with Indo western styles. Don't shy away from trying out new things. You know you don't have to wear that lehenga with the equally heavy top. Instead, go for a lighter crop top and you'll be surprised to see how well the look will turn out to be. Or instead of the age-old patialas, go for the dhoti types and go all punk rock by adding a short kurti to it.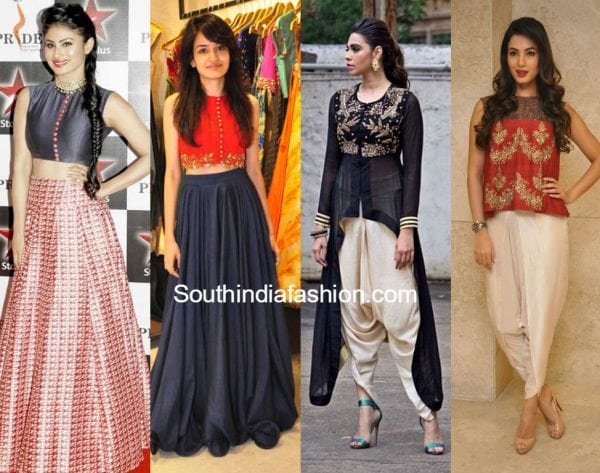 2. Go Edgy with Jewelry
Why always gold or kundans when wearing a indian outfit? Time to break the rules when you go for Indo western. Go for the metal jewelry. Go for the silver or platinum jewelry in layers, or go for jewelry with bright colored beads, they will added the much needed brightness to your outfit!
3. Saree not so saree
Did you see Sonam Kapoor's new Denim saree look? Loved it! Take inspiration from such Indo western outfits and create your own according to your needs. Go for a dhoti saree or add a cape to your blouse and see the heads turn in your direction when you walk by. You know already, experiment is the key.
4. Prints for Your Indo western look
You know kalis and all the banaras things are cute. We agree. But if you are going for indo western style, why not try something that adds an oomph factor to your outfit? Like abstract prints, which are totally cool. Or the geometric prints. Something that sort will definitely make you stand out from the crowd.
5. Try the New things on the block
What's trending in western clothes these days? Off shoulder ? Cold shoulder? Or pom pom borders? Well, bring them on and mix up with your indian wear. Wear an off shoulder blouse with your saree or lehenga. Put on a pom pom border on the peppy anarkali! Got the picture? Now, go on and rock the world!