It's not that easy to drape a saree, infact it takes a lot of time to master the art of draping a saree. You must have seen lots of women who wear sarees on the daily basis but still don't get the right fit any day.  There are few things that needs to be avoided when you wear a sari else the entire grace of the sari can be ruined. Here are some tips of the things to NOT DO in order to avoid any kind of disaster while wearing a saree:
Do not tie it too high or too low
These days it's the fashion of tying the saree low waist but before going for this fashion ensure that you have the ample amount of confidence to carry the look. Also if you tie the sari too low then there are chances that it may slip and create a disaster for you. Only if you are confident enough and have a slim waist to flaunt then go for the low waist saree look. If you tie the sari too high then you will only end up looking funny. Before tying your saree have a look at mirror, wear your petticoat neither too low or too high on the waist and then tie your sari around it to get the perfect look.
Not Pinning it Properly
Well pins are important for a saree, not too much but atleast two pins are needed for tying a perfect saree. Safety pins are needed to attach the blouse with the pallu and also to secure your pleats at one place. If you don't pin the pallu then you will always remain conscious about your pallu falling and by chance if it does then it will certainly be a big oops moment for you.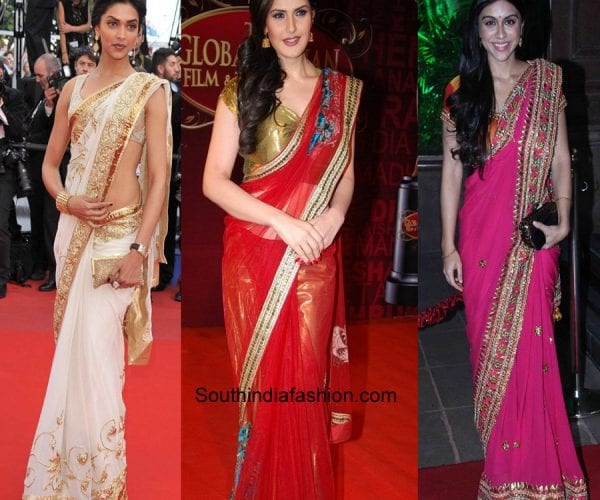 Do Not Over Accessorize it
There is no doubt that the saree looks good with accessories but overdoing the accessories is so not cool. Check out the embellishments of your sari and choose your jewellery as per the design. The basic ideas of accessorizing should be that if it's a heavy saree then keep the jewellery and make up to the minimum else it would look OTT. If it's a plain saree or a border sari then you can go for statement jewellery and heavy make up, But always remember that there is just a slight difference between keeping it graceful and overdoing it, so always remain careful about it.
Do Not wear a mismatched petticoat
Well, this is very important because if you do this then no matter how beautiful your sari is, how gracefully you have draped it, everything will go in vain. The entire highlight will become the mismatched petticoat as it will be clearly visible to everyone.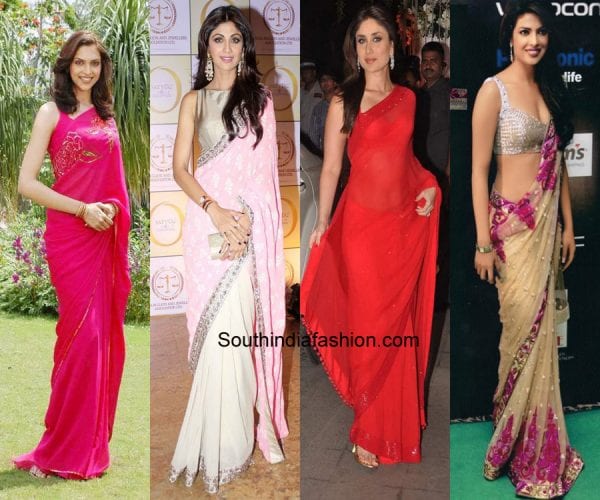 Teaming it up with a wrong blouse
The saree blouse is equally important as much as a sari. Just because some blouse pattern is in fashion and you liked that blouse on your favorite celebs doesn't mean that it will give you the same look as well. Before wearing the celeb inspired blouse design understand your body type first and also confirm with your tailor that whether he can stitch it in the same way as worn by your favorite celeb. Else if you just focus on the celeb look and blindly follow that fashion on yourself then it can be a real disaster for you.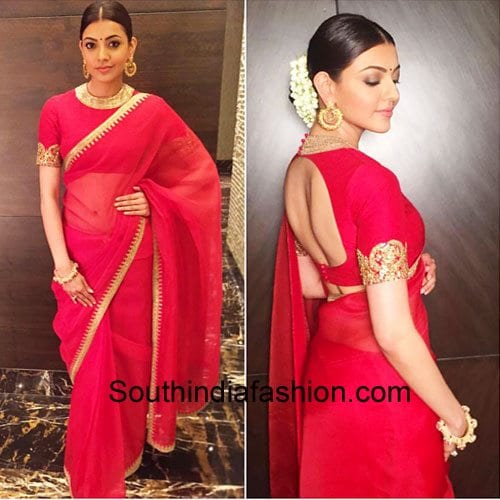 So, these are the 5 things that you should NOT DO while wearing a saree as it may ruin your entire look and make you stand like a clown in front of everyone. More suggestions on this topic are always welcomed, don't forget to share your thoughts in the comment box below.