Sari is one of the most feminine attires in India and there is no woman who does not like to deck herself in the six-yard wonder. While the sari and blouse were a standard those days, the attire has undergone a whole lot of metamorphosis through the years and has now made its way as one of the most stylish outfits. Draping the sari might be a standard thing, but did you know there is a lot you can do to make your blouse stand out in the crowd? Yes, you heard us right. Silk, Tussar or a simple cotton sari, a hot blouse can just change the game for you in a jiffy. Here are five simple sari blouse designs you must get tailored when you stitch your next blouse.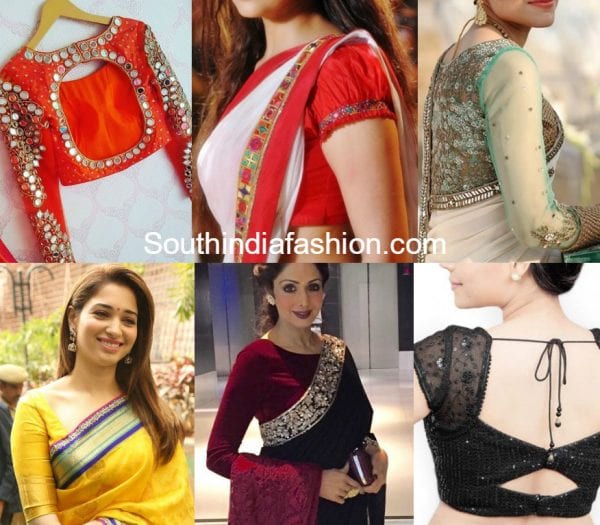 1. Elbow Length Sleeved Blouse
It looks like our celebrities are travelling backward in time! Yes, the old-fashioned elbow length blouses are back with a bang. These blouses suit any saree, be it designer, silk or cotton. Top it with some rich embellishments and you are sure to steal the show.
2. Puff Sleeved Blouses
If you have seen your grandmom or mother's wedding blouses, then you might be familiar with this blouse style. Puffed style blouses go best with silk sarees and look great on both on young and old people.
3. Netted Blouses
Like it or not netted blouses definitely set you apart in a crowd. These are stylish, sensuous and add a modern touch even to your most traditional saree.
4. High Neck Blouses
High neck blouses are a big hit among celebrities. So, isn't that reason enough for you to flaunt one? That aside, these blouses give a quirky twist to the otherwise traditional attire and also adds a wholly sultry appeal to the getup. If you wish to look regal in your saree, then this is one is definitely for you.
5. Full Sleeve See Through Blouses
Full sleeves are not just for lehengas and salwar. The trend has crept into saree blouses as well and has also managed to get some ardent followers. Netted detail in the sleeves is particularly for those who love to break the monotony of the material. Embellishments and sequin detailing on the netted sleeves are a big style statement too. Plus, these blouses let you flaunt some skin, so what more!
6. Mirror Work Blouses
This might sound old fashioned, but mirror work blouses are simply stunning and are sure to leave a lasting impression. The heaviness of the blouse makes it possible for you to wear a simple, light saree and still look stylish.
7. Interesting Back Patterns
Back patterns have been a style statement for a long time now. From boat neck to V-neck, round neck, and U neck, there are a lot of patterns you can try on your blouse. Pick the one that fits your body type and flaunt it out and about.
8. Velvet Blouses
Apart from the style and pattern, the material used to tailor the blouse can also make or break your look on the whole. A velvet blouse will make you look royal while retaining elegance and class. Mix and match colours, add some embellishments and you are sure to receive some raving compliments.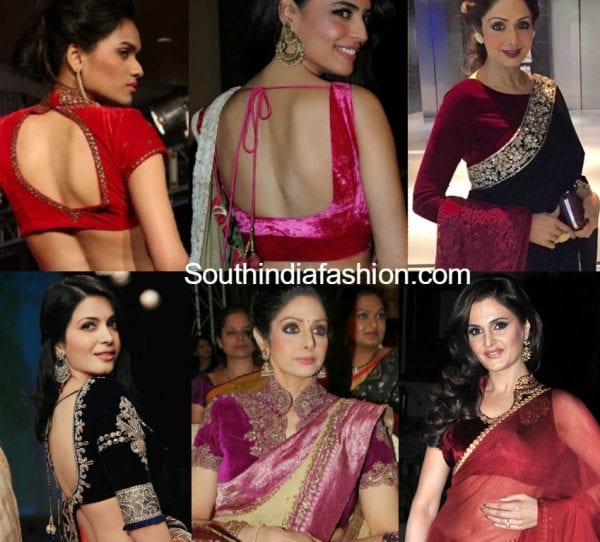 9. Sequined Blouse Design
An after-wedding party or a reception would require you to dress up with some glitter and shine. A heavily embellished sari would wear you down, hence go with a sequined blouse design. Go deep on the neckline and also ensure the lining is comfortable enough as sequins might irritate or pinch the skin.
10. Sweetheart Illusion Blouses
Sweetheart blouses were a big hit in the 80's. However, this is only for people who are comfortable doing some skin show. If you are uncomfortable revealing your skin, then you could also opt for a high neck with a sweetheart illusion carved out neatly.
11. Keyhole Blouses
If you are wearing a blouse with heavy embroidery, then give it a little break by playing with the neck pattern. A small cut in the neck will not only break the monotony of the blouse but will also add a sweet style statement and charm.