Kalamkari sarees give you this elegant and classy feel when you see it. Its unique print and design is known for across the world and is done on natural fabrics. There is huge history behind this which makes it all the more a must have.
Originally Kalamkari refers to a method of painting natural dyes onto cotton or silk fabric with a bamboo pen or kalam. The name Kalamkari translates as a pen(kalam) work(kari) in Hindi or Urdu, and was most likely derived from trade relationships between Persian and Indian merchants as early as the 10th century CE.
1. Full print Saree
This kind of Kalamkari sarees has a delicate print ranging from floral to small other motifs across the saree. Very nice on cotton is an easy to wear and classy to look with simple jewelry. These look great in those earthy tones.
2. Kalamkari Borders and Pallu
These sarees look really nice in fabrics like Tussar where there is a rich Kalamkari border and an equally rich Kalamkari pallu. Rich colors and neutral hues both look classy for this kind of saree.  You can even add on patch borders and separate pallu to silk sarees and give them a new look.
3. Rich Pallu
These Kalamkari sarees are the ones that have vivid descriptions on the pallu and the rest of the saree is relatively simple, with mostly a zari border. A blouse is done is same Kalamkari tones to accentuate the saree.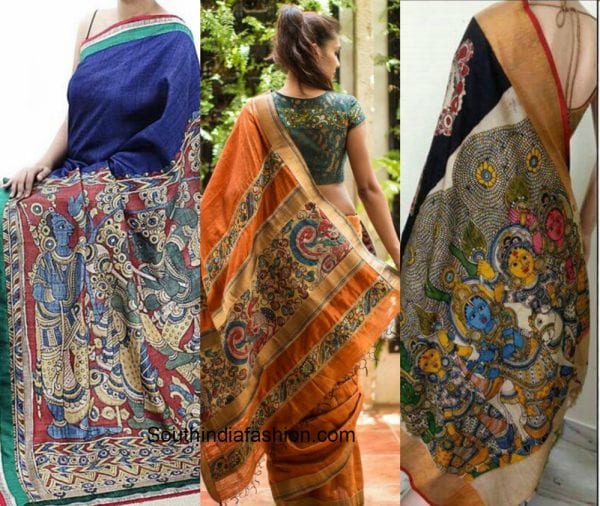 4. Half and Half Kalamkari sarees
Half and Half Kalamkari sarees, as the name suggests are a mix of plain fabric with a Kalamkari work pallu or the vice versa. You can pick up the ones with a delicate Kalamkari print if you do not like the heavy pallu kind of sarees.
5. Recycling your Kalamkari saree
When you are bored of your Kalamkari saree worry not. You can easily fashion them into Kurtas, long skirts with heavy flair or just make a beautiful dupatta from the heavy pallu. They give an ethnic touch to your outfits.
Pair these sarees with simple sleeveless blouses or high neck blouses. They look really classy then.
When there is so much that you can do with this elegant outfit shouldn't you be buying it already!!
BUY KALAMKARI SAREES ONLINE HERE!!