Saree is considered to be one of the most evergreen outfit which every Indian woman loves to drape. But the fact is also that the grace of a saree depends very much on the type of blouse designs that you are wearing. These days there are so many innovative blouse designs available in the market but it's important to choose such blouse pattern which enhances your personality. If you are confused how to choose the perfect blouse for your body type then read this blog post where we are sharing some tips about the same.
For Broad Shoulders
Women having broad shoulders finds it very difficult to accept their body type and become rebellious in their fashion choices which only make them look worst. But you don't have to do that instead you can manipulate others by highlighting your glamorous back by wearing backless blouse design. Avoid wearing thin stripe blouses, wear blouses having broad shoulder.
For Heavy Top Figure
If you have good amount of fat on your bust area then the basic logic should be not to wear anything that makes you look fat from the top. For this you need to avoid wearing heavy embellished blouses or those saree blouse patterns having too much of work on the bust area. Choose light fabric blouses like georgette, satin, crepe etc. Pick up plain blouses or those having light resham embroidery work.
For Small Busted Figure
If you have such body type then the basic logic is to create an illusion of fuller bust. There are many blouse designs that can give you that illusion. Like the best option to choose is wear padded blouses or you can also wear blouses having heavy work on the chest area. You should pick fabrics that are heavy like Silk, Brocade and Velvet as that will add volume to your chest area.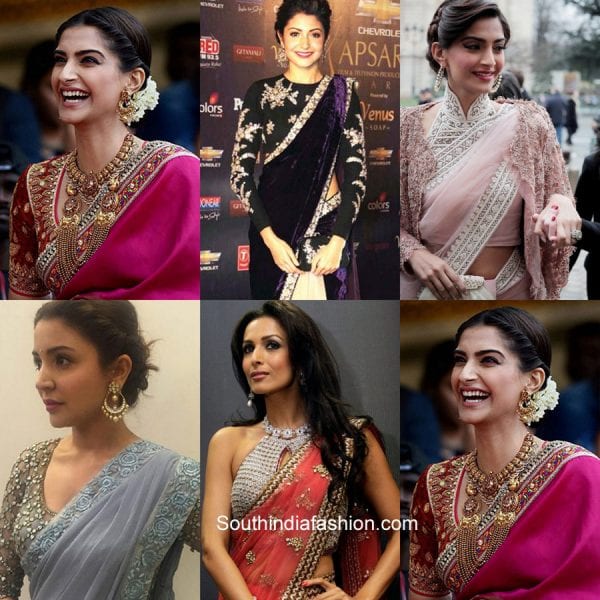 For Long Necks
Those woman having long necks have the advantage of flaunting the chinese collar blouses or the high neck blouses. These days the high neck blouses are already so much in fashion, why not flaunt it. Check out few hit high neck blouse designs and get inspired from them.
For Slim Figure
Only few women are truly blessed to have a slim figure and if you are one such lucky woman then the good news is that you can wear any blouse style. You have so many options to choose from like corset blouse, backless blouse halter neck, spaghetti blouse, sleeveless and so on.
Some More Tips
Blouse with Transparent Sleeves: Suitable for all body types
Sphagetti Blouse: Suitable for woman having high neck and great collar bone
Halter Neck: Suitable for pear shaped body type
Chinese Collar: Tall women with long necks
So, this was just a small guide to suggest you how to choose the perfect blouse for your body type. If we have missed any body type then do let us know in the comment box below and next time we will give tips for that particular body type also.