The major thought in a girl's mind as soon as she decides to get married is her lehenga. No kidding. And come on, girls, who doesn't want to look flawless in the lehenga of their dreams on their wedding day, to be honest? But sometimes, we get so worked up, we forget to take care of certain simple things, that actually plan a big part in the making of your dream bridal lehenga. So here are some tips for you that may help you!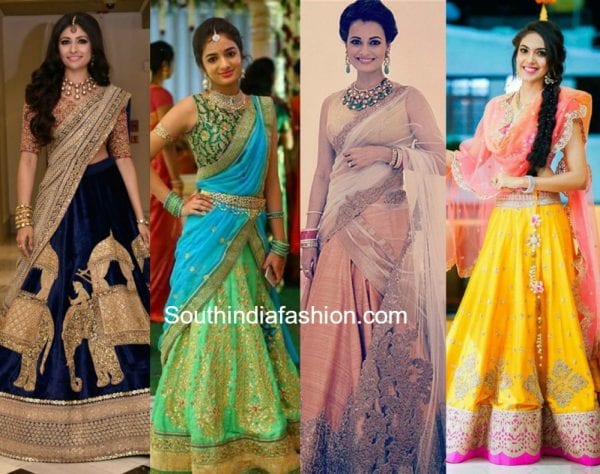 1. Choosing the right fabrics and prints 
Now you might like that Benaras lehenga Karishma Kapoor rocked on the ramp but know that you and she have different body types, skin tone and heights. So just don't jump into whatever you see. Choose a bridal lehenga wisely. Look into the products, do enough research before fixing on one. Try some lehengas before deciding on one. Take your time in choosing stuff. Keep you skin tone in mind too. Go for deeper colors if you are dusky and can try out lighter pinks and peaches if you are medium to fair.
Ladies, when your Mom say "why spend so much when you're gonna wear it just for once', She totally has a point. So, don't get carried away and splurge all the money on the lehenga. You'll need other things afterwards. One less layer of the gota-patti work or the rich looking borders will save you a lot. And you can spend this amount on the accessories and styling so it doesn't look like you're wearing a simple lehenga.
3. Accessorize it right
Ground rule: Do not go overboard with anything. And the same rule applies to accessories too. If your lehenga is really heavy. Lay off the jewelry low. Do not accessorize too much or you'll look like you're a walking jewelry exhibition. If you decide to go with a simple bridal lehenga, go with heavy jewelry. Key is the balance. If you're not so much of a gold person. Use semi precious jewels (You can use them later) and style your lehenga.
4. Know your body type
Hourglass, pear shape, petite, apple shape, know which is your body type and choose your lehenga accordingly. If you have an hourglass type, choose an A-line lehenga that will accenture your figure. If you are petite, choose one that doesn't have big prints or too much embroidery. Choose a high waist lehenga. A pear shaped body is heavy on the bottom so flared lehenga will balance your body and the apple shaped ladies should opt for a long blouse with generous embroidery to balance out the features.
5. Necessary arrangements for your Bridal Lehenga
You'll obviously try the lehenga as soon as it is delivered and the fit is going to be fabulous. But don't pack it away only to open on your wedding day. Try the outfit again, before three weeks of your wedding. It is very easy to lose or gain weight due to this wedding stress and you'll be devastated if either of it happens and the lehenga doesn't have the right fit. Ask your sister or best friend to stay near by you during the ceremonies, carrying emergency stuff like safety pins. Pay enough attention to your footwear. Since the bridal lehenga will be heavy enough, choose some lightweight medium heels!