The most popular and an evergreen Indian outfit is saree but do you know that the grace of a saree is incomplete without one thing? Do you know what that is?? Well it's the saree blouse that makes a saree look even more elegant and graceful. This is the only reason why women keep on looking for the latest blouse designs and one such source which they trust blindly for blouse designs inspiration are the celebs. So, today we are showing you 7 most trendy celebs blouse designs, have a look:
Sonam Kapoor in Embroidered Sheer Blouse
See how gracefully Sonam made even a simple yellow printed chiffon saree look like the most desirable saree by teaming it up with embroidered sheer blouse. The back blouse design is quite trendy with buttons in the center. This blouse pattern certainly deserved to be in the list of 7 most trendy celebs blouse designs.
Shilpa Reddy in Tie Up Blouse
Shilpa Reddy always plays it up with her unique saree blouse designs and this one blouse design proves that. Having a sweetheart neckline, see how trendy this tie up blouse design looks. If you are searching a new blouse pattern for your latest silk saree then you must have got an inspiration from this celeb blouse design.
Kangana Ranaut in Halter Neck Blouse
She is not so frequent lover of sarees but whenever she don a saree, she makes sure to grab all the headlines for the same. This is a lovely peach saree with silver work that she wore with a halter neck blouse and completed her look beautifully and that's why we have listed it as one of the most trendy celebs blouse designs.
Rakul Preet in High Neck Blouse
This one is certainly one trendy blouse pattern worn by Rakul Preet Singh. This white striped saree is quite simple but is looking quite classy when it is paired with a blue embroidered high neck blouse.
Shriya Saran in High Neck Net Saree Blouse
She is among one of the most stylish stars down the South Indian Cinema. Check out her lovely high neck netted blouse that she wore at Sima awards in the year 2013. The blouse is embroidered at the neck portion and the bust area. This blouse design looks quite classy; you can even get your choli designed in this style.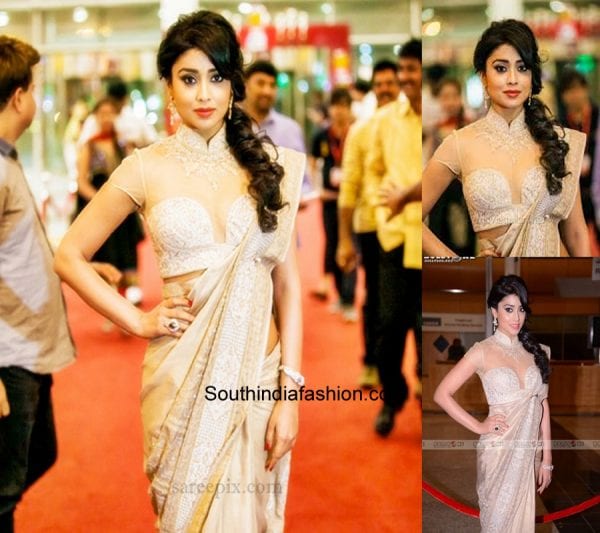 Esha Gupta in Fringed Blouse
The best thing about the designer blouses is that even if you are wearing the simplest saree, it will look good when paired with a designer blouse. Check out how Esha Gupta transformed a simple aqua saree into a trendsetter one by pairing it up a gold sleeveless blouse having fringes at the back.
Samantha in Full Sleeves Embellished Blouse
Recently in the engagement ceremony of Akhil and Shriya, Samantha wore a lovely organza saree designed by Sabyasachi Mukherjee. The eye catching was the embellished full sleeve blouse design that she was wearing. This is one of the best celebs blouse designs and is a huge inspiration if you are looking for a design to wear at a wedding.
So, this was our list of 7 most trendy celebs blouse designs that you can also try.