Having flabby arms is hell of a problem for all the woman as they can't wear their desired blouse designs. But you should not stop from trying the best of fashion just because of your arms size. Instead you can choose the designs which will compliment your body structure as it is. Here we are suggesting you 6 fabulous blouse designs for flabby arms.
Elbow Length Blouses
How about playing smartly with the latest blouse designs and also hiding the imperfection? Well, the elbow length blouses are so much into fashion these days and if you have big or flabby arms then this blouse pattern is the perfect choice for you.
Boat Neck Blouse with Elbow Length Sleeves
Especially for the occasions like parties and weddings, the boat neck blouses are good. Even if you are wearing a simple saree, the boat neck blouses can add a charm to it. For women having big arms, the boat neck blouses are the best as they can make the highlight shift from the arms to the collar bone.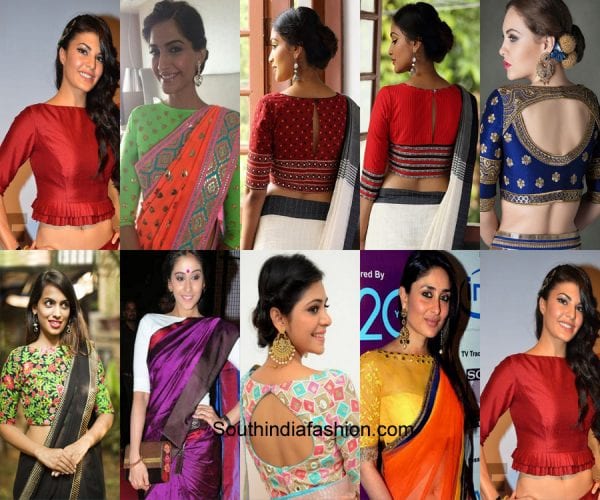 Full Sleeves High Neck Blouse Designs
If you are not confident about your upper arms then its better to hide it and flaunt something else in which you feel confident. So, the basic idea it to cover your not so physically attractive body part by highlighting that body part which looks attractive. That other body part could be your back, neck, collar bone etc. If you have heavy arms but long neck then go for high neck blouse designs. These days you can find so many latest high neck blouse designs online for your inspiration.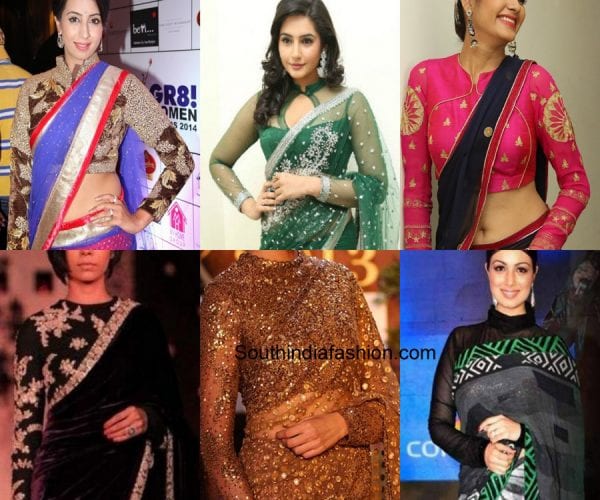 Net Sleeves Blouse Design
If you are too much into cut sleeves and can't resist yourself from wearing one even when you know that you have flabby arms and it won't look good then you can prefer net sleeves blouse design. Instead of going completely sleeveless, it's a good idea to go for a net sleeves blouse design. The sheer fabric is so much in trend these days; you can pick up a nice sheer sleeves blouse design for yourself.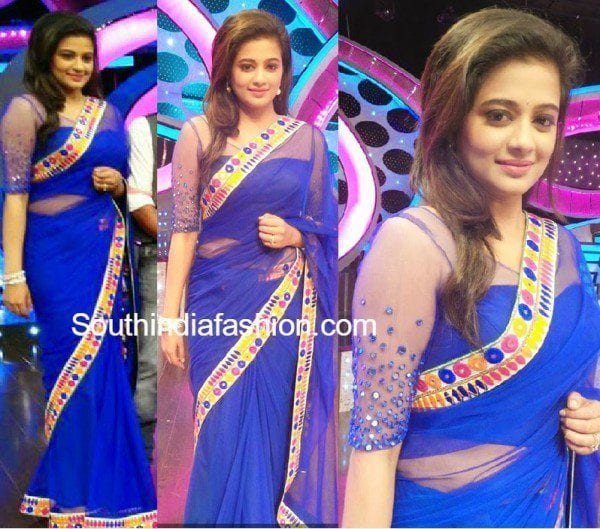 Full Sleeves Blouse Designs
The fact is these days blouse designs like halter neck, spaghetti blouse, cape sleeves, tube blouse have taken a back seat and saree blouse designs like three fourth sleeves, elbow length sleeves and full sleeves are in fashion. There are so many options that you can try in the full sleeves blouse designs like embroidered ones, velvet ones, full sleeves with open back, sweetheart neck with full sleeves and so on.
Maharani Blouse
This blouse design is really trending these days and is one of the best options for those women who have flabby arms. The entire neck portion is heavily embroidered in this blouse design with slight embroidery in the sleeves as well. Check out few of the maharani blouse designs in order to get an idea.
So, this is a list of 6 blouse designs for heavy arms. There are few blouse designs that should be strictly avoided if you have flabby arms like sleeveless blouses, puff sleeves blouses, halter neck, cape sleeves etc.