For an Indian Bride, her wedding day holds an extreme importance as she automatically becomes the center of attraction that day. When the Bride is the main focus, her wedding outfit also must be unique and exclusive. But with so many things to prepare for the wedding day, it becomes very hectic for a bride to focus on her bridal outfit. Hence, to make it simpler for you here we are suggesting few things that you should know before buying wedding lehenga for bride.
Decide on the Budget
Once you enter the shop for buying a wedding lehenga, the first thing that the sales person will ask you is, the price range. Hence rather than being clueless on that question, its better to already decide on a budget. You will find so many designs, colors, patterns, fabrics that you will not be able to decide what to choose and what not to. When you will have a price range in your mind, the designer lehengas will automatically be sorted as per the price range and it will become easier for you to choose then.  Usually a Bridal Designer Lehenga comes in the price range of Rs. 25,000 to Lakhs.
Research Online
With the ecommerce advancements, these days you can easily find so many designer lehengas online. Even if you don't have the confidence of buying your wedding lehenga online, still you can go through the wedding lehenga designs and do a little bit of research that which type of lehengas are available in your decided price range. When you have few designs set on your mind it will be easy for you to pick your dream bridal lehenga from the shop.
Check the Lehenga Fittings
You know that after the wedding ceremony or in the Reception, the Bride has to do all the things like doing Namaste, taking blessings from the elders by touching their feet. Make sure that the fitting should be such that you feel comfortable while doing these activities.  If the choli is ill fitted you won't be comfortable in moving your body too much and that discomfort will obviously show and it will not look nice.  While trying your bridal lehenga in the dressing room, you can mock all these actions like doing Namaste, touching feet and also do some dance moves and check if you are feeling comfortable. Check whether the neckline is not too low or the choli is not to short and whether you can easily breathe in that wedding lehenga or not.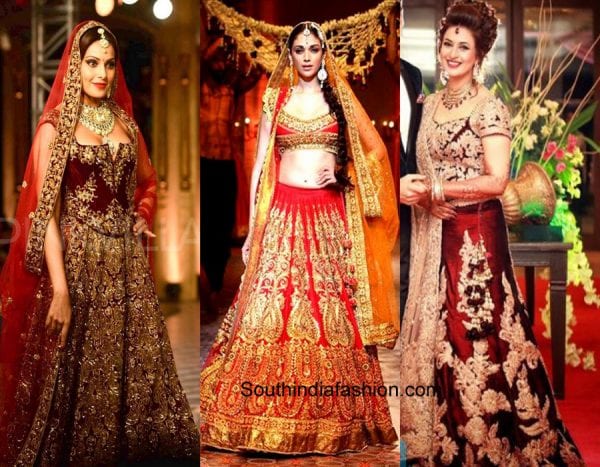 Keep the jewellery in mind
Your wedding lehenga and the bridal jewellery should be well coordinated and that's why it's important to always keep your bridal jewellery in mind before buying wedding lehenga. If you have selected a golden base bridal jewelry then make sure that your wedding lehenga has golden embroidery and if the jewelry has silver base then make sure that the bridal lehenga has silver zardozi work.
Don't Go OTT
While trying to buy an expensive Bridal Lehenga, don't make a mistake of picking up something that's too much embellished as it will look too gaudy. Pick something easy to carry in which you feel comfortable rather than picking something so heavy that carrying it itself becomes a task for you and you won't even be able to enjoy the wedding ceremonies.
So, these are 5 things that you need to know before buying wedding lehenga for Bride. Hope you will keep these things in mind and buy the best Bridal Lehenga for yourself.